Bulgaria is a Balkan country that has witnessed political instability, economic fluctuations and corruption ever since the first democratic election was held in 1990. Stability returned when the country joined the European Union in 2007, after which there has been an increase in its expat population. Many expats, especially from Western Europe, visit Bulgaria looking to buy property in the form of holiday homes. Many also purchase property as investment in Bulgaria because of its strategic location in Europe, its low living costs and its scenic natural beauty.There are many reasons to move to Bulgaria. The country has a marked demand for English teachers. The government also offers incentives to people who wish to start their businesses, as it helps the country's economy. It must be noted that salaries in Bulgaria tend to be low. However, expats who are highly skilled and have years of experience will find it easier to get jobs that pay lucrative salaries. Some of the other growing industries in Bulgaria include oil, construction and IT.
Expats may have some difficulty in learning the Cyrillic alphabet and moving past the language barrier. But more and more Bulgarians are learning English and it has become easier to communicate with the locals over recent years. That said, it might still be helpful to hire a local relocation specialist to navigate through the extensive bureaucratic process. Expats thinking of settling down in Bulgaria may want to take a language course, as familiarity with the local language can aid in integrating with the community.
When it comes to healthcare, the medical staff are known to be highly trained. However, public healthcare facilities do not match the standards of the United States and Western Europe. Private facilities, however, are of a high standard, and the country is today a popular destination for medical tourism due to the quality of private facilities and the relatively low costs.
In Bulgaria, public transport is restricted to buses and trains. In the bigger cities such as Sofia, expats will be able to manage without a car. Those moving to rural areas or coastal towns are likely to find it necessary to have their own vehicle.
Some of the more popular activities in Bulgaria include watersports such as skiing. For shopping and nightlife, expats will need to head to the major cities, as entertainment options tend to be limited in other areas.
Here is a closer look at why you should consider Bulgaria as your next expat home.
Sofia
Sofia is the capital and largest city in Bulgaria. It has a population of nearly 1.2 million, making it the 15th largest city in the EU. Sofia is located at the base of the Vitosha Mountain in the western region of the country, at the center of the Balkan Peninsula. Most of its inhabitants are ethnic Bulgarians, along with Roma and Turkish citizens. The expat population is also growing in Sofia. The city's appeal lies in its low unemployment rates and robust economy.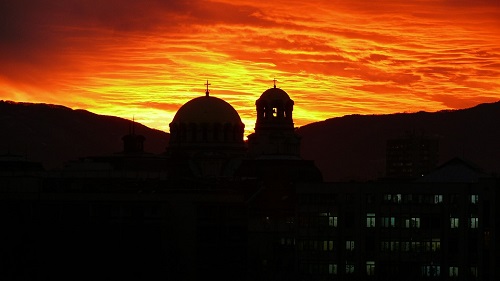 Sofia, Bulgaria
© Wengen on Pixabay
Sofia is known to have a great vibe, and is a city that is full of energy. Trendy bars and clubs are scattered across the city. There are also plenty of restaurants serving ethnic fare. One of Sofia's main attractions is the St. Alexander Nevsky Cathedral, a Bulgarian orthodox cathedral. Sofia is considered to be among the greenest capitals in Europe. Due to its higher altitude, Sofia stays cooler than other regions of Bulgaria.
Mountains and sea
Bulgaria is one of those rare destinations in the world where spectacular mountain sceneries exist alongside sunny beaches. It is possible to spend some time in the rich Alpine forests of Borovets after lunch and still be able to make it to Sozopol for a swim in the Black Sea by late afternoon.
Most people do not expect to see beautiful beaches and seaside resorts in Bulgaria, but Borovets is a modern ski resort set in the Rila Mountain range in southwestern Bulgaria. The resort has luxury hotels, restaurants, bars, shops and a variety of pistes and lifts. It is an Alpine resort offering good conditions for skiing, snowboarding and other mountain activities.
Bulgaria's beaches are also tourist hotspots. For instance, Sunny Beach is a popular party destination. But for expats who want to escape the high city temperatures and head somewhere quiet, there are a number of tranquil towns such as Lozenets and Sozopol that are ideal for a peaceful weekend getaway. Sozopol in particular is a beautiful old town located along the southern Bulgarian coast. This ancient seaside town has a population of just 5000. Expats can spend the day at the beach and have dinner in the old town, where the streets are full of local traditions.
Cuisine
Bulgarian cuisine blends the influences of the Ottoman Empire with peasant cooking methods. It is one of the most flavorsome cuisines in Europe, and shares characteristics with the cuisines of other Balkan countries. Cooking traditions are diverse in Bulgaria as different climatic conditions are suitable for different types of vegetables, fruits and herbs. Bulgaria has a wide variety of local dishes. It also shares some dishes with Russia, Italy, Greece and the Middle Eastern countries.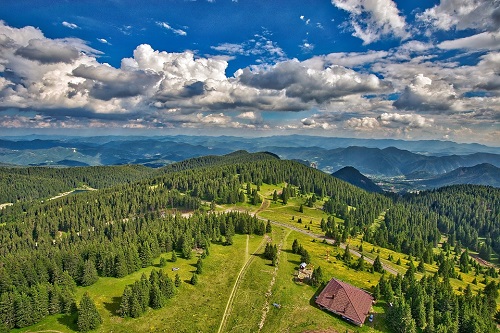 Bulgaria has a great mix of scenery, with mountains and the ocean
© nikolabelopitov on Pixabay
In Bulgaria, salads are often served as appetizers. Dairy products, wines and other alcoholic beverages also feature in Bulgarian cuisine. Soups such as tarator are another regular feature, as are pastries such as banitsa. Main courses are usually water-based stews, which can be vegetarian or made with lamb, veal, pork or chicken. Bulgarians also like to grill sausages and veal as part of appetizers or meze. Interestingly, Bulgarian cuisine also shares a few dishes with Indian cuisine, due to the culinary exchange that took place with the East during the 7th century when herbs and spices were traded from India and Persia to the First Bulgarian Empire.
Affordable living
Bulgaria's cost of living is quite affordable. The minimum wage is approximately 170 euros, while the average wage is about 400 euros a month. Accommodation costs do not exceed this amount, and they vary depending on the location.
In Sofia's city center, a one-bedroom apartment would cost 220 euros a month. The rent drops as you move away from the center. Monthly utilities do not exceed 50 euros on average. In the major cities there are different options for public transportation. Sofia's metro system has two lines and the cost is about 1 lev (0.50 euros) per journey. You can get a monthly pass for 25 euros, which is valid for all means of transport. Taxis are also affordable and usually amount to 5 to 7 euros for a 15-minute drive.
For those who are staying for longer durations and would like to own a car, a decent used car amounts to about 1500 euros, and the cost of running it is also affordable, as a liter of gasoline costs about 1.20 euros.
Being a food lover's paradise, Bulgaria has multiple options for eating out. A typical Bulgarian breakfast is Banichka and boza, which consists of banista pastries made with eggs, cheese and filo pastry; and boza, a sweet, thick, low alcohol beverage.
Safety
Bulgaria is generally a safe and peaceful destination. The country has not witnessed any wars for years. There are also rarely any natural dangers such as poisonous creatures or natural disasters. Terrorist attacks are not common and there are no convincing safety reasons to avoid moving to Bulgaria.
Climate
Bulgaria has the ideal climate for outdoor activities in all seasons. Northern Europe tends to be cool throughout the year with frequent rain, while the Mediterranean region does not have snowy white winters.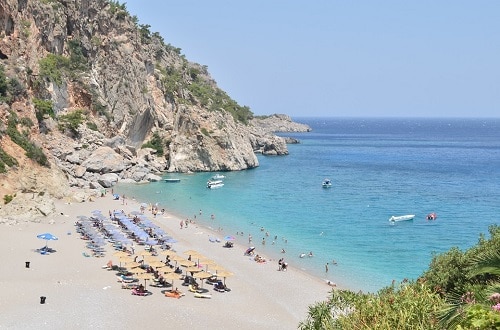 Bulgaria's beaches are a great place to sunbathe in summer
© ToomaCZ on Pixabay
Bulgaria, on the other hand, has hot summers and cold winters, and between the two are the pleasant spring and autumn seasons. Bulgaria's climate is the perfect balance of north and south. The temperatures are varied between seasons and it is possible to enjoy outdoor pursuits such as skiing on Bulgaria's beautiful mountains; and the best part is that in a few months, the weather will change, making it ideal for relaxing in the refreshing waters of the Black Sea.
Business
Due to its geographical location in the southeast of Europe, Bulgaria is a great place to start your own business. It is an urbanized country with most of its commercial activities centered in Sofia. The most prominent economic fields are agriculture, engineering and heavy industry. Bulgaria has a simplified registration process for those who want to open a business in the country.
One of the advantages is the symbolic minimum required capital of 1 euro. It takes only a few days to register a business and it is not compulsory for the founder to be present, as a power of attorney can be used. There are also no running costs and so if a registered company does not have any activity, there are no financial obligations. The company must submit a yearly tax return, which is another simple process. In Bulgaria, companies are taxed based on their profits, at 10 percent. Therefore a company has to pay tax that is applied on the generated profit after all expenses have been deducted from the total. Bulgaria also has double taxation agreements with certain countries. Employment costs are also low in Bulgaria, with the minimum wages and social insurance costs being very low.
Community
Bulgarians are known to be social, warm and naturally curious. Social life is an integral part of Bulgarian living and the locals love to celebrate. While it's true that everyone is different and not everyone in Bulgaria may be hospitable, expats will notice that many Bulgarians enjoy spending time with others. Another characteristic of Bulgarian people is that they remain unaffected by consumerism for the most part. Bulgarians are proud of their cultural heritage and value their own cuisine, music, dance, architecture and history. There has even been a trend of young Bulgarians re-discovering their traditions and choosing to learn the national songs and dances, and also baking and cooking methods.
Healthcare
Doctors and nurses in Bulgaria are well trained and provide quality healthcare, particularly in the private sector. The National Health Service is open to all and is administered by Regional Health Centers. All who work in Bulgaria, both locals and expats, must make health insurance contributions. They can register with a doctor of their choice, which is convenient as one can choose a doctor that is closer to home or one who speaks their language.
Relaxed pace of life
One of Bulgaria's main attractions is its slow, relaxed pace of life. Expats used to hectic work environments will happily discover that in Bulgaria, the focus is on the better things of life. People spend time at the beach in summer and skiing in the winter, and in between there is a wide range of activities to engage in, such as horse riding, fishing, golf and football. The country is also rich in culture and residents enjoy visiting the theatre and cinema. Many also prefer the old world way of life and simply spend their days tending to their gardens and sitting outside in the evenings watching the sunset. Although Bulgaria has its fair share of luxury, such as the numerous high-end cars on the roads, one can also spot horses or donkey carts, as these are still a widely used method of transport.
Moving to Bulgaria can be likened to going on an adventure. Expats will have to leave their comfort zone and also sacrifice some of their luxuries. But as Bulgaria's infrastructure improves, the country is steadily utilizing its potential and expats moving to Bulgaria are in store for a bright future.
Have you lived in Bulgaria? Fill in the questions here to be featured in an expat interview!