Vietnam as is not the most popular expat destination, primarily because of its turbulent past. In the last 30 years, this nation has been trying to recover from several challenges, including the ravages of war, and the lack of financial support from the Soviet Bloc, a traditional ally. However, this Asian country can offer you a lifetime of adventure as well as a true taste of modern living. In the last few years, this nation has gained some amount of popularity with expats from all over the world, mainly because of its fast growing economy, high earning potential and good quality of life. Vietnam has made noteworthy advances in liberalization in almost all aspects, ranging from economics to social affairs. The government is also trying to make things easier for those who are interested in moving to this country by introducing a new E-Visa scheme.Citizens from most countries require a visa to enter Vietnam. However, if you are from any of the nations mentioned on the visa waiver list, you do not need a visa to enter and can stay for a short period of time (between 14 days and 1 month, depending on your nationality). The places on the waiver list include Denmark, Japan, Norway, the Philippines, Russia, Singapore, and Sweden.
Introduction of electronic visas
Moreover, in February 2017, Vietnam launched its first ever electronic visa option for citizens from 40 different countries across the globe. These are: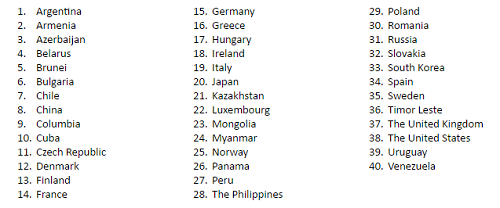 There are two websites through which nationals from these 40 nations can apply for a visa online. These are xuatnhapcanh.gov.vn and immigration.gov.vn.
Under this program, you can apply for a 30-day tourist visa, which is valid for a single entry. As an applicant, you are required to complete a form posted on these pages, which are managed by the Ministry of Public Security. One site is in Vietnamese while the other is in English. Once the form is submitted, you will receive an application confirmation code. At the same time, you will be asked to pay a non-refundable fee online, using your credit or debit card. If your visa is approved, you should receive a confirmation within a couple of hours; however, it could take up to 3 days.
The fee for a 30-day single entry tourist e-visa is US $ 40 (£ 32; € 37; VND 911,000). If you are applying for a 30-day single entry business e-visa, the fee is US $ 55 (£ 44; € 51; VND 1,252,625).
Applicants who have received their visas through the new electronic system then have to print the confirmation and present it to the officials when they arrive in the country. Since they have paid the visa processing fee online, no additional amount will be charged at the point of access. They can choose to enter through any of the 8 international airports. This visa will also give them access if they prefer to enter via any of the 13 international land border gates or even through the 7 seaports spread across the country.
The system adopted by Vietnam is almost identical to Myanmar's E-Visa scheme, which was the first of its kind among the ASEAN countries. Most people who have used this system claim that it makes things a lot easier and is more reliable than the visa application formalities of its neighbors.
In the past, visitors were required to present guarantees and letters of invitation to get a business or tourist visa. Fortunately, with the introduction of the new procedure, these documents are no longer a requirement. Moreover, foreigners from the 40 listed nations no longer need to be fingerprinted, photographed or interviewed. Nevertheless, the management has claimed that the process of approving the e-visa remains the same as before.
There have been a few reported instances of glitches that users have faced while trying to access the online system. Many said that the sites weren't working in the first few weeks and they could not put in their application. Some users still experience problems with the websites.
Further reforms in the visa exemption policies are also under consideration by the authorities. In the current scenario, visitors from the Association of South East Asian Nations (ASEAN), Japan, South Korea, Russia, the UK, Sweden, France, Germany, Spain, Italy, Norway, Belarus and Poland do not require a visa to stay in the country for a period of 14 days. Plans to allow Chinese tourists traveling in large groups by road to the northern border cities for up to 3 days without a visa have also been approved. However, these are temporary exemptions and things could change after the June 2017 ruling.
The objective of the new e-visa scheme was to boost socio-economic development through domestic tourism. The country is expected to receive between 15 and 20 million visitors within the next two years. At the same time, since it is possible to enter Vietnam with an e-visa and apply for an extension by paying a fee of approximately US $ 200 (£ 160; € 184; VND 4,555,000), moving to this country should definitely become easier for those who wish to do so. According to a local news channel, Viet Nam News, it is possible for a visitor to conduct a temporary residence declaration online, while traveling with an e-visa.
Visas for longer stays
If you are interested in obtaining a single or multiple entry visa, which is valid for a longer duration of time (between 1 month and 1 year), the application procedure remains the same. Get in touch with your nearest consulate to know about the timelines and documents you require.
Bear in mind that the charges for multiple entry visas are much higher and you will be required to pay an additional stamp fee on arrival into the country. This also applies to visas that allow you to stay for more than one month. The approximate charges are:

Do keep in mind that the costs for tourist and business visas vary greatly, even if the duration and number of entries permitted are the same.

Many expats, including students, who plan to move to Vietnam first arrive into the country on a business or a tourist visa, depending upon the purpose of their visit. This also gives them the opportunity to get a feel for living there. They then make the decision to apply for a student visa, residence visa or work permit if they decide to stay on for a longer duration.
Student visas
Students will have to enroll in a recognized institute, school, college, or university for a long-term course and submit all the formal documents of admission. Private tutors and classes are not recognized by the local immigration authorities and therefore do not help with the visa formalities.
Students can then get their visa status changed from within the country, by visiting the Immigration Department Office.
Residence visas
If you plan to live and work in Vietnam once your visa expires, you could try to apply for an extension of stay from within the country and eventually get your status changed. Potential expats are advised to obtain a Temporary Residence Card (TRC), which is valid for a variable period of time, between 1 and 3 years. However, to do this from within the country, you need to be on a business visa or have a Vietnamese company that is willing to sponsor you.
The required paperwork can be downloaded from the Immigration Department's website. Once you fill in the form, submit it, along with the accompanying documents, at your local Immigration Department office.
Work permits
The process of applying for a work permit in Vietnam is quite complicated. The fact that the government changes the regulations frequently only makes matters worse. Very often, even the officials seem unaware of the latest updates to the policies.
You can apply for a work permit from within the country or from overseas, as long as you have the required local representation from an employer or a contracted agency. If you are applying from Vietnam, you will need to do so within 90 days of your arrival, as the government will only grant you three months to stay on and look for a job.
It is also imperative that you fulfill certain minimum criteria to be eligible for a work permit. You must:
• Be at least 18 years of age
• Be physically fit enough to work
• Be at a managerial or executive level
• Have technical expertise that cannot be found in the local market
• Not have been convicted for infringement of national security
• Not be facing examination of penal liability
• Not be serving any criminal sentence as per Vietnamese or foreign laws
You will also be required to submit a number of documents supporting your educational qualifications and prior work experience. Please note that all the paperwork has to be translated to Vietnamese and notarized by the legal authorities in your home country beforehand. It is also advisable to have at least two notarized copies of every document.
When you submit your paperwork, there is a fee to be paid. Legally, the application is supposed to be processed within two weeks. However, expats who have been through the entire procedure claim that it can take a month or more to get the permit in place. Depending on your employment contract, your work permit can be valid for up to three years.
If you need more information on the procedure or the paperwork for a long term visa, your best option would be to set up an appointment with your embassy or consulate in Vietnam and speak with a representative about the way forward. There are numerous agencies that offer to help expatriates with the procedure of obtaining a residence visa.
Have you lived in Vietnam? Fill in the questions here to be featured in an Expat Experience interview!