With an astonishing array of climates, landscapes and employment opportunities, the Republic of Chile has a lot to offer any expat. The difficulty is deciding which region is best for you.
Why Move To Chile?
Chile offers Latin America's highest standard of living. It's easy to locate places to live which have good phone and broadband services and excellent public transport systems. The roads are modern and well maintained. Homes with clean drinking water and near globally competitive modern medical facilities can be found. If you need to work, there are plenty of employment opportunities in a number of important industries. And for many expats, Chile provides a better quality of life at a lower price than they had back home.However, before you head off to the airport, a lot of planning and preparation needs to be completed.
Begin by assessing your current situation. If you have children, they need to continue their education; good quality hospitals and clinics are especially important if you're heading into retirement; important centres of industry should be located for your particular job search. How well you understand Spanish – and the local variation used in Chile – will determine whether an expat hotspot is preferable for maintaining a social life.
You will also need to be realistic about future plans. Regardless of whether this is a medium-term adventure or a life-long commitment, you might need to come back with very little notice. Illness, death, divorce and financial calamity are always unwelcome but can make life particularly complicated for expats.
Before any property purchase is made, start by living in Chile for a while. You'll soon find out if you are having a hard time acclimatising once the vacation enthusiasm has worn off. If one part of Chile isn't right for you, being mobile allows you to test the waters in another area.
Santiago
On a map Chile is a long, thin strip sitting to the west of Bolivia and Argentina. The capital city of Santiago is about a third of the way down from Chile's northern border with Peru, in the area known as the central valley.
The area is semi-arid, with Mediterranean weather patterns. The warm, dry summer days see temperatures climb to 35 °C (95 °F), whilst the nights are comfortably cool for sleeping. In winter the daytime temperatures fall as low as 0 °C (32 °F). About 80 percent of the year's rain falls in wintertime, but between December and March very little rainfall is seen.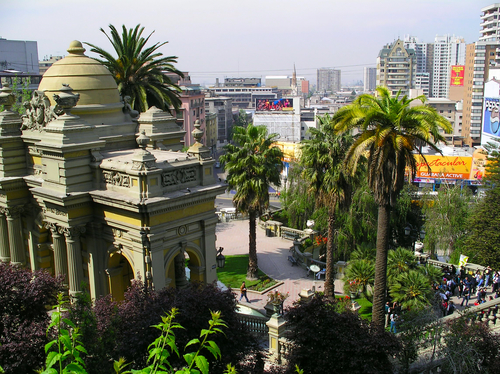 Chile's largest city is a popular option
It's thought there are about seven million people living in Santiago. This makes it the largest city in Chile and one of the largest in the South American continent. As a result of this, Santiago is a major centre of business and finance, providing a lot of job opportunities, especially for highly skilled professionals. Almost half the country's GDP is generated in the city. There are several international schools based in the north east quarter of the city, and many more private schools which offer a Spanish-based education.
An impressive range of cultural and leisure activities can be matched by an endless array of dining experiences. Santiago is a city to be explored for its courtyard cafes and beautiful parks. Supermarkets and other conveniences are close by. Whether you shop at large modern malls or in small businesses is up to you.
On the downside, big cities can be stressful places to live if you like the quiet life. Housing and many other living costs are higher than elsewhere. And Santiago keeps getting bigger; the outskirts are developing at such a pace that they are creeping up into the slopes of the Andes.
Beach Towns And Cities
There are plenty of smaller centres of population with access to goods and services sitting along the coastline. Chile runs for more than 4,260km (2,650 miles) from north to south, and all of its western border is against the South Pacific Ocean. However, be aware that only a percentage of the coastline offers a beach; steep cliffs with spectacular views are just as likely.
January and February are the height of the holiday season, so the areas around popular beaches tend to be congested. Car parking and the noise of partying vacationers late into the night becomes a problem, so make sure you don't settle somewhere during off-season without taking account of this.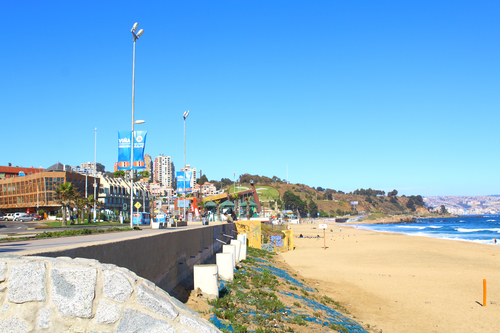 Chile's beaches may not be as warm as you'd expect
The sea doesn't tend to be warm, especially the further north you go. January and February are acceptable for swimming, but not many people want to be out in the sea all year round. Even the world's largest swimming pool – located next to the sea at San Alfonso del Mar, roughly 100 km west of Santiago – is noted for how cold it is.
In northern Chile, near the Atacama Desert, sits the coastal city of Iquique. This is a popular spot for tourists because of its beaches, seafront casino and tax-free port area. Iquique may not be a good choice for keen gardeners, though – the desert conditions and lack of rain means you'll struggle to cultivate much more than a few cacti plants.
Chile's Lake District
About two thirds down the length of Chile you will find the little city of Puerto Varas, sitting next to Lake Llanquihue. It has a stunning backdrop; the active volcanoes of Osorno and Calbuco, topped with snow, tower majestically. The city's colonial past means it is now characterised by an attractive traditional German style of architecture. This is one of the prettier parts of Chile and is very green compared to the rest of the country due to the rain.
Earthquakes
The presence of two spectacular volcanoes in Chile mean the country has a vulnerable position on top of the 'Ring of Fire'. This is an arc of volcanoes and fault lines that circles the Pacific Ocean.
Chile suffers earthquakes almost daily, and some of the tremors are significant. In 1960, the Valvida earthquake measured 9.4-9.6, making it the most powerful earthquake ever recorded. There is no way to predict when a major earthquake is expected, and every area of the country is vulnerable to them. Getting used to frequent and sudden tremors is a fact of life in Chile.
The authorities also take the risk of tsunami seriously, and order emergency evacuations whenever the location and strength of an earthquake is at risk of causing a tsunami. In 2015, eight people were killed and more than one million were evacuated from coastal towns in Chile as tsunami waves hit the coastline just 25 minutes after an underwater earthquake. You should consider this risk factor if you are looking at settling into a coastal community.
Have you lived in Chile? Share your recommendations in the comments below, or answer the questions here to be featured in an interview!