Colombia is a vibrant country with a lot to offer, but it can be difficult to find your place in it. As an expat, if you have the freedom to choose which area to move to, you want to be able to choose somewhere that best suits your interests.Whilst some of us love the party scene, others may prefer being surrounded by nature. Busy business people have a completely different set of requirements for their new home than a young family. That's why we've written this guide, to help you figure out where in Colombia would best suit you.
Thriving Nightlife
If you're a bit of a night owl that loves to be on the party scene, then these are some of the places that may appeal to you.
Bogotá
Bogotá is a bustling city that never seems to sleep, so if you're after crazy nightlife, this is probably one of the best places to find it.
Check out: La Villa, Hotel V or Mint Social Club.
Cali
Cali is referred to by some as the salsa capital of Colombia. If you're looking for authentic Latin nightlife, with vibrant music and pulsing energy, then the vibe in Cali may be right up your street.
Check out: La Topa Tolondra, Cafe Mi Tierra or Tin Tin Deo.
Cartagena
With a beach that faces the Caribbean Sea, it's easy to understand why people head to Cartagena for a party.
Check out: La Jugada Clubhouse or Alquimico Bar.
Medellin
Medellin has totally transformed itself in recent years and is a lot safer than it used to be. It also has a thriving nightlife scene, with tonnes of bars and nightclubs.
Check out: Son Havana, Bendito Seas or Envy Rooftop Bar.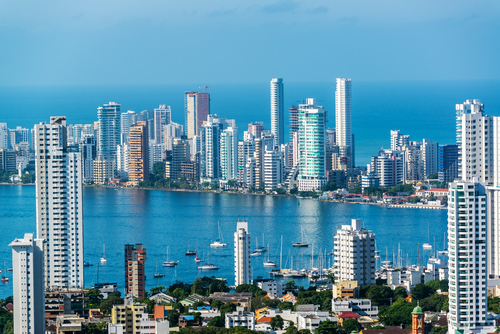 Cartagena has good night life and a lot to do
Santa Marta
Santa Marta is another popular coastal city where you can find some excellent bars and clubs to dance the night away.
Check out: La Brisa Loca, La Azotea or La Puerta.

Peace And Quiet
These locations will be ideal for nature lovers and those who prefer a slower pace of life.
This large area of Colombia known as the Coffee Region, which encompasses the cities of Pereira, Armenia, and Manizales, is popular for picturesque rolling hills and surrounding mountains. The climate is slightly cooler, which may be considered a bonus by some.
If you prefer life in a small, quiet town with beautiful views, Salento might make the perfect home for you. If you love architecture, historical museums and green parks then Popayán is a good option for you to explore. San Agustín is an intriguing place close to an archaeological park. Or you could check out the town of Villa de Leyva with its whitewashed colonial buildings. Both of these options might make agreeable homes for those looking to get outside of the main cities. If you want to get really close to nature, try Leticia, which lies on the outskirts of the Amazon.
Businesspeople
As a busy businessperson, you'll probably want to live in one of the bustling main cities. Bogotá is a multicultural, international city, home to the likes of the industrial port city of Barranquilla.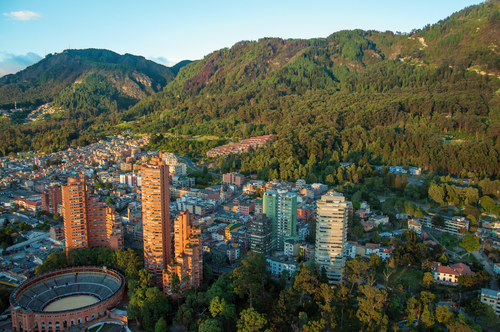 Bogotá is popular with businesspeople
Bucaramanga, which is framed by a view of the Andes, is quite green for a city, boasting many beautiful parks. Alternatively, you may want to base yourself in a suburban area if you can cope with a commute.
Families
Colombia has both public and private schools (international and Colombian) all over the country for your children to attend. In general, the public schools can often be overpopulated, with up to 50 students per class. Whilst private schools in Colombia are more expensive than public schools, they are still a fraction of the price you would pay in many other countries. The majority of international schools are in the main cities (such as Medellin, Cali and Barranquilla), with the most to be found in Bogotá. Noteworthy schools for expat children include Colegio Gran Bretaña Colombia, Colegio Anglo Colombiano, and Montessori British School.
So whilst a smaller town may seem more appealing, if you are set on sending your children to a private international school, then it will be better to be based in or near one of the main cities. There are of course benefits to children attending public schools, such as your children learning the local language.
Retirement
If you're looking to spend your golden years in the sun and you're not sure where to start, here are some ideas.
Colombia is becoming a popular country to retire in, mostly due to affordability and weather. With a highly-rated, affordable health care system, plus friendly local people who have a laid-back approach to life, it's easy to see why more and more people are looking to retire here.
Some of the most popular places to retire in Colombia are Cartagena or Santa Marta for the coast, Pereira or Manizales for the scenery, and Ibagué or Villavicencio for affordability.
Have you lived in Colombia? Share your experiences in the comments below, or answer the questions here to be featured in an interview!