Well, since my last missive we appear to have become the world's capital of protest and riot, edging out the good people of Santiago, Catalonia and Baghdad who seem intent on giving us a run for our money. But, you know, such events are intriguing as they often seem worse if viewed out of context. Watching our seemingly mad moments of destruction therefore on the late news may have you thinking this is normality Hong Kong-style which, thankfully, it isn't.It reminds me of when I had a friend working in Belfast during the troubles, of course news-bites in England only ever focused on the violence. So, with obvious curiosity, one pub evening I quizzed him on what's life like with all that mayhem going on around you, to which he replied, shrugging his shoulders, 'I don't know – I never see any.'
And so it is here, as the political commentators and journalists debate endlessly on whether we're witnessing Hong Kong destroy itself or maybe the emergence of a fledgling democracy, we all go about our usual business to the protestors' common refrain of Add oil! (a Chinese slogan encouraging perseverance) or the stirring Liberate Hong Kong, revolution of our times! which I quite like, has a dramatic edge to it.
And even if you don't hear them you'll certainly see the writing on the wall, one of many Lennon walls that is, or even under foot, sprayed slogans gracing the Territory's once clamorous pavements and roads. Five demands, not one less forms another chant, four outstretched fingers and thumb held indicatively aloft as protestors flood the neighbourhood; it's particularly fortunate, I've oft pondered, that demands have never been reduced to two as that could really cause offence. Incidentally, please see my previous article Carrie On Hong Kong for a run-down on what those five demands are and how they came about.
This is actually my third article on this albeit hot topic and it wasn't one I particularly wanted to write, I had hoped it would all be over by now and I could get back to covering those cuddly cultural snippets you find so interesting, but it isn't and shows no sign of fizzling out just yet; this will therefore serve as an update.
To this end I can almost hear you falling over yourselves to ask me what has happened during these past four months to mitigate or possibly eliminate our problem; err, that one's easy: nothing… Indeed nothing, well nothing of any note that is. Let's look at how the main players have performed, or not as the case might be:
Government: With a total lack of credibility our glorious leader, Mrs Carrie Lam, continues to bear the face of a wax-worked cadre, totally unmoving and seemingly oblivious to what's going on around her. The protestors protest and often riot but Mrs Lam would appear either incapable or unwilling to listen, negotiate or compromise on any related issue, and as far as reconciliation goes, well, forget it! Law and order she claims is the silver bullet to fix all and so the police obediently acquiesce, a forced solution to a political problem. Does that ever work out well?
Stop the protests and violence government officials tiresomely gabble during heated press conferences but, sadly, nobody's listening anymore as there's never anything on offer in return. Seems this stubborn and short-sighted do as I say edict, delivered in an atmosphere of unbearable smarm, may yet come home to roost.
Police: Our once adored police force thus leapt eagerly to the challenge, employing in turn some dubious tactics from which allegations of overdoing it somewhat, not to mention blatant brutality in duffing up and gassing a few kids here and there, arose. Some violent deaths – murders? – have thus been reported, fake news they tell us but I'm not convinced; there's never any smoke without fire…
Presumably the evidently vicious protestors are apprehended but so too it appears are those indulging peaceful action and those innocents who simply find themselves in the wrong place at the wrong time. The number of people charged is worrisomely mounting, to date some 3000 have been arrested, some as young as 12. It would be fair to say that our beloved po-po are definitely not the flavour of the month, earning significant opprobrium from those who previously offered none.
Beijing: They constantly condemn the protests from their lofty perch up norf. They of course, consistent with any failing system or regime, whine and bestow all blame on outside influences, particularly those pesky Taiwanese, Yanks and evil colonial Brits; I don't see it myself and neither does anyone else though it makes a good story. As proof the fading commies laughably point out the Old Glories or Union Jacks that a few exuberant youngsters wave playfully about, missing the point entirely that such gestures serve merely as a way of sticking two fingers up to totalitarianism. Touchingly, unwavering would be Beijing's support for Mrs Lam and her government, for now at least – but the ice is getting thinner…
Protestors: With violence and wanton vandalism escalating, protestors remain steadfastly resolute regarding their five demands; the general feeling is they've come too far to back down now. This may be true but now they must cease destruction, much of it ill-thought out, stupid and pointless, up their game and embark upon a more intelligent route.
Government and protestors: The government would also be well-advised to seek an intelligent route, some clever political manoeuvring, other than Mrs Lam's implorations to 'stop the violence', will be required and there's definitely none of that in the offing. It doesn't make it any easier that the protest movement as a whole has no clearly defined leadership or hierarchy with which to form a basic dialogue, and that's a shame as their energy, tenacity and aspirations could be put to good use. Having started out on a Gandhi-style path of non-violent action it's one they need to regain sooner rather than later if things are going to move on.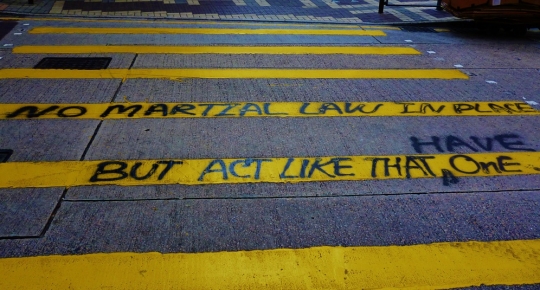 Protestors: Funnily enough, one curious aspect to the protest strategy is the removal and subsequent assembly of metal streetside railings as barriers to thwart police movement during advances. Apparently, town- and urban-planning organisations have been campaigning a while now to have this type of ugly street furniture removed or reduced, claiming them to be an unnecessary blight on our beautiful cityscape; and indeed they are, or were, not anymore though as most have yet to be refixed – result!
Business community: Stop it; it's affecting our profits – no change there then! To be honest a lot of this affect can also be traced back to the on-going USA-China trade war, so pointing the finger might not be so straightforward. Specifically regarding the protests however, hotels together with the whole tourist industry now cry foul. In fairness the hotels were anyway grossly overpriced and, as with tourism, eggs were placed neatly in one mainland post-Chinese-reunification basket at the expense of other international markets.
I haven't really noticed a drop in non-Chinese tourists, in fact these days I notice even more, but then we westerners are never too averse to a decent public disturbance. Ironically, one enterprising tour company now offers visitors the opportunity of joining a protest as part of an observation package; now, that you'll appreciate, is the sort of entrepreneurship which makes Hong Kong so special!
Everybody else including us: With regular weekend carnage and damage, particularly to train company facilities and firms bearing any affiliation to China, the public are feeling a little jaded. It's quite distressing to see the hate and hurt perpetuated by all sides and yet no trace of the healing process those sides claim as an objective. Rather like Brexit in the UK, the concept had initially galvanised and polarised great swathes of the population only for many to flounder, eventually succumbing to battle-weariness and boredom along the way; those who nowadays couldn't give a toss. Having said that, it would appear from people with whom I have daily contact, the protest movement still enjoy greater grassroots support than do the government, though not a praiseworthy achievement in itself.
America: In the meantime, and on the only working political front, in America the House of Representatives have passed two acts regarding our problem. The Hong Kong Human Rights and Democracy Act will punish officials deemed to be harming human rights and freedom here, whilst the Protect Hong Kong Act will ban sales of crowd-control weapons to the Hong Kong police. US representatives also passed a resolution calling on the Hong Kong government to address protesters' demands. The Acts will now move to a similar vote in the Senate. Will it change anything? I wouldn't expect it to.
Government: Our Chief Executive, Carrie Lam, recently delivered her latest Policy Address: this is basically a briefing on the government's work and new projects list for the coming year. It focuses heavily on what she believes are the real underlying causes of our present trouble, not the extradition bill anymore, that was finally withdrawn, but social ills, and particularly housing, the high cost of such and the difficulty in obtaining a mortgage, especially for those on a low income – and that's most of the population. Her measures, she hopes, will mitigate this situation, encourage greater home ownership, and thereby temper the anger. All well and good but housing is a problem worldwide on which myriad oleaginous politicians talk big on solving but fail totally to deliver, don't we know that well?
So far the Policy Address has not been well received by the masses and talks of further protests continue. A good friend of mine stated that any hope of home ownership effectively remains pipe-dream material. I'll let you know if anything changes but, as anybody on a housing list will tell you, don't hold your breath!
So what's next? Well, interestingly, later this month we shall be holding Territory-wide District Council elections which will generally see a battle between those factions who align as either pan-democrat or pro-Beijing. District councillors don't have a great deal of power politically, their duty is civic in nature, but it will be viewed as a litmus test on how next year's more important Legislative Council elections might play out.
Of course, there's an underlying mood that the elections will be derailed predominantly by the largely unscrupulous pro-Beijing lot who quite rightly expect wholesale slaughter at the polls. The government have already disqualified one well-known activist, Joshua Wong, for previous inferences to Hong Kong independence – a very cruel and naughty thing to suggest, and one which elicits tears of anguish from our maternal commie elite.
This decision seems ridiculously heavy-handed and has already led to an even further disgruntled populace, far wiser I'd have thought to permit his entry, see what happens and thereby demonstrate that we are indeed a progressive and conciliatory society. Victory after all is never guaranteed and we must remember that as a successful district councillor Mr Wong will need to be more concerned with how Mrs Lee's bins are emptied rather than orchestrating a bloodletting coup in the Legislature. Shall we be voting? Try stopping us!
In conclusion then, feeling frustrated the protestors won't or can't give up, government are unable or incapable of finding a solution and the police are serving authority with the delicacy of a loose cannon. The societal chasms are huge and nobody has a clue what to do about it, if in fact they want to. Indeed, it's never a dull moment in Hong Kong so with all this going on how could you possibly not want to visit? And while you're here don't miss out on that informative protest tour!
Anyway, goodness knows what I'll say about this the next time I write, I suppose if this article was a diagrammatic flow chart I'd sketch an arrow extending directly from the end of this sentence back to the beginning, instructing you to please read again as I doubt anything will have changed since, and on it goes…