If you are moving to the US, at some point in the early part of the year you might get a knock on your door and a cute little uniformed girl will ask if you want to buy girl scout cookies. "But what are they?" One might ask? Well, you have to try to find out.A Little Bit of History on the Girl Scouts Movement
Back in the early 1900s, around 1909-1910, all over the world different movements started with different women trying to pave the way for the next generation of girls. As we know, the 1900s was a century with many changes happening, especially for women. Juliette Gordon Low (USA), Agnes Baden-Powell (England), Olga Drahonowska-Malkowska (Poland) and Antoinette Butte (France) – info taken from Wikipedia – were all credited with starting the scouting movement for girls in their respective countries. In my research, I couldn't really find one person who was the very first one all over the world. It seems to me like it all kind of started around the same time, as a way to get girls to learn about self-resilience, about being inclusive and about serving others. Not only that, but to do what the boy scouts were doing, learning to survive outdoors. Soon the troops were expanding all over the US and overseas.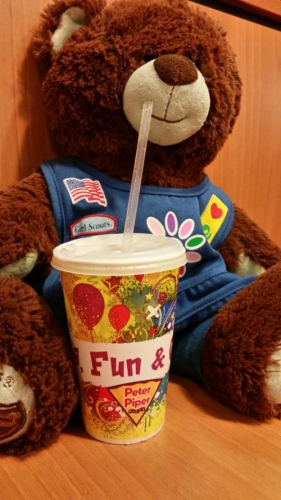 (Daisy bear from my daughter's troop in Arizona)
I remember being a kid and seeing some Brazilian girl scouts (Bandeirantes), I even remember my parents having a conversation about it, but for some reason I didn't join. To this day I can still see in my mind the little girls dressed in their blue uniforms and different colored scarves.
What About the Cookies?
Around 1917, one of the USA girl scouts troops decided that they needed to raise money, so they decided to do a cookie sale. The idea caught on, recipes were added over the years, and to this day, you can buy your favorite girl scout cookie from late December until about March or so.
How does it all work? From December until the end of January, you have the pre-sale. The girls are usually selling to family and friends, they collect the money and once they have the cookies (cookies usually arrive in February) they deliver them.
After the cookies arrive, you will see cookie booths all over the country. In the streets, in car parks, in front of the grocery stores… simply everywhere. Girls compete to see which troop will sell the most. They get a few prizes depending on the quantity of boxes they sell and while the bulk of the money belongs to the Girl scouts organization, the troop usually gets a percentage and with that money they can fund trips or excursions.
The whole thing behind the cookie sales is to give girls a great learning experience. They learn about:
– safety,
– about money,
– about sales,
– about being organized,
– about goal setting,
– about responsibility,
– about helping others,
– and even about writing thank you notes.
The cool thing is that not only you can buy these cookies for yourself, but you can donate to the troops overseas as well as donate money to the organization.
My daughter is a proud girl scout. Last year, she was in a troop, but I guess the girls were still too small as I didn't see a lot happening, so I wasn't sure about the whole thing. This year she is in a different troop, in a different place and she seems to be enjoying it a lot, and the troop leader seems to be very organized, which helps.
As you might imagine, 6, 8, 12 year old girls don't roam the streets on their own, they must have an adult present and as they get older, they must be in a group or be with another scout in order to knock on doors. Which means that the whole family must, one way or another, get involved. Some mums and dads will become cookie volunteers, the parents obviously will go with the girls knocking on doors, or will help with the money counting, or will go as far as decorating their cars and letting the whole world know that their girls are selling cookies.
More than a Tradition
The girl scout cookie sale is more than a tradition here in the US, it's part of everyone's life. I've seen as we've walked the corridors in our apartment building the past 3 days, how most people are so welcoming and they all have their favorite cookies, and they talk about when they were girl scouts themselves or have cousins or siblings who were, or simply just can't wait to have a box or two of their favorite cookie for the season.
My favorites are thin mints, samoas and the shortbreads, but for peanut butter lovers out there, you can have your pick of different ones.
When you move to the USA and you see that cute 9 year old girl with her brownie vest asking if you want a cookie, smile back, ask how much a box is and take your pick. Not only you are teaching many important lessons to this little "brownie", but you are helping out an organization that does a lot of good work all over the country. And if you are not a big fan of cookies… donate a box or two to the troops. I am sure American soldiers wherever they are in the world will have an even bigger smile on their faces as they savor their favorite cookie and think of home.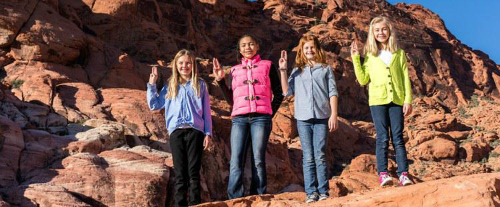 (Picture taken from the
girl scouts website
)