I am typing this on 30 October. As always at this time of year, our local shops and markets are full of potted chrysanthemums.La Toussaint, November 1, is the day when families put flowers on the graves of their departed relatives. Roman Catholic tradition makes a distinction between La Toussaint, All Saints' Day, and the Commémoration des fidèles défunts, All Souls' Day, November 2, when dead relatives are supposed to be commemorated; but La Toussaint is a public holiday and French families gather to put chrysanthemums on their loved ones' graves. Many also attend special church services.
Digression: Chrysanthemums are so closely linked to La Toussaint that the French never give them as a gift. A pity, as I love chrysanthemums.

Chrysanthemuns on sale outside ATAC supermarket in Cervon
Hallowe'en in the Morvan?
Look up Hallowe'en in the big Harraps dictionary and you will find La Veille de la Toussaint, together with an explanation in French, as if Hallowe'en were an esoteric ritual. This year, however, ATAC is displaying spooky stuff and Weldom, our local DIY shop, is urging us to celebrate by doing DIY, decorating and gardening. Neither Weldom nor ATAC is doing a roaring trade in Hallowe'en items. By contrast, when we lived near a big USAF base Halloween (no apostrophe) was a major event and the local children were invited to Trick or Treat among the pumpkin lanterns.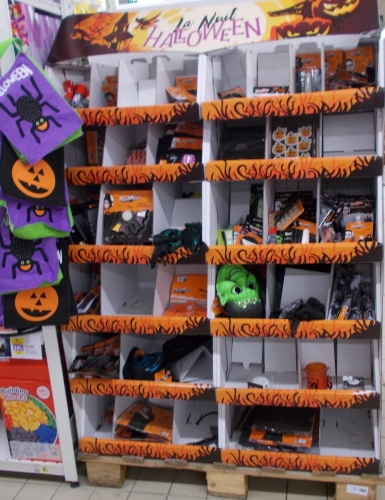 Spooky stuff at ATAC
Digression: Hallowe'en is of course the eve of All Hallows – All Saints' Day. To hallow is to venerate or make holy, as in 'Hallowed be Thy Name'. Whatever midnight mischief takes place the night before, All Hallows still rules OK. Here is a website which says it all.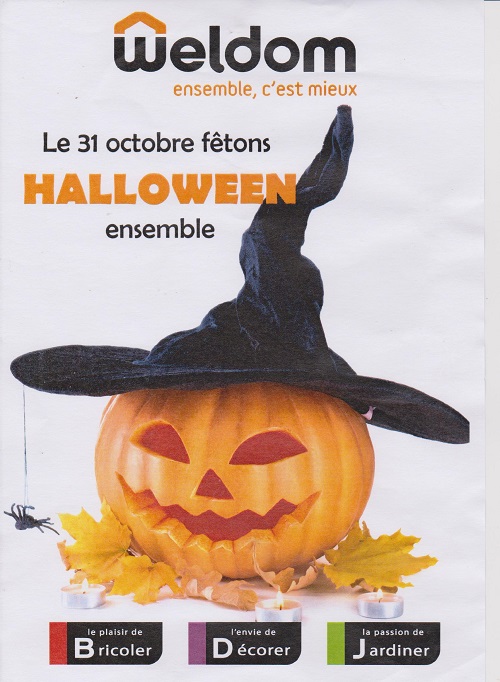 November 11
John and I have our poppies ready for the Armistice Day parade. Brits wear poppies, French people wear bleuets – cornflowers. Both blossomed in Flanders fields. See here.
See also my November 2016 effusion.
Rifles at Cervon
This event is not as bellicose as it seems; les rifles is bingo pure and simple, a jolly get-together in the Salle des Fêtes in aid of the Christmas Tree fund. If you read French you need not bother reading my effusions because the Cervon website tells it all.
Help for Heroes
We have just said goodbye to our first guests from Help for Heroes. Pierre, our friendly reporter from the Journal du Centre, came to interview us all, and immediately departed for his Toussaint hols. We hope to welcome many more families now that Charity Cottage has its new heating and insulation.
Friday the Thirteenth
Every Christmas I write a story to send our friends and relations. The 2017 story concerns a deserted château and what may have been a ghost. Every word except the ghost on the staircase is true. You can read it here.
Grow a mo, save a bro
And finally Movember, when men are encouraged to grow a moustache. Everyone knows about women's cancers, but men get cancer too. The Movember Foundation says:
We're the only charity tackling men's health on a global scale, year round. We're addressing some of the biggest health issues faced by men: prostate cancer, testicular cancer, and mental health and suicide prevention.
The Movember slogan is 'Grow a mo, save a bro'. John survived prostate cancer thanks to early diagnosis and the superb French health service; but two close friends died of prostate cancer in the UK. John has a 'full set', so growing a moustache is not an option. But his oldest friend Robin, normally clean shaven, grows a moustache every Movember and we are proud to support him. Read all about it here.