My online Harraps devotes an explanatory paragraph to La Rentrée.
"The time of year when children go back to school – in September – has considerable cultural significance in France. Coming after the long summer break or grandes vacances, it is the time when academic, political, social and commercial activity begins again in earnest."
They can say that again. We are commissioning a new kitchen, but we had to wait for the suppliers to come back from their hols before placing our order.Digression:
When Georges Delcros built his dream home here at Maré le Bas he added many refinements, including an electrically-operated sunblind and a call button at the gate which invokes a CCTV system (I just yell 'J'arrive' and hurry to the gate, but John likes to check who is calling). Then Georges ran out of money and transferred the 1960s Formica and chipboard kitchen from his old house. I lived with it, although bits kept falling apart, from our arrival in 2005 until July 2017 when the sink tap went all wobbly. The chipboard had rotted and John had to jury rig a plank to hold the tap firm. I decided enough was enough…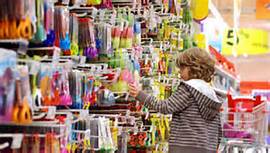 Bizarrely, the shops are full of fournitures scolaires soon after school breaks up for the hols. In my school days I would have resented this, but all our basics were provided, which is not the case in France, as one expat mum explains.
Mary Lee Bass and Wipers
Adela, our American daughter-in-law, has a sophisticated telephone which incorporates satnav and a camera. We enjoyed several outings during her visit, and her satnav's pronunciation of French names made us smile. According to the satnav we live at Mary Lee Bass, which Adela says reminds her of a folk singer. That in turn reminded me of my Aunty Doris who, when I pronounced Ypres "Eepr", retorted, 'It's Wipers, my girl!' She was right. Check out History Extra, which tells the story of Captain Fred Roberts and Lieutenant Jack Pearson who, after discovering a printing press, produced a trench newspaper called The Wipers Times. You can buy it, faithfully reproduced, on Amazon.
Having a clearout?
I have frequented many vide-greniers, but never offered goods for sale. I am, however, considering doing this before my new kitchen arrives. I reckon that if I have not used an item for three years, it can go. And any proceeds will benefit Combat Stress.
Un grenier is an attic and vider is to empty. Think car boot sale on trestle tables along the village street and around the village square and you won't go far wrong. Most sizeable villages host an annual event, and our knowledgeable friends plan their visits to Maré to take in a vide-grenier or three.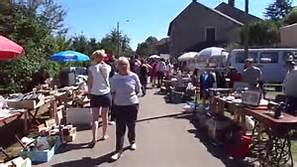 Ebay has not yet caught on here, and people moving house, downsizing or clearing up after a death have three choices. They can donate their unwanted stuff either to the local Emmaus, who can arrange to collect bulky items like Granny's wardrobe, or to a charity shop, of which there are fewer than in the UK. We are a sociable crowd in the Morvan, however, and many people choose the third option: they offer their stuff for sale at a local vide-grenier.
I'll rope in my scrabble buddy Claudine, who will revel in the sticky labels and small change.