For many years, Cyprus has attracted visitors from across the world. With its warm weather and abundance of natural beauty, it's easy to see why so many expats have favoured the country, and why more and more people are now choosing Cyprus as a place to purchase property.Sitting at the intersection between Africa, Asia and Europe, Cyprus is blessed, both in terms of annual sunshine hours and diverse landscapes. Beautiful beaches with golden sands and serene bays, jagged cliff edges and volcanic hills are just some of the scenes you can explore, so if you enjoy living an outdoor lifestyle, then Cyprus could be the country for you.
The country has come a long way since the financial crisis of 2008 and it's safe to say that the property market has recovered in terms of cost. Property prices began rising in 2014 and since then, the market has become very competitive, with reasonably priced properties becoming increasingly harder to find.
Choosing The Right Location
As with all countries, the area in which you choose to buy property will depend upon what you want to use the property for. For example, are you planning to purchase a property with the intention of renting it out? Do you want to live and raise a family there, or is a property in Cyprus part of your retirement plan?
Whatever your plans, Cyprus will have a location to suit. The country is large and, as a result, has different atmospheres in each neighbourhood. These neighbourhoods can be broken down into the following categories.
Vibrant Nightlife – Ayia Napa
The Mediterranean resort town of Ayia Napa is on the southeast coast of Cyprus and is known for its beaches and nightlife. Bars, clubs, taverns and restaurants flood the area with nightlife options, while Pantachou Beach offers a break from the buildings with a stretch of golden sand. Houses in this area are well suited to those who are looking to rent their property out, as many people live and work in Cyprus on a gap year for the party scene.
Family Friendly – Larnaca
Thanks to its proximity to both the international airport and a stretch of beautiful coastlines, Larnaca is an attractive option for those who are looking to relocate their family. There are plenty of good quality schools nearby, and the affordable prices make the area attractive, especially for those who are looking to purchase apartments and penthouses.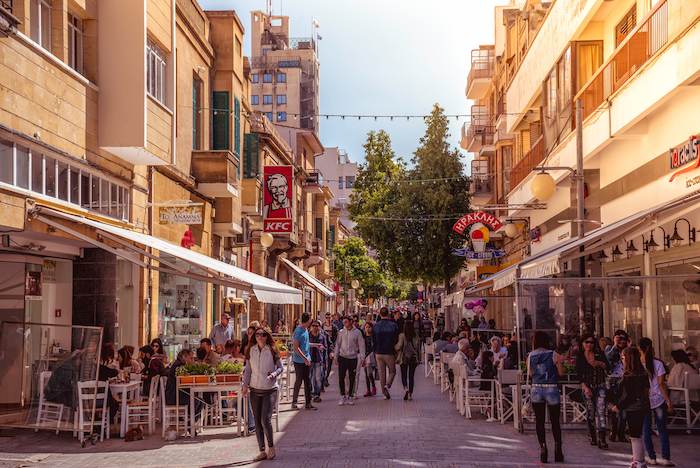 Nicosia is popular with young professionals
Suitable For Young Professionals – Nicosia
Nicosia is the largest city and seat of government on the island of Cyprus. Located near the Mesaoria plain, away from the sea, the capital is not the most popular area for the holiday home market. However, due to its city atmosphere, it is favoured by expats and business people and, as a result, is becoming increasingly popular as a place to live long term.
Arranging The Paperwork
Once you've chosen the area you want to live in, it's down to the fun part… Finding your property!
Traditionally, properties on the island are villas and townhouses, which you will find in cities, suburbs and rural areas alike. However, regardless of your property preference, once you have found the right home and want to move forward, you need to exercise caution.
This is because there can be huge pitfalls when purchasing property in Cyprus, and in order to ensure that your purchase doesn't get tied up in paperwork and courtrooms, it's best to be prepared from the beginning of your buying journey.
The most significant thing to look out for is the title deed to your property. Since the Turkish invasion in the north of Cyprus in 1974, the country has been governed by two administrations. Property in the North of Cyprus belonged to Greek Cypriot people, who were forced to flee the area as a result of the division. Since then, many of the title deed documents have been falsified.
As a result of this, you can't always take property deeds at face value, and so extra precautions should always be taken to verify the legitimacy of documents. After all, you don't want to risk a court action or a counter-claim to your property after you've bought it.
There are steps that you can take in order to avoid this:
• Get a lawyer.
• Ensure that the property isn't the subject of an ownership dispute.
• Have a full examination of the property conducted by a broker or another authority.
• Have somebody verify the legitimacy of the documents.
Once you're sure everything's legitimate, the purchasing process will be relatively straight forward. EU nationals are able to purchase property in Cyprus without any restrictions in place, while non-EU nationals can purchase real estate if it's a house, apartment or land that does not exceed one acre in size.
In order to purchase your property, you will need to obtain permission from the Council of Ministers. There's an application process for this which will require:
• The property details
• The current owner's details and contract
• Information on your current residence, personal history and income.
It's important to note that whilst approval is given more often than not, this can be a time-consuming process.
Once you have completed your paperwork and negotiated a sale, the paperwork process starts again! A formal contract of sale will be drawn up and translated into relevant languages, which will then need to be deposited to the District Lands Office within two months of being signed by both parties.
What Fees Are Involved When Purchasing Property In Cyprus?
As an expat, it's advisable to budget at least 15% above the asking price to cover all the registration costs and legal fees associated with buying a property. This is because you will be liable for property tax, transfer fees, stamp duties and any additional legal levies.
Additional fees may also apply. For example, a 10% deposit will be required before the title deed can be legally transferred into the new owner's name. Thanks to this, it's important that you invest in a lawyer to ensure your paperwork is completed accurately.
Have you lived in Cyprus? Share your experiences in the comments below, or answer the questions here to be featured in an interview!