Copenhagen, the capital city of Denmark, traditionally known for its beautiful architecture, is rapidly becoming famous for its delicious food. But what are the 'must try' items on the menu? They are numerous, as you will find plenty of choices to satisfy every culinary preference and budget.Let's have a look at some of the traditional Danish dishes that hold a special place in the hearts of the local people.
Rød pølse
If you are looking for a cheap and cheerful way to sate your hunger whilst exploring the city, then look no further than rød pølse. This is a so-called 'red sausage', usually served in a fresh bun and topped with ketchup and mustard. Although this may sound just like a traditional hot dog, stands around the city offer a number of additional ingredients to customise your 'dog'.
Smørrebrød
You can't go to Copenhagen and not try smørrebrød. From humble origins as a farmer's lunch, this open-faced sandwich is now a beloved local favourite. Smørrebrød is served in many high-end restaurants across the country as a staple lunch dish. The name originates from the Danish words for bread and butter.
A classic smørrebrød consists of a slice of a buttered rye bread, topped with pickled herring or salmon, cucumber and some sauce to finish it off. Should you struggle to pronounce smørrebrød and just happen to like sushi, then luck is on your side, since smørrebrød + sushi = smushi. These are sushi-sized creations beautifully crafted for your enjoinment at the Royal Smushi Café.
Pickled Herring
Marinated and pickled herring has been on the Danish menu since the Viking Era. Denmark is the fifth largest distributor of fish and fish produce in the world. As you can imagine, there are a lot of seafood dishes on the offer, with herring being among the most popular.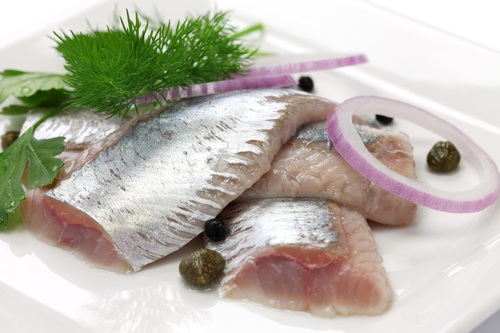 Pickled herring is a popular Danish dish
This pickled fish compliments a vast variety of dishes in Denmark, which has ensured its survival through the years.
Salmon
Another fish frequently found in Copenhagen restaurants is salmon. Although it can be cooked in various ways, Danes usually prefer to keep it simple by adding cold-smoked salmon to a slice of rye bread.
Durum Shawarma
During the 1960s and the early part of 1970s, there was a large influx of Turkish and Pakistani refugees into Denmark. Many of these people opened restaurants and integrated the taste of Middle East into the culinary scene of Copenhagen.
This is why durum shawarma (chicken, beef or lamb) is one of the staple dishes in Denmark today. Most restaurants serving this dish will stick the original recipe and use fresh ingredients. The multicultural area of Copenhagen known as Nørrebrogade is the best place to get your hands on some delicious durum shawarma.
Falafel
Another famous Middle East influence in Copenhagen is falafel. You can get this traditional Egyptian dish all over Copenhagen.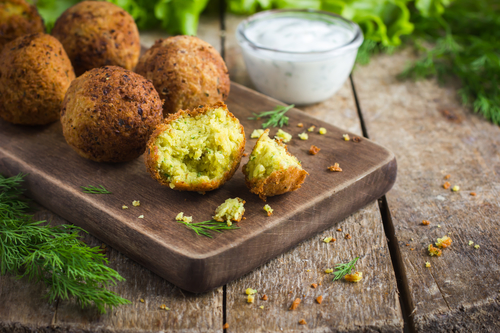 Falafel is a popular snack in Copenhagen
The classic version is served with lettuce, tomato, and garlic sauce, but recently a trend emerged to combine Middle Eastern and Danish culinary traditions in order to create a multitude of delicious combinations.
Flæskesteg
When you think of Christmas in Denmark, you will learn to think of flæskesteg. This is a traditional roast pork with crackling, usually accompanied by potatoes. It's a firm favourite with local people and can be used as a topping for smørrebrød. Should you find yourself in Copenhagen during the holiday season, then you absolutely must give it a try.
Frikadeller
There is something almost magical about these meatballs. There is nothing remarkable about the recipe and no secret ingredients, but somehow frikadeller manage to have a taste that is truly their own. Fried in butter, you might want to try them with boiled potatoes. However, if you wish to feel like a proper local, use frikadeller as a topping for your smørrebrød.
Fiskefrikadeller
It's hard to tell what Danish people love more, their meatballs or their fishcakes, known as fiskefrikadeller. These are made from whitefish mixed with onion, parsley, salt and pepper, and served with cucumber and remoulade sauce. Apparently, this treat is so good that it is recommended you sample it even if you are not usually a fan of fish dishes.
Burgers
If you are not a foodie and prefer to walk the tried and tested route, you can't go wrong with a burger.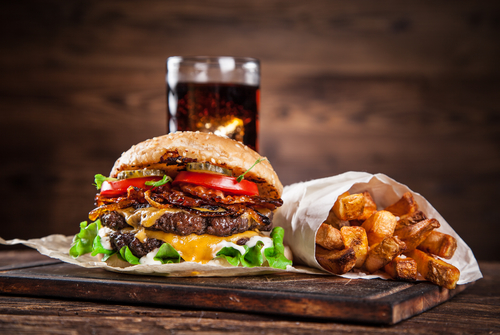 If you're more of a fast food fan, you'll still have plenty of options
There are plenty of options on offer in Denmark, from huge American-style masterpieces to vegan, gluten-free, organic vegetable creations.
Pizza
Whilst we are on the subject of fast food, we have to mention pizza. How did a predominantly Italian dish end up on the list of 'must try' foods in Copenhagen? Well, the Italian chefs living in the country prepare a mouth-watering dish with original recipes and the best ingredients, ensuring that pizza has a place on this list; and deservedly so!
Market Food
Your culinary tour of Copenhagen is not complete without visiting the food market. Torvehallerne food market halls are open all year and offer delights such as artisan cheese, smoked fish, craft beers, pizza and transitional Danish desserts to name a few. This place has its own special atmosphere and attracts a variety of people, from tourists seeking a respite after exploring the city, to local workers on their lunch break.
Despite all the amazing food listed above, you might feel that there is something missing. Don't worry, we haven't forgotten about Carlsberg and Tuborg beers! After all, you will need an appropriate beverage to accompany all that food, and these two drinks fit the bill perfectly.
Given this wealth of food and drink, it's hardly a surprise that there is an ever-increasing number of street-food vendors, highly-acclaimed and even Michelin Star restaurants in Copenhagen. There are also many food tours on offer that provide you with an opportunity to experience the city in a different light. You can get on a bike for a few hours if you wish to go off the beaten path; venture to the former red-light district of Vesterbro or try some food the local people consider a delicacy. All the time you will be accompanied by a tour guide who will educate and entertain you with stories about the rich heritage of Copenhagen.