With some beautiful scenery and great food, Denmark is not a difficult place in which to keep fit and well. Sports are important to the Danes, and they are commonly supposed to be some of the happiest people on the planet – perhaps due to their lifestyle.The nation has a public cycling system to promote a national biking culture, and hiking is popular as well. You'll find many available gyms and fitness centres, both in Copenhagen and beyond. Copenhagen, the capital, regularly features in the WHO's list of the world's healthiest cities and it has a 10-year health policy in place, from encouraging people to get out on their bikes to providing nutritious lunches in workplaces and promoting anti-smoking campaigns. Healthcare in general is of a high standard, whether you opt for private health cover or simply use the public system.
If you like swimming then Copenhagen is the place for you, with a swimming pool to be found in most neighbourhoods. It's a popular form of exercise among the Danes, even when temperatures fall below zero.
Canoeing and kayaking are also carried out even within the waterways of the capital, and since Denmark has an extensive coastline (the fifth longest in Europe), sailing is also a good choice of activity if you're by the sea. The Royal Danish Yacht Club offers sailing courses, including a programme which results in a Danish sailing license. Rowing has been a recognized sport in the country since 1886.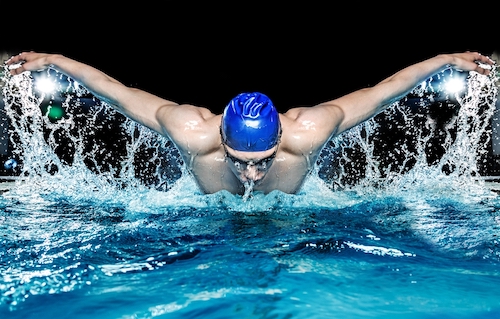 Swimming is very popular in Copenhagen
Hiking is an ideal way to get to know the Danish countryside, with a large number of registered trails. The Wadden Sea is the country's biggest national park and was made a Unesco World Heritage Site list in 2014, but the Thy National Park is close behind in popularity with a diverse landscape of dune, forest and lakes.
The park of Mols Berge stretches from the coast of Kattegat to the forests at Kalø and has a variety of trails; since the region also includes several villages, there's no problem in finding accommodation here either, although there's also the opportunity to sleep out in some of the many camping sites. The Danish weather isn't too predictable, so if you're going to be outside for long, make sure you take proper wet weather gear with you.
Running is also a sport practiced by many Danes and if you're in Copenhagen, the city has a number of parks which you can use for jogging.
In Copenhagen, 62% of the population cycle to work every day (not because they're all fitness fanatics – it's the easiest way to commute) and the city authorities clear the bike lanes before the car lanes whenever it snows.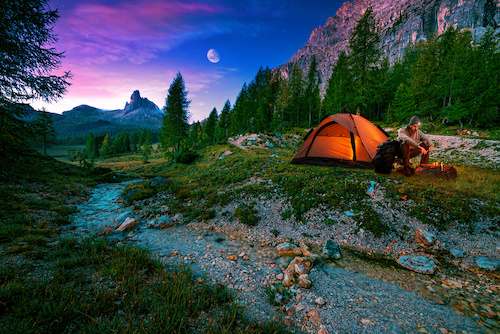 Hiking and camping are popular pursuits
Another way to see the countryside is on horseback: Denmark offers a number of horseriding tours for you to explore the forests and beaches, and local stables also give kids the opportunity to learn to ride, too.
Back indoors, yoga is growing in popularity, with yoga studios all over the capital: Hatha yoga is particularly popular, but hot yoga has its enthusiasts as well.
Most gyms offer crossfit classes, as well as the usual range of equipment, and you should have no trouble finding a workout that suits you at your local gym or fitness centre. Boxing classes also take place at many gyms, for both men and women.
Denmark's national sport is football and as an expat you may be able to find a local team to play with, but there are lots of other choices of team sporting activity available to you as well, including cricket, badminton, ice hockey and golf: Denmark has around 180 golf courses across the country.
Cricket has been played here since the mid 19th century, and Denmark has a national team. It also does well in ice hockey. If you fancy learning something new, then handball, which originated in Denmark, is also popular, and so is tennis: there is a Danish Lawn Tennis Association and all-weather courts can be found across the country.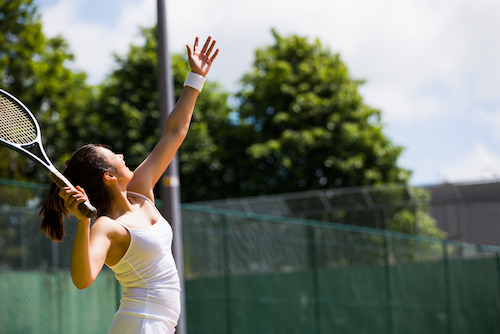 There are tennis courts all around the country
Denmark is also increasingly aware of the importance of mental wellbeing: despite the country's reputed status as one of the happiest on Earth, a sizeable percentage of the Danish population still report that they suffer from depression, and the healthcare system is seeking to address this.
Copenhagen, for instance, offers stress clinics: around 23% of the city's residents say that they feel stressed a lot of the time. The clinics focus on mindfulness techniques, with subsidized yoga classes available.
The Danish government takes a proactive role in trying to increase the health of the nation. A recent announcement from the Employment, Health and Culture ministries stated that they are setting up a number of task groups involving external partners in an effort to find ways to increase Danes' participation in sporting pursuits.
When it comes to your diet, Denmark has a long tradition of fishing and seafood, and you won't find a shortage of healthy choices. Copenhagen has a number of excellent seafood restaurants as well as street stalls. It's not all positive, though: the government keep trying to promote healthy eating, but with mixed results. A fat tax in the 2000s had to be dropped due to falling sales and public complaints.
Overall, Danish healthcare is free at the point of delivery and is of a high standard, thus contributing to the wellbeing of the country as a whole. With some enlightened social policies, the nation strives to make life as healthy as possible for its citizens and expats should have no difficulty in joining in a healthy lifestyle.
Would you like to share your experience of life abroad with other readers? Answer the questions here to be featured in an interview!