Who are you?
My name is Alina and I moved to Estonia about 1 year ago, after more than 6 years of living in Denmark.
Where, when and why did you move abroad?
I moved to Estonia about 1 year ago, after more than 6 years of living in Denmark.I am originally from Bucharest, Romania and I moved to Denmark right after I graduated high school, in order to continue my education. After I finished both my Bachelor's and Master's degrees, I continued working full-time for a while and after that, I moved to Estonia, where I am currently working.
At that time, I simply thought that it's time for new adventures. In Denmark, I met my (now) husband, who is Estonian. We thought Estonia is a nice, cosy country to settle in, yet constantly evolving.
It all started as a joke actually. One day we decided to apply for jobs in Estonia online, to see what would happen. Only a couple of days later, I got an offer and decided to give it a go.
What challenges did you face during the move?
Having experience from relocating to Denmark, as well as my Estonian
husband by my side, I must admit the move was quite smooth.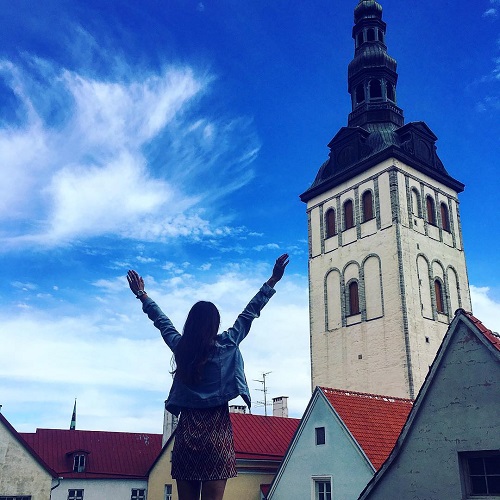 Alina in Tallinn
We were choosing an apartment to rent in Tallinn, while still in Denmark, so that was a bit scary. We'd never seen the owner or the place (except for pictures), but signed the contract. Luckily, when we arrived, everything was as we expected it to be.
Are there many other expats in your area?
The expat community is relatively small in Estonia compared to Denmark, but there are quite a few expats; I think the number will keep increasing.
What do you like about life where you are?
I consider the lifestyle in Estonia quite comfortable. People work very hard in general, but family is paramount and they always find time to spend with their loved ones. Prices are reasonable, healthcare is free and salaries are alright in relation to costs.
What do you dislike about your expat life?
There is not much I dislike, but I sometimes wish Estonians would be more open to foreigners.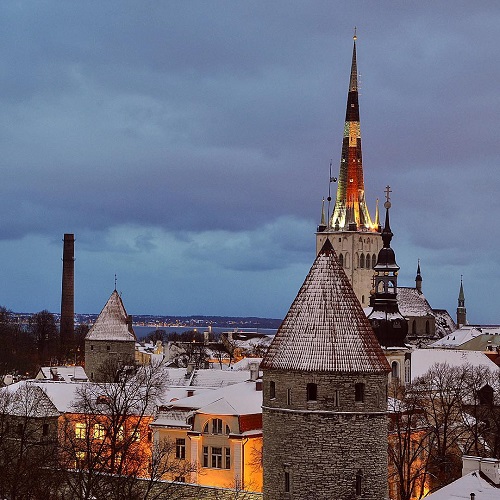 Tallinn in winter
What is the biggest cultural difference you have experienced between your new country and life back home?
For a cultural shock, I have to mention sauna. It's quite common to have sauna parties with friends, but I didn't know it is also common to go to sauna… well, naked! (girls and guys, separately though). I felt a little embarrassed as I had a swimming suit on and a towel wrapped around me, while the other girls were very comfortable naked. I blushed, mentioned the sauna was too hot for me, and joined the party outside, hehe. I guess I felt that way because in Romania this is not common at all!
What do you think of the food and drink in your new country? What are your particular likes or dislikes?
Oh actually I wrote an entire blog post on this topic. Check out my top 10
favourite (and least favourite) Estonian dishes.
What advice would you give to anyone following in your footsteps?
Be brave! Being an expat is not easy all the time, but the experience is amazing. You learn so much and you develop some skills I believe you would never have if you weren't an expat.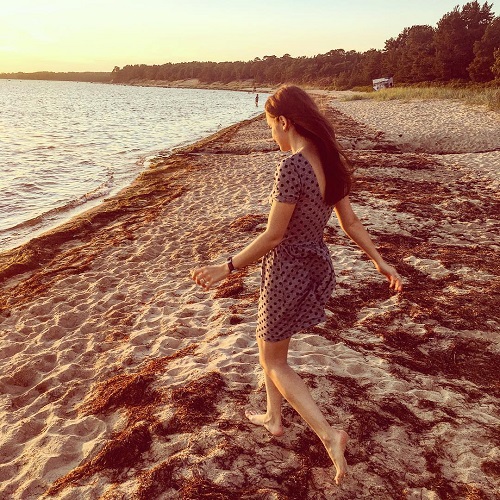 Tallinn in summer
And most importantly, remember to enjoy every moment in your host country.
What are your plans for the future?
At the moment I think I will be in Estonia for the foreseeable future. I learned to be a bit more reserved in that sense and "never say never", but for now I don't see a reason why I'd leave Estonia. I am happy here!
You can keep up to date with Alina's adventures on her blog, Expat in Estonia, and on Twitter, Facebook and Instagram.
Would you like to share your experiences of life abroad with other readers? Answer the questions here to be featured in an interview!