Paris is synonymous with croissants, croques monsieur, palmiers and pains au chocolat. This isn't such good news for those with gluten intolerance or celiac disease. However, upon doing a little bit of research, it is possible to find a number of gluten-free treats in this beautiful city. In fact, apart from the baguette that accompanies every meal, much of the French diet is relatively gluten-free.For those who prefer cooking at home, going gluten-free should begin with getting to know the local market. Tiny markets are found around almost every corner and are the place to visit to stock up on fresh vegetables and fruits. Some of these markets also have a fromagerie, which sells cheese, and a boucherie, which is the butcher's shop.
A boucherie, apart from selling raw meats, also has a variety of cured meats. Sometimes, you can also buy eggs from a boucherie. The fromagerie is where you can get all your dairy food items. In addition to cheese, you can also find yogurt, cream and fresh milk. Some shops even provide a small dish of different cheeses for affordable prices.
At fruit and vegetable shops, the shopkeepers will choose the best quality vegetables and fruits for you, as customers are not allowed to handle the produce in some shops. Other shops may permit it, but to confirm, simply ask the shopkeeper or do as the locals do.
Your local organic foods store is likely to have a gluten-free section where you can pick up different types of gluten-free bread, which is made fresh daily. Some of these include chestnut bread and buckwheat bread. The breads are usually stored on the topmost shelf for display, thereby preventing any contamination from the gluten products. These stores also carry a special pilsner type of ale from Germany, which is gluten-free and organic.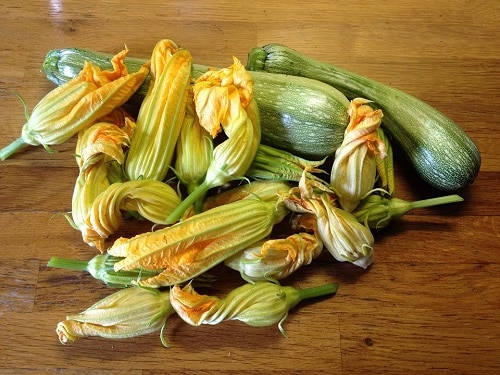 Zucchini flowers are a popular French delicacy
© LaCamilla on Pixabay
Taking a cue from the United States and other countries in Western Europe, France has witnessed an increase in eateries that avoid wheat. Paris especially is now more welcoming to its gluten-intolerant population, and is today among the best destinations to eat gluten-free in Europe.
Before we delve into Paris' many gluten-free dining places, let's take a look at some of the city's famous recipes which can be prepared at home.
Fried zucchini flowers
The zucchini flower season begins in summer. Zucchini flowers are a simple dish that is popular in France. Many Parisians even have a zucchini plant on their balconies or in their gardens, which provides a steady supply of flowers as required. Typically the flowers are dipped in batter containing flour, egg and milk. The gluten-free version uses chickpea flour. Once the flowers have been dipped in the flour, they are deep fried in hot oil, and served with a sprinkling of sea salt.
Chicken cordon bleu
This is a classic French dish consisting of chicken breasts with a ham and Swiss cheese stuffing. This time-honored recipe is commonplace in many French households. The gluten-free version is made with amaranth and oatmeal that provide the breading for the chicken breasts. You can even coat them in almond flour.
Macarons
This delightful French sweet treat is gluten-free by itself, and does not require any substitutes. The traditional recipe requires almonds, egg whites, sugar and cream.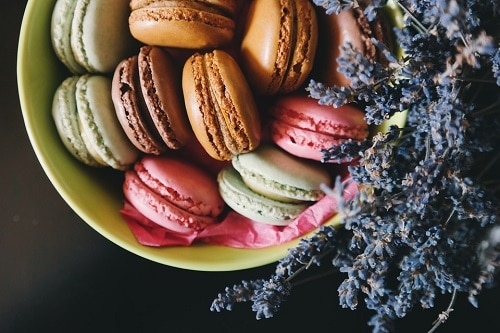 Macarons are very popular in France
© Pexels
Below are some of Paris' reputed bakeries, cafés and restaurants that cater to those who cannot or do not consume gluten.
Bakeries
Chambelland
14 rue Ternaux 75011 Paris
This popular bakery in Paris is entirely gluten-free. It is also independent and has its own mill to produce flours. The duo of Nathaniel Doboin and Thomas Teffri-Chambelland offer a one-of-a-kind baking experience in the center of the old Popincourt village area in Paris.
Every day, a host of bakers and pastry cooks prepare unique recipes that make use of rice and other gluten-free flours. All of the raw materials used are either grown locally or free of post-harvest treatment. The naturally gluten-free grains are ground in the bakery's own mill, ensuring no wheat contamination, after which they are kneaded and cooked in their oven. Their array of breads is certified organic by Ecocert.
The whole process is fully controlled, from the growers in France and Italy to the Parisian bakery. Especially popular at Chambelland are the square breads, similar to focaccia, which come in different sweet and savory flavors. Unlike the gluten-free options in the United States, there are no gums or preservatives used.
Another Chambelland favorite is the five-grain bread loaf, that is nourishing along with being gluten-free. The bakery also makes sandwiches and deliciously light tarts and French cream puffs, called chouquettes.
Helmut Newcake
28 rue Vignon75008 Paris
Started by pastry chef Marie Tagliaferro, Helmut Newcake was the first gluten-free bakery to open in Paris. Tagliaferro is herself gluten-intolerant and aims to create safe, gluten-free versions of popular French confections. The bakery also caters to those who are lactose and nut intolerant.
Wheat substitutes such as buckwheat and chestnut flour are used to create desserts that come so close to the original recipe that it's hard to tell they're a gluten-free bakery.
Especially popular is the French classic, canelés, which are small French pastries, with a rum and vanilla flavor that have a caramelized crust and a soft custard center. Helmut Newcake also prepares fresh bread on Sundays, as an accompaniment to the famous Parisian brunch.
Biosphère Café
Biosphère Café, 47 rue Laborde 75008 Paris
Organic and gluten-free often go together in Paris, as is the case with Biosphère Café. 'Biologique' or 'bio' translates to organic, and this café creates a beautiful blend of organic and gluten-free food.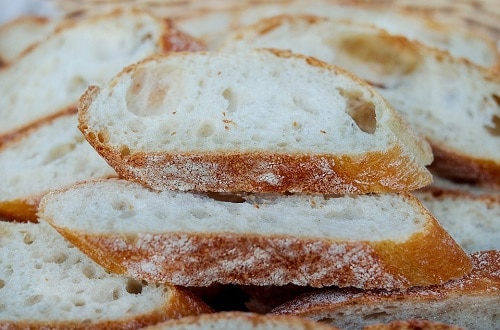 Biosphère offers gluten-free baguettes
© Couleur on Pixabay
You can dine in at the café or order for take-out. When dining in, remember to make reservations. Located in the 8th arrondissement, this was the first gluten-free and organic creperie in Paris. Options include gluten-free baguettes, crepes, quiches and galettes. The café also offers gluten and lactose-free macarons.
Eric Kayser
Eric Kayser is a renowned baker with stores across Paris, who has created a range of gluten-free breads, cookies, cakes and pastries.
You may find that the selection is not very vast and the prices are definitely higher, but those with gluten allergies will find that it is worth it. Kayser has taken efforts to ensure that cross-contamination does not occur and has created a special gluten-free lab to prevent traces of other flours. There's also a baker with celiac disease employed at Eric Kayser.
The products are even wrapped specially, to ensure that they do not get contaminated in locations where there are wheat products around. All Eric Kayser locations serve 15 to 20 different types of bread.
Foucade Paris
17 Rue Duphot, 75001, Paris
This chic patisserie is a strictly gluten-free eatery. The foods are also lactose-free and do not contain any additives. Foucade Paris makes all its products in-house.
La Meringaie
21 Rue de Lévis, 75017 Paris
A pavlova paradise, La Meringaie is a specialist bakery that prepares beautifully fluffy meringues that melt in the mouth, all of which are gluten-free. Most of the meringues are topped with seasonal fruit and whipped cream.
A meringue is a smooth type of dessert with a thin hard crust that yields when pressed slightly and reveals a foamy interior.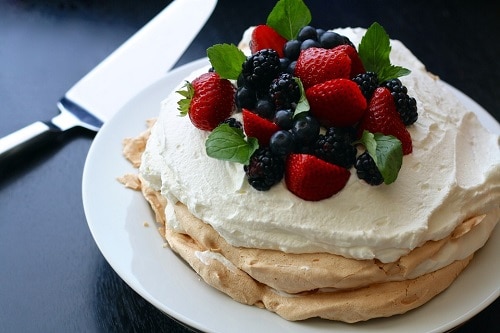 Meringues are a popular gluten-free dessert option
© ponce_photography on Pixabay
La Meringaie serves up an elegant meringue dish called Sophie, in the form of a base of white, round meringues. Whipped cream is added along with other ingredients such as candied chestnuts, candied orange peels, pieces of fresh orange, chocolate chips and sometimes a bit of golden glitter for an extra sparkle. Once it is cut, it reveals a creamy layer between the meringue and whipped cream.
Another popular dessert is Felicity, which has a layer of chocolate cream on top of the meringue base. The creamy layer is dotted with fresh raspberries, pieces of pear and chocolate shavings. One can tell the meringue is perfect when it cracks under the knife, but does not collapse.
Cafés and restaurants
My Free Kitchen
1 bis, rue Bleue, 75009, Paris
My Free Kitchen serves homemade, organic, gluten-free and dairy-free foods. Their menu tends to change every day and updates are posted on the café's social media pages. This place is also ideal for vegetarians and vegans.
Some of the lunch specialties include salads, soups and eggplant quiches. Popular options for dinner include the sharing platters. They even have unique beverages such as rice beer and baobab pulp juice.
Carole and Philippe Kanaan are the owners of the restaurant and they serve up delicious breakfasts and lunches with pastries. They also offer Indian, Ethiopian and Brazilian coffees. On Saturdays, they serve up an entirely gluten- and dairy free brunch. Food is made fresh on a daily basis.
Bears & Raccoons
21 Rue Richard Lenoir, 75011 Paris
This is another popular Paris café that is dedicated to gluten-free food. Gianni and Barbara are the owners of the place and play the ideal hosts, making customers feel at ease.
They specialize in making gluten-free sandwiches. One of their specialties is the 'Grumpy Bear' sandwich, prepared with coleslaw, pastrami, cheese, rocket and pickles. The gluten-free bread is crisp on the crust, and soft inside. The café is known for their generous sandwich fillings.
All items on the menu, from brownies to beer, are gluten-free. There is also a small grocery store that sells gluten-free and celiac-friendly foods such as pastas and jams. The café itself is a cozy nook with good service and friendly staff. Most customers stop here for a bite on their lunch breaks.
La Guinguette d'Angèle
34 Rue Coquillère 75001 Paris
Angèle Maeght Ferreux, a French chef with diplomas in permaculture and naturopathy, started this take-out shop in Paris. Known for her emphasis on healthy nutrition, her 'detox' take-out shop serves up gluten-free and organic foods, ranging from healthy snacks to 'well-being boosters'.
You can find excellent juice bars in Paris
© JESHOOTS on Pixabay
There are even packed vegetable boxes, nutritious smoothies, cookies, cheesecakes and fresh juices. The chef also has a catering service for professionals that include some worldwide personalities.
Noglu
16 Passage des Panoramas, 75002 Paris
Noglu is a boutique restaurant chain which is entirely gluten-free. It offers a gourmet style environment and is located in the 7th arrondissement of the city. This café / restaurant / patisserie caters to local residents and tourists and serves up an opportunity to explore gluten-free dishes and confections in a welcoming atmosphere.
Mathieu Lehanneur, the renowned French designer and frequent visitor to the restaurant, designed the interior of Noglu. The ground floor has visitors seated around a large communal table, while the first floor is a dining room with more intimate seating. A popular option at Noglu is brunch, which consists of poached eggs, smoked salmon and a gluten-free cake. This is followed by sweet granola. For dessert, expats can try their warm apple and pecan crumble.
Shopping
Paris has many chains of organic and gluten-free food stores that have a comprehensive range of products. One such store is Naturalia, which can be found in most Parisian neighborhoods.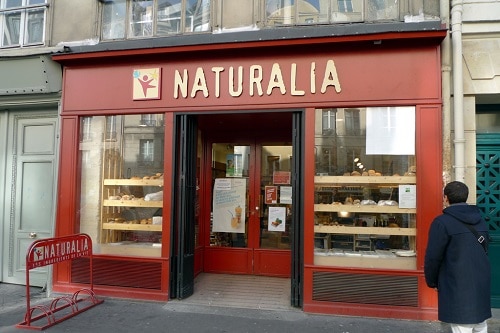 Stores such as Naturalia stock gluten-free products
© jeanlouis_zimmermann on Flickr
Another store is Bio C'Bon, which is among the largest organic supermarkets in the city, selling vegetables, fruits, cheese, bread and other daily products at affordable rates. However, it only has a presence in central Paris and some of the more upscale neighborhoods.
The supermarkets in Paris have limited choices when it comes to gluten-free foods, but you will be able to find popular brands such as Schar as well as some less well known ones like Gerblé. You may have to browse around for a while to locate gluten-free products, as they are not always stored in the same part of the store as their gluten-based alternatives.
Have you lived in Paris? Where did you shop for food? Share your recommendations in the comments below, or answer the questions here to be featured in an interview!