Germany is the birthplace of many of our most beloved Christmas traditions. The country oozes festivity throughout December with Christmas markets, fairy lights, and the scent of mulled wine floating down the streets.
Enjoy your first expat Christmas in the country by getting acquainted with the local traditions– Germany has got Christmas down to a fine art.Many expats in Germany feel they are faced with a festive overload. Here you'll find information on Germany's best Christmas markets, customs and traditions, as well as practical information on what to expect over Christmas in terms of public holidays, shopping, decorating, driving and public transport.
Christmas Markets
Germany's tradition of Christmas markets dates back to 15th century and is showing no sign of slowing down. Today the country is speckled with thousands of markets throughout December.
For many people, Christmas markets are more about the atmosphere than actual shopping. Locals go there to eat bratwurst, drink glühwein, and soak up the Christmas spirit beneath decorated trees.
While German Christmas markets rarely fail to deliver festive spirit, it's true that not all Christmas markets are created equal. Many markets, especially in heavily tourist areas, can be very commercial in their offerings. That being said, at the better Christmas markets you'll be able to find lovely, local and often handmade Christmas gifts. Or, at the very least, delicious lebkuchen (gingerbread) in festive tins.
Many of the bigger markets will also have entertainment such as bands or choirs and special rides for children.
If you live in a major city, there will probably be several different Christmas markets open during advent. It's worth doing a bit of research about which ones to visit, as chances are there won't be time to go to them all!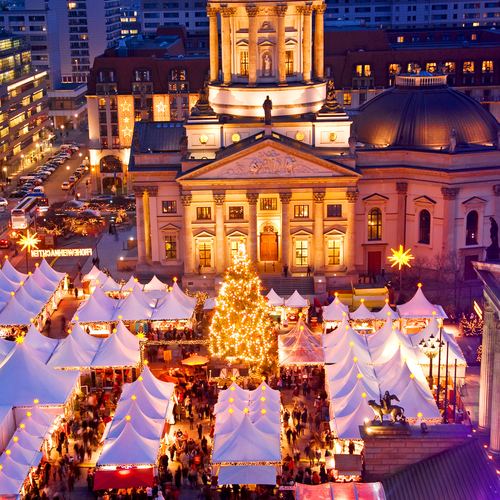 If you live in a city, there will be many markets to choose from
Keep in mind that the most central markets often aren't the best; for instance, if you are in Berlin, steer clear of Alexanderplatz. Unlike inner-city tourist markets that are open all the time, most of the cuter, less commercial markets only set up for one weekend. Smaller markets often have far more unique products and a more authentic feel.
A great website for looking up Christmas markets all over Germany is here. Most big cities, like Berlin, will also put together a helpful citywide register of market options.
Major Christmas Cities
If you're eager to travel and see some of the charming corners of the country, Christmas is a great time to do it. These are some of the best cities for Christmas markets.
Nuremberg: Perhaps the most famous Christmas market in Germany, the Nürnberger Christkindlesmarkt is one of the biggest and most popular Christmas markets in the country. The old town of Nuremberg is truly beautiful and next to the lit up Schöner Brunnen, the market has a magical feel. It does, however, draw massive crowds and fewer local artisan wares.
Dresden: The Dresden Striezelmarkt is the oldest Christmas market in Germany. Like the Nuremberg market, Dresden is intensely popular and can get very crowded.
Munich: Deep in the heart of Bavaria, Germany's most traditional region, Christmas markets are in full swing here over December.
If you are visiting a big market in a big city, it's highly recommended you take public transport there. In the run-up to Christmas, many people use their cars to carry shopping, so traffic and parking can be very difficult. Likewise, if you are travelling to a different city for a Christmas market weekend then try to use Deutsche Bahn whenever you can. See below for more on transport and traffic over Christmas.
Smaller Christmas Cities
If you're looking for a more relaxed atmosphere away from the big smoke, check out some of these smaller cities over Christmas. They all have excellent markets, but be sure to arrive on the right weekends as they might not be running every weekend.
• Rothenburg ob der Tauber
• Aachen
• Heidelberg
• Goslar in the Harz
• Bad Homburg
• Münster
Christmas Trees
Compared with many other German Christmas traditions, the tannenbaum is a relatively new German invention; if you can call the 16th century new!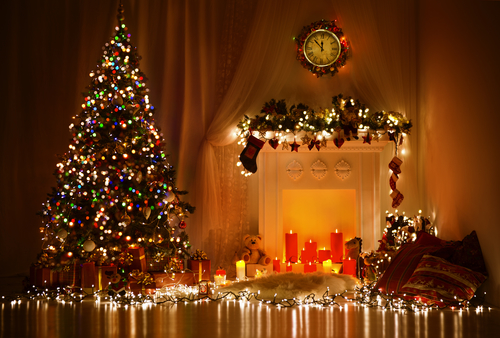 Christmas trees will help you get into the spirit of the season
Most German households today still use real fir trees in their homes, rather than the artificial trees popular in other countries. Fir trees fill your house with the scent of Christmas and bring on the festive mood.
Where do you buy Christmas trees in Germany? The most reliable answer is at your local hardware store. That includes Obi, Bauhaus, and any other DIY store close to you. Big supermarkets such as Real and Rewe sometimes also sell Christmas trees.
Less fun than the decorating stage, getting rid of your slouching tree at the end of the season is something every German citizen must face. How easy it is to rid yourself of your tree depends on how accommodating your city is. In Berlin, the city does a special Christmas tree rubbish round, whereas in other cities you will be required to drop off your old tree at a location in the city (often a school) or alternatively, chop it up and put it in the biomüll (organic waste).
Public Holidays
When Germans have a public holiday, they abide by that public holiday! Christmas is no exception. While only the 25th and 26th of December are official public holidays, German Christmas celebrations begin on the 24th. Don't let the fact that this is not an official public holiday lull you into a false sense of security; most shops will already be closed by 2pm on the 24th. Furthermore, Christmas Eve this year falls on a Sunday, meaning that there is no guarantee that any shops will be open on the 24th.
Shopping
Germany is not the US, so anyone expecting the hyper-convenience of 24/7 shopping in the lead-up to Christmas will be disappointed. Since Christmas Eve falls on a Sunday this year, so as mentioned above, it's likely that many shops and supermarkets will be closed, meaning you will need to do your Christmas shopping on or before Saturday the 23rd of December.
Grocery shops are unsurprisingly packed before Christmas so leaving all your shopping until the 23rd is not a great idea.
Stores have a number of Sundays they are legally allowed to open (verkaufsoffenen Sonntage), but when they choose to use these days is entirely up to them. Many stores do use them in the run-up to Christmas, but the only way to know what is open is to research ahead of time.
Christmas markets also close early on Christmas Eve, usually around 2pm. Don't bank on having an evening out sipping glühwein – Christmas Eve is a family affair and even the busiest streets will look deserted. Both the Christmas Day and Boxing Day are official public holidays, meaning that virtually everything to do with shopping will be closed.
Last-minute shopping in Germany is both difficult and risky, so whether you like it or not, a Christmas in Germany will force you to embody the German ideal of organization. Don't forget; you will need to feed your family and guest until the 27th of December so stock up!
Restaurants, Pubs And Cinemas
The only exceptions to the respected public holiday periods are relatively few restaurants, pubs and cinemas. Planning on getting out of the house for nice lunch? Book well ahead of time. The few places that stay open tend to fill up quick. Do some research before you leave your house in search of a watering hole, since many locally owned businesses will prioritize family time over customers.
While Boxing Day is one of the biggest days for movie goers in countries like America and Australia, this practice hasn't spread to Germany. Some cinemas will open on the 26th, others won't. It really depends on the company and city. It's best to assume the worst and hope for the best. Your research might leave you pleasantly surprised.
Unlike advent weekends, German streets are very quiet over the actual Christmas period, even in big cities. Many people will visit their families out of the city or celebrate in the comfort of their own homes.
Public Transport
Luckily, all forms of public transport continue to run over Christmas, albeit on a limited feiertag (holiday) timetable. If you live in a major city, getting around shouldn't be a hassle, although buses and trains will be slightly fewer and farther between.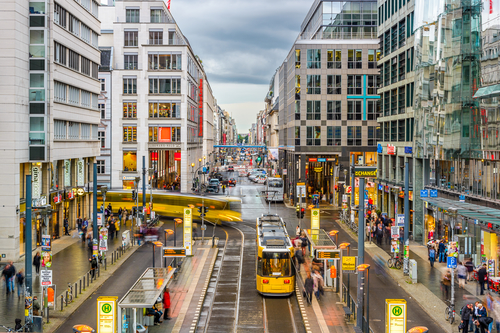 Public transport continues to run throughout the Christmas period
If you are planning to do some train or bus travel over the break, Deutsche Bahn will be running on a limited timetable. You can check the time and dates of long distance trains online. Bear in mind that most services on the 24th and 31st will stop around 8pm.
Long distance buses are also running, but these will be subject to Christmas traffic and may take longer than normal. A good website for checking travel options over Christmas is GoEuro.
Driving And Traffic
Traffic is often a problem over the Christmas holidays. Most people have family spread throughout Germany and will spend the 25th and 26th doing visiting rounds. Roads are expected to be even worse this year as the 23rd and 24th fall over a weekend, meaning that many people will be rushing to get out of the city to maximize on holiday relaxation. The afternoon of the 24th usually has the least traffic as most families will already be settled into their main celebration.
Routes out of major cities such as Berlin, Hamburg, Munich, Frankfurt and Cologne are usually the busiest, so don't expect to go anywhere fast.
As for weather related concerns, December is not yet snow season in Germany, so most roads, especially major highways, are cleared and fine to drive on with winter tires. However, snow storms are not unheard of, so try to be flexible with your plans.
German Christmas Traditions
The main Christmas celebration in Germany is on the 24th, when families gather together for a large meal and to exchange presents. Yes, German families open their presents a day early.
Traditional German Christmas meals include roast goose, turkey, or game meat, accompanied by red cabbage and potato dumplings. Raclette has also become a popular dish in recent years, although it is not actually German. On Christmas day itself, many families opt for a lighter meal consisting mainly of sausages and potato salad.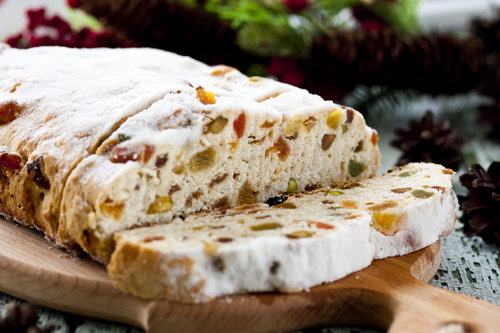 Stollen is a popular Christmas food
In Germany, the most traditional Christmas dessert is stollen. This is a bread made with chopped candied fruit, nuts and spices. It not easy to make, but luckily you can find good quality pre-made versions in all supermarkets.
In the lead-up to Christmas, German people make or buy advent wreathes (adventskranz). Each Sunday before Christmas, families light one of the four candles. Finally, Germans have a sweet custom of getting together over an advent weekend to bake Christmas cookies (plätzchen) together. You can find some traditional German recipes in English here.
What are your favourite ways to celebrate Christmas in Germany? Share your thoughts in the comments below, or answer the questions here to be featured in an interview!