Greece's economy was hit hard by the global financial crisis in 2007 – 2008. Since then, the country has been struggling to recover and improve its economy. This has greatly affected the job market in the country. Greece has some of the highest unemployment rates in Europe. However, it is not all doom and gloom – the country has huge economic potential, which is why the number of investors keeps increasing each year. Growth in investment has increased job opportunities for both Greek nationals and citizens of other countries in Europe. The industries creating the most jobs include mining, energy and petroleum, textiles, tourism, and food processing.The unemployment rate ranges from 25 to 28 percent. The rate is falling from month to month. The unemployment rate is expected to keep decreasing with time. However, this improvement is mostly happening in the urban areas such as Athens. The rural areas are still lagging behind due to low levels of investment.
Typical job application procedure
Jobs in Greece can be applied directly to the employer or indirectly through a recruitment agency. However, the procedure of applying for the job is the same. Once you learn about the job opportunity, acquire the application forms and fill them in. You may also be required to provide your CV and a cover letter with a number of referees. However, most employers focus on the application forms themselves, since they design them in such a way that they can find out everything they are looking for through the forms.
Once you have submitted the forms and relevant documents, interviews usually follow. You may be required to attend several interviews to be considered for a job. This ensures that the person who is best suited for the job gets it. For jobs that require some level of knowledge and skills, the minimum requirement is a bachelor's degree, although a master's degree is an added advantage. Job experience as well as knowledge of Greek and other languages such as English and French can also determine your eligibility for certain job positions.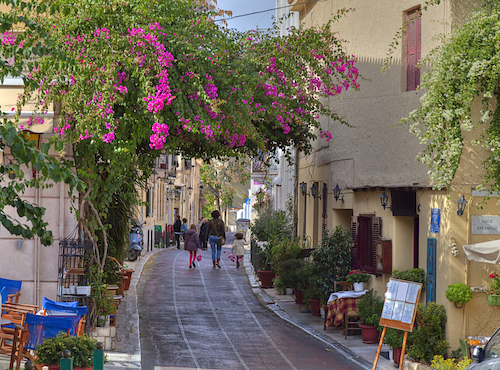 It might be worth sending in an application to a company even if it's not advertising
Unsolicited jobs are worth applying for too. The Greece economy is in great need of manpower. However, some organizations find it difficult to get the labor they need due to budgetary constraints. Such organizations often hire volunteers to perform various duties. This is one of the best ways for expats in Greece to acquire some work experience.
English-speaking expats stand a good chance of getting jobs in Greece, not only from multinational companies but also from Greece-based companies that do business with overseas companies. The language of communication between Greece-based companies and overseas companies is often English. However, learning Greek is very important for expats because it enables them to communicate with Greek nationals as well. One of the best ways to find a job in Greece is by networking with fellow professionals and people in the recruitment industry.
Work experience
Many recruiters and employers in Greece consider work experience when interviewing candidates. However, many people find it difficult to obtain work experience after completing their studies in Greece. Erasmus+ is an EU program that helps expats to find work experience through volunteering.
Job Recruitment Agencies
While some companies prefer carrying out the employee recruitment process on their own, many hire the services of recruitment agencies and trust them to find qualified candidates to fill various job positions.
This site links companies to qualified job seekers in Greece. It provides targeted advertising to potential job seekers.
Elpida Job
Elpida job is an agency that focuses on casual and temporary workers such as housekeepers, hotel workers, and cleaners. It often deals with advertising casual and temporary job positions in Greece. Many expats in Greece rely on casual and temporary jobs as a means of employment. However, most of these jobs are seasonal.
Contact details:
Piraios 16-18, Athens, 10431 Greece
Phone no.: +30 2 105 248 578
This recruitment agency also has an office in Bulgaria and Romania.
Manpower Greece
Manpower Greece is part of Manpower Group, which operates in more than 80 countries all over the world. It focuses on helping employers find employees and vice versa. It deals with all types of jobs, from permanent to casual.
Contact details:
9 Xenofontos St.
Athens, 10557
Greece
Phone no.: +30 2 103 224 301
Job and Practice
This agency operates in the UK, Greece, and Cyprus. It deals with labor contracts for hotels, restaurants, and factories, as well as bus and truck companies. They usually recruit people from the three countries depending on the demand in any of them. They also offer advice about job offers to individuals.
Contact details:
Ανακρέοντος
Ζωγράφου
Greece
HRStrategy
This agency not only offers recruitment services but also provides various human resources services including hiring, mentoring, coaching, and training.
Contact details:
Phone no.: +30 2 106 134 892
Email: info@hrstrategy.gr
Temporary jobs
Teaching schemes
UK graduates can teach Greek nationals English as a part time job while they are looking for other jobs. Teaching jobs can be obtained through the Anglo-Hellenic Teacher Recruitment program.
Tourism and hotels
Other temporary jobs include customer service jobs in hotels and restaurants. These jobs often include customer care representatives and tour guides.
Work permits
Greece citizens and EEA nationals do not require work permits to get jobs in Greece. However, EEA nationals must apply for a residence permit after finding a job in Greece. Once in the country, they are given 3 months to find a job or establish a business, after which they may apply for a residence permit.
Non-EEA nationals may find it difficult to find jobs in Greece because their employers are the ones who are required to apply for work permits for them. Many employers spare themselves the hassle of applying for work permits for non-EEA nationals and avoid hiring them altogether.
Would you like to share your experience of life abroad with other readers? Answer the questions here to be featured in an interview!