Living and working in Greece will give you an ideal opportunity to learn one of the great classical languages of the world. Modern Greek differs somewhat from its ancient forbear, but it is still a rewarding language to learn, whether you will be working in a Greek-speaking workplace or simply visiting the country.Greek (Greek: Ελληνικά, romanized: Elliniká, hence the term 'Hellenic') is an ancient tongue, the language in which the great texts of the Illiad and Odyssey were composed. It is spoken in a number of other places besides Greece itself: Cyprus, Albania and some other regions around the Eastern Mediterranean and the Black Sea speak the language. It is one of the official languages of the European Union. Bear in mind that if you intend to learn the language, you will need to master a separate alphabet: Greek and Latin letters are different.
99% of Greeks speak Modern Greek (Νεοελληνική γλώσσα) but there are other languages in currency in the country too, including:
• Albanian
• Armenian
• Bulgarian
• English
• French
• German
• Italian
• Macedonian
• Romani
• Russian
• Turkish
Greece has always been on a number of major trade routes, and this is reflected in its historical and contemporary linguistic heritage. There are also different forms of contemporary Greek, including many dialects and tongues such as Cypriot Greek (Κυπριακή διάλεκτος), Cretan and Tsakonian. So you will find a wide variety of regional differences.
However, you will find plenty of opportunities to learn Greek if you are resident in the country. If you are planning on visiting for only a short time, it is a good idea to master some basic phrases, such as those for:
• meet and greet
• numbers
• directions
• days of the week/months of the year
• shopping and food-related vocabulary, including eating out
• some basic medical vocabulary (e.g. asking for a doctor's appointment)
• some basic banking vocabulary (e.g. opening a bank account)
If you are intending to spend longer in the country, you may prefer to sign up with a language school or, if you want to learn the language more intensively, with one of the universities such as Athens or Thessaloniki.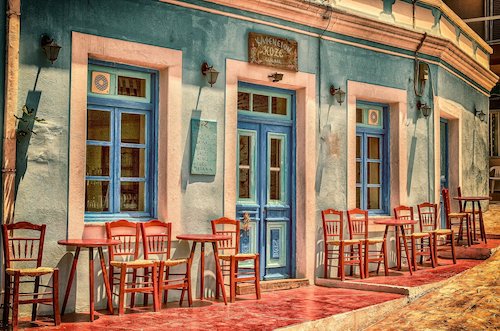 Signing up with a language school is a good way to learn Greek
Provision is wide and ranges from week-long or month-long courses for beginners, to intensive immersion courses with an exam at the end of them, such as the Certificate of Attainment in Greek. This is the national certificate, officially recognised by the Greek Ministry of Education, Research and Religious Affairs. It confirms your knowledge of Greek as a foreign/second language at six levels, starting from A1 for children 8-12 years old to C2 for adults.
The exam questions for the Certificate are intended for the general public and the content is of general interest: it is communication-oriented, focusing on grammatical accuracy and correctness, and on your ability to use the language efficiently in a specific place and within specific linguistic contexts, whether formal or informal. You may wish to register for courses which lead to the Certificate if you are intending to work for a Greek employer and need proof of your linguistic competency.
The language in the workplace will be Greek unless you are working for an international company, but English is widely spoken throughout the country, particularly in tourist areas and among the younger generation. Older Greeks in rural parts, away from the islands and Athens, may not speak English, although a number of Greek citizens may have lived abroad and retired back home, so will be fluent in English.
The English language is taught in schools from primary to university level. Over 50% of Greeks are estimated to speak English to some degree. Road signs will be in Greek and it is sensible to at least try to familiarise yourself with the Greek alphabet if you are planning to drive in the country.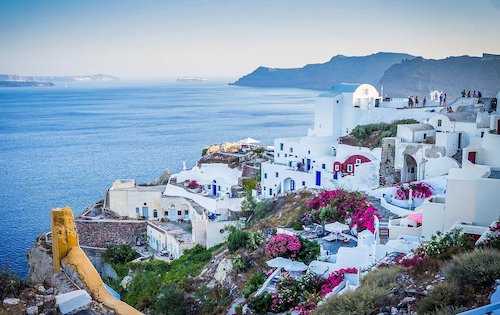 The English language is taught in schools from primary to university level
Some English speakers may choose to go to Greece in order to teach English. It is always easier to get work in international education if you have at least a certificate in either TEFL (Teaching English as a Foreign Language) or TESOL (Teachers of English to Speakers of Other Languages).
It is also preferable if you have experience in teaching schemes such as the Cambridge English exams or IELTS (International English Language Testing System): the English test for study, migration or work. Some teaching experience in the Graduate Management Admission Test (GMAT) will also be helpful. This assesses analytical, writing, quantitative, verbal, and reading skills in written English for use in admission to graduate management programs, such as the MBA. You may also find work more easily if you are experienced in teaching English for particular sectors, such as tourism and hospitality, or in summer schools.
It will also be helpful to have at least a Bachelor's degree as most language schools in Greece require this: basically, the rule of thumb is that the more qualifications you have, both in TEFL and in academic subjects, the easier you will find it to get work. There is a reasonably high demand for TEFL provision. Your salary will be in the region of €700-1000 per month and hiring principally takes place in the autumn and January and contracts tend to run for a year.
Ideally, you should get work permits sorted out before you arrive: some teachers do work without them, but this is not advised. You can find work directly by approaching language schools, signing up with a TEFL agency, or consulting the British Council in Greece. Note that expats report that there have been somewhat controversial proposals to insist that English teachers also have a proficiency test for Greek, but this has been shelved: keep an eye on the situation to see if it is raised again, however, if you are intending to seek work in TEFL in the country.
Translation and interpreting work is also available, but you will need to speak Greek to a high standard and may need relevant qualifications.
Would you like to share your experience of life abroad with other readers? Answer the questions here to be featured in an interview!