If you are living and working in Ireland, then you should not have too much difficulty in finding opportunities to keep fit and healthy. Ireland has a high standard of living and some of the most beautiful scenery in Europe, so there are lots of chances to get out and about. With an extensive coastline, some world class golf courses and a wide array of spa resorts, Ireland is the ideal place to keep active and well.Ireland has a considerable interest in sports, and you will find that the following are popular there:
• Football
• Basketball
• Cricket
• Horse racing
• Show jumping
• Rugby
• Fishing
• Tennis
• Boxing
• Golf
• Hockey
You should be able to find local teams in a number of the above sports wherever you are based, whether in urban or rural Ireland. Gaelic games, such as Gaelic football, hurling and camogie (a stick and ball team sport), are also popular.
You may also wish to get out and about. Ireland has over 900 hiking trails, including some spectacular cliff and mountain walks. Cuilcagh Mountain has a one-mile boardwalk, known as the Stairway to Heaven. Co Antrim has the Glenariff Forest Park Scenic Trail. The Causeway Coast Way extends for over 30 miles. Glendalough in Co Wicklow has around 20,000 hectares of mountain paths with some stunning views.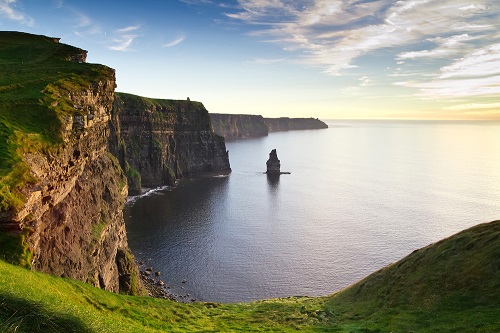 Ireland has over 900 hiking trails, including some spectacular cliff and mountain walks.
If you are planning to head up into the mountains, you may want to take some basic precautions:
• Check out the level of difficulty of your chosen route. Some routes are gentle and easy, whereas some of the mountain and cliff trails can be quite challenging, depending on your level of fitness.
• Take suitable clothing. In Ireland, this means waterproofs and stout boots! Ireland is not called the Emerald Isle for nothing; its green landscape appears so fertile because of all the rain. But you should take care in summer, too, by making sure that you take sunscreen with you.
• Take plenty of water with you
• Watch out for mists and fog. This is applicable if you are doing a cliff walk or are planning to head up into the hills. Mist and cloud can come down quickly, taking you by surprise, and make footing difficult.
• Let someone know where you are going. Guest houses in mountainous areas often have a book in which you can write down your daily plans and the time at which you set off.
As an island, Ireland has a wide variety of water sports on offer. The country has some magnificent beaches, particularly on the west coast. Sea kayaking is an option, and some companies offer rock climbing. You will also find some surfing schools, if you fancy taking a board out into the wild seas that surround the country. The main surfing season is September to May, when you will be able to take advantage of some big cold water swells. Snorkelling is also a possibility, as is paddleboarding.
Even if you are based in Dublin, you will still find resources for water sports, including Surfdock – located on the Grand Canal Dockyard, this centre offers windsurfing and sailing courses. Outdoor Dublin is another surf school, offering lessons in standup paddling, surfing, blokarting and kayaking. City kayaking is also a possibility, on the river Liffey, and so is sailing in Dublin Bay. Harbour Splash is Dublin's first inflatable aqua park, at Dún Laoghaire Harbour. It's an obstacle course over water that includes trampolines, climbing frames, slides, monkey bars and more. It is suitable for all ages and is a good place to take your children.
If you fancy a game of golf, then Ireland is an ideal destination for you. You can use the Golfnet website to find more information. Check out prices, and bare in mind that the South West is likely to be more expensive than other regions. You might like to try the Royal Curragh Golf Club, which is Ireland's oldest golf course. It has been renovated and is now a heathland course of 6,585 yards.
Golf was first played on the Curragh in County Kildare in 1852. The Royal Belfast Golf Club was founded in 1881, and the Royal Dublin Golf Club – an 18-hole links course on Bull Island – was founded in 1885. The Royal Dublin has hosted The Irish Open Professional Championship several times. Dooks in County Kerry is another world famous course, with beautiful views; golf was first played on the magnificent course in 1886.
A study in 2016 showed that there are around 710 health and fitness clubs in Ireland. Around 12.2% of the Irish population is estimated to be a regular gym member.
There are around 710 health and fitness clubs in Ireland, as well as a number of golf clubs and venues for water sports.
The traditional Irish diet is not normally considered to be the healthiest in the world, but in recent decades chefs have been experimenting with healthier produce, such as seafood, high quality lean meat, and vegetables. If you are a pescatarian, you will find Ireland is an excellent country for you, due to the high quality and availability of fish dishes. Ireland also has a Vegetarian Society, and both vegetarianism and veganism are becoming increasingly popular, although you may still find it occasionally challenging to find non-meat based dishes outside the cities.
You may want to watch your alcohol intake during your stay. Ireland – the home of Guinness – has a big drinking culture, and you will need to be careful that you do not overdo it there, as it is easy to get carried away in such convivial surroundings.
If you are planning to live in Ireland, rather than just visit, make sure that you register with your local GP or private clinic. Irish healthcare is generally of a high standard, and you should find that you have a good range of choice when it comes to dental care too.