Driving in Italy can be daunting for those not used to the experience. The city streets are stressful to navigate, but the pace does slow down as you head towards the countryside.
For new expats who are looking forward to getting out on the road, here's a guide to driving in Italy.
Do you need a car in Italy?
If you are planning to live in the Italian countryside, you will definitely need a car! However, cars are less essential in the cities, which are challenging to drive around, have limited parking, and have efficient public transport. You can easily navigate between cities using buses or trains.
International Driving Permits
In order to drive in Italy, you will need a valid driver's license and an International Driving Permit (IDP), which is an official translation of your driver's license, and is valid for a year. You may have to show your IDP if you are stopped at checkpoints, or if you rent a car. Your IDP is valid in any city in Italy.
Make sure that you obtain an IDP well in advance to your arrival in Italy, as the processing time for the application can take up to six weeks. This process can be even longer if the application is done online. If you are in the United States, you can obtain an IDP from the AAA. Other agencies may also provide the license, but are likely to charge a higher fee.
What you should carry
Always have your driving license, car papers and insurance documents with you in your car. It is mandatory to carry a reflective safety vest in Italy. It's also a good idea to keep some coins with you for use in parking meters. If you have children, it always helps to keep some plastic bags handy, as the winding Italian country roads might result in carsickness.
General rules
In Italy, you are required to drive with the lights on when travelling beyond urban areas. It is also mandatory to wear a seatbelt. You are not able to make a right turn at red lights, as you can in the United States. When driving round an Italian roundabout, yield to the cars that are already on the roundabout and those that are approaching from the left. You are allowed to use your cell phone only if you have a hands-free device.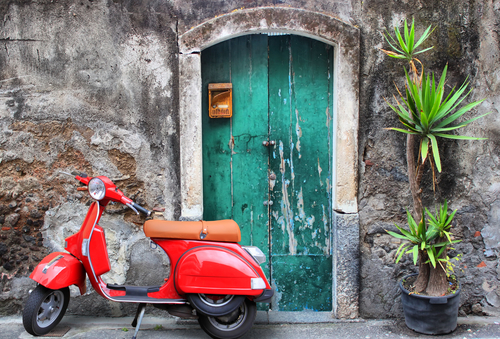 Scooters are common in Italy and can seem to come out of nowhere!
While driving in Italy you will find buses, trams, scooters, cyclists, other drivers and pedestrians on the same streets as you. Designated lanes don't tend to happen in Italy. In some cases, you may find a two-lane street packed with rows of three cars. Sometimes on two-way streets there is only space adequate for a single car, meaning you might hear honking. This is a warning from an oncoming car that they are approaching. Honking is commonly used in situations where the drivers can't see each other.
Driving style
Italian drivers are skillful, but they are also known for being quite fast and aggressive. Hopping lanes and hitting the brakes late are quite common on city streets. Expats shouldn't expect drivers to slow down for them. When driving in Italy, it is important to seize opportunities. Once you see a gap in the traffic, go for it. Italian drivers are used to the unexpected while driving and tend to react quite quickly. They do, however, have no patience for those who dither. So, if you do seize the moment, make it decisive.
While Italians are known to be fast drivers, it is not uncommon to see drivers stop in the middle of the road to have a little chat with a friend they spot on the street. Resist the temptation to honk if you find a driver holding up traffic for a chat for a few seconds!
Road etiquette in Italy is governed by unwritten rules. For instance, flashing could indicate that a driver wants you to get out of the way or avoid pulling out because he or she is not going to stop for you. If an approaching vehicle flashes you, it could signal that there is police checking going on ahead. The car horn, too, could indicate various things, ranging from 'watch out!' to 'the traffic light just turned green'.
Driving in the city
Traffic restrictions are applicable to drivers in the city. A number of the city centers are restricted from unauthorized traffic. If you find yourself in a ZTL or zona a traffico limitato, which is a reduced traffic zone, you may be caught on camera and fined. Cities also tend to contain one-way systems, so be on the look-out for these. Also, be aware that scooters can seem to come out of nowhere. Some city streets are extremely narrow and pose a challenge for modern cars. If you want to escape the chaos of city driving, try to drive in the early afternoons. At this time, traffic is light and it is easier to park.
Parking
Parking can be a source of major stress in Italy. There are limited spaces in cities and towns. There are car parks available, but these tend to fill up fast, meaning the only option is to park on the streets. Parking between blue lines means you must buy a ticket from the closest meter (parcometro), which you need to display on your dashboard. If you can't find a nearby meter, head to a nearby café, store or tobacconist, where you can obtain a scratch card. If you find the scratch card confusing, ask the store attendant to help you; however, these cards do usually have instructions in English.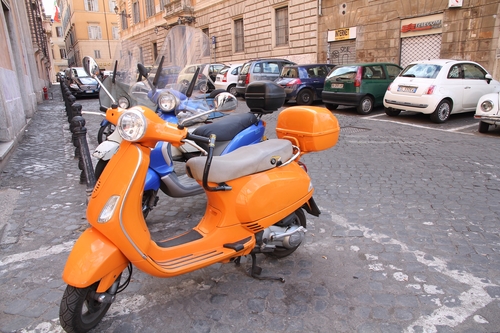 Make sure you park in permitted areas if you're parking on the street
Public parking and carparks are marked with the 'P' sign. These are paid parking zones, where the parking areas are indicated with blue paint. White parking spots are free. Yellow parking areas are designated only for residents of the area. If you spot a 'P' with a small timer underneath, it indicates that parking is free for an hour. You will have to mark your arrival time with the disk on your front windshield. Since these areas are free to park in, they will be marked with white paint.
In some cases, you may not be able to find parking at all. At these times, you might have to improvise or think quickly. Many Italians double park or park in restricted areas with the emergency lights on. This is not in line with traffic rules, but it is common in busy cities like Rome. You may even find triple parking, especially in the big cities. If you are boxed in, just honk a few times and the driver is likely to come out and move his or her vehicle.
Petrol stations
Petrol stations are located everywhere, but the smaller stations usually close between 1pm and 3.30pm as well as on Sunday afternoons. However, many of these stations have self-service (fai da te), with pumps that can be used at any time of day by inserting the currency into the payment machine and pressing the number of the required pump. Remember to differentiate between diesel (gasolio) and petrol (benzina). Rental cars may use unleaded or diesel, so make sure you know which type of gas your car needs.
Driving on the Autostrada
The Autostrada in Italy is on par with the Interstate highway system in the United States. However, unlike the Interstates, this road uses a toll system. With a speed limit of speed limit is 130 kilometers per hour, the Autostrada is the quickest way to travel around the country. On the main highways, the speed limit is 110 kilometers per hour. A green sign indicates the Autostrada, while a blue sign denotes the regular highway.
At most toll roads, you need to take a ticket, which you'll pay for as you exit. Sometimes you may need to pay a specific amount to enter. On the roads where you pay at the exit, make sure you don't lose your ticket, as the toll due will then be worked out from the farthest entry station. You pay by cash or credit card as you leave the road. There is a separate Telepass line for those who have a monthly subscription.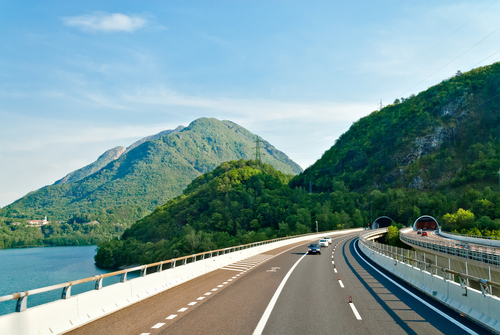 The speed limit on the Autostrada is 130km/h
While driving on the Autostrada, there are certain rules to be followed. The left lane is reserved for passing, so if you dither here, you might have a driver tailgate or flash you. This is not necessarily an aggressive move, but simply an indication for you to move aside. Do not pass on the right.
Italian words to look out for on the Autostrada include uscita, which means exit, while entrata means entrance. Direction signs will tell you town names in Italian, such as Firenze for Florence and Roma for Rome.
There are rest stops every 30 – 50 kilometers on the Autostrada. One of the best of these is the Autogrill, which has restrooms, maps and newspapers. Some of these have restaurants. Remember to keep your valuables with you when stopping at a rest area.
Hiring a car
It is easy to hire a car in Italy from one of the rental companies located around the country. The process is subject to all the usual rules and regulations you will face elsewhere around the world. Many expats find that having a car in the city is a bit of a hassle, and so opt for hiring one when they need to travel on the open road. It is important to consider the type of car you want to hire. The road surfaces in rural areas are not great and many of the long, winding roads end in farmlands and beaches. There may not be adequate road signs in the rural areas, so it is best to consider getting a sat nav, even if it costs more.
If you are keen on renting a car, you can do so upon your arrival in Italy. However, you are likely to get a better deal and varied options if you arrange a car before your trip. It is easy to complete the process online, although you can also rent a car over the phone. Your car rental may not include insurance, but you can always add it for an added fee. You are likely to get a better price if you rent a car for longer period. Remember to take the cost of gas into consideration.
Since most Italians drive stick-shift cars, automatics are not readily available, and may be more expensive to hire. The road signs in Italy may fail to indicate directions such as north, south, east or west; instead, signs will give city names in Italian. Therefore, it is important to rent a good GPS with your car. These can be programmed in English, and will get you safely through Italy's winding streets and small roads. While you won't find too many police officers patrolling the streets, the streets are instead equipped with cameras, which monitor a vehicle's speed and automatically issue tickets. If your car is a rental, the ticket will go to the rental agency, and any charges will be deducted from your credit card. Look out for signs that indicate a police officer with a raised hand or an orange box, as these denote check points and speed traps.
Have you lived in Italy? Share your tips in the comments below, or answer the questions here to be featured in an interview!