Italy is without a doubt one of top pasta-consuming locations in the world, and the northern city of Milan is no exception.But before we dive into how to eat gluten-free in Milan – or anywhere else in Italy, for that matter – let's take a closer look at gluten itself: what it is and why it's a problem for a lot of people.
What Is Gluten?
Gluten is a protein that is present in wheat and other cereal grains, such as spelt, rye, barley and so on. A bonding agent of sorts, it makes bread and pizza dough spongy, keeping them from crumbling when you bite into them.
Why Is Gluten A Problem For Certain People?
Like many kinds of dietary substitutes on the market today, gluten-free products have seen a surge in production and sales. You could argue that this is thanks to clever marketing campaigns that promote gluten-free as the new 'low-fat', or that it's just a craze that was popular some years back, but you would be wrong. Gluten sensitivities are real, and the side effects and health risks that result for people who have such intolerances can be serious.
Celiac Disease
Celiac disease is an autoimmune disorder in which the ingestion of gluten leads to damage of the small intestine. It is estimated that the disease affects one in 100 people worldwide. If undiagnosed, it can cause long-term health complications. It is possible for a person with Celiac disease to have an adverse reaction from gluten even if a mere trace of it is present in their food.
In Italy, where pasta, pizza, and bread are staples of the Italian diet, the Associazione Italiana Celiachia (AIC) – an organisation dedicated to helping those living with celiac disease – estimates that more than 150,000 people have been diagnosed with the malady, although many believe that the number is closer to half a million.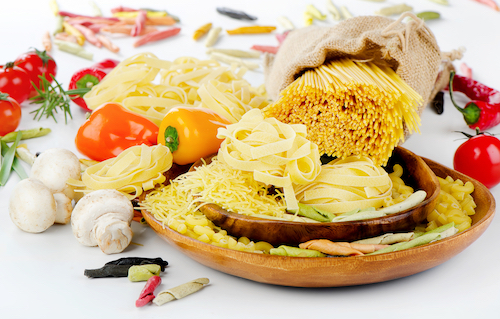 Gluten is part of Italy's staple diet
So common is celiac disease in Italy that those diagnosed with it are given a government stipend to purchase gluten-free food products from their local pharmacies. To further support the growing number of people who have the disease, restaurants in Italy are now required by law to list every single ingredient of every single dish they serve to the public. However, regardless of this law, err on the side of caution and ask the chef, if in doubt.
Gluten Sensitivity
Of course, most of the population do not suffer from celiac disease, but there are lots of folks who don't tolerate gluten well and therefore tend to limit their intake whenever possible. Occasional indulgences (pizza night or a gelato on a hot summer day) aren't usually life threatening, but many find it much easier to abstain from gluten altogether. The upshot of this is that gluten-free products are in great demand in the marketplace.
How To Eat Gluten Free In Milan
Since Italy is so good at advocating for the rights of people living with Celiac disease, you'd be surprised to find how easy it is to eat gluten-free in Milan. Below is a list of AIC-certified restaurants and bakeries in or around the center of Milan where you can enjoy a great gluten-free meal or snack. This list is certainly not exhaustive, but you can find many more choices by clicking here.
Be Bop Ristorante and Pizzeria | Viale Col di Lana 4: This restaurant, which opened nearly 20 years ago, was the first to serve gluten-free pizza in the city. As well as having a great selection of pizza pies, they also offer gluten-free versions of traditional Milanese dishes, as well as gluten-free cakes and other desserts.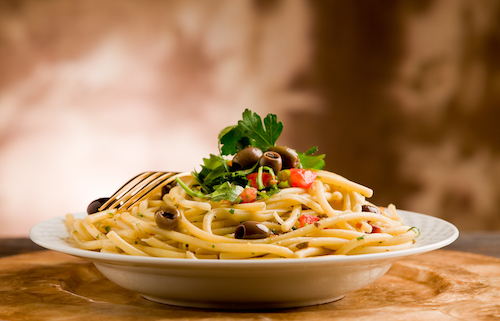 Plenty of restaurants are now offering gluten-free options
Joia & Il Bistrot del Joia | Via Panfilo Castaldi 18: Renowned Chef Pietro Leemann creates gourmet gluten-free dishes and bread in-house. His establishment has also become a haven for vegetarians and vegans too. On a budget? Eat at Bistro del Joia.
Glu Free Bakery | Via Gian Galeazzo 6: What happens when a boy falls in love with a girl who has Celiac? Glu Free Bakery, that's what. With two locations, their largest store can be found in the Navigli neighborhood, seating up to 70 diners. Noteworthy for its Sicilian specialties such as cassata and cannoli, it also offers international delights like cookies and muffins, plus savories including arancini and pizza. The original shop is located at Via Curtatone 6.
La Cantina Piemontese | Via Laghetto, 2: If you're a fine dining enthusiast, La Cantina Piemontese is the place to be. Situated a few blocks from the Duomo of Milan, this spot is popular with foodies for their classic Milan recipes such as Risotto allo Zafferano (Saffron Risotto) and versions of Ossobuco and Cotoletta alla Milanese; all gluten-free.
Foods To Avoid (Unless Certified As Gluten-Free)
• Bread
• Eggplant parmesan (generally floured or breaded)
• Gelato (if not marked gluten-free, avoid)
• Ossobuco (the meat is dredged in flour)
• Pasta
• Pizza
• Polpette (meatballs) contain breadcrumbs
Gluten-Free Food And Italian Dishes
• Buckwheat
• Ceci (chickpeas)
• Cheese
• Corn
• Cured meats such as prosciutto and mortadella (salami is often encased with flour, so avoid unless it's certified GF)
• Fish (without batter)
• Frittata (omelette)
• Insalata Caprese
• Meat
• Oats (can be contaminated, so stay with certified brands only)
• Panna cotta
• Pesto
• Polenta (cornmeal)
• Rice
• Risotto (check to ensure broth is gluten-free)
• Torta caprese (flourless cake)
• Tubers (potatoes, turnips and so on)
• All vegetables (grilled, not fried)
• Quinoa
Myths About Gluten
Myth #1: There is no gluten in alcohol
This is true of most distilled alcohols and wines, but some whiskeys and bourbons may be made with gluten, so proceed with caution. Beer is definitely NOT gluten-free.
Myth #2: Farro is gluten-free
Nope. And neither is Kamut.
Myth #3: You can never eat pasta again
Not true. Most restaurants offer gluten-free pasta substitutes. Don't be afraid to ask.
Myth #4: It's difficult to find gluten-free foods in grocery stores
Most grocery stores and supermarkets carry a wide selection these days. If you're having trouble finding gluten-free products, try your local pharmacy.
Myth #5: Breakfast in hotels is off-limits
Hotels in Italy must offer gluten-free meals to their guests, although they are not required to be AIC-certified, so do be careful about cross-contamination, especially at buffets.
For more information about eating gluten-free in Italy, click here.
Would you like to share your experience of life abroad with other readers? Answer the questions here to be featured in an interview!