If Italy is home to such an extraordinary variety of flavours, tastes, and aromas, it is because Italians know how to make the best of what nature offers and can transform just about anything into a culinary delight, unequalled in the world.From the Alps in the north to its most southerly island 'Lampedusa' [did you know that Lampedusa is part of Italy, but geologically belongs to Africa, since the sea between the two is no deeper than 120 metres], we find culinary specialties, which exist only in this boot shaped country. The desire to taste Italian delights, would be an excellent reason for you to visit its world-renowned historical cities, but don't overlook the thousands of small towns [often referred to as 'Borgo'], where a more authentic Italy can still be found.
Join me on this culinary adventure, as we travel through Italy's 5 macro-regions – the North West in February, the North East in March, Central Italy in April, the South in May, and finally the 2 Islands of Sicily and Sardinia in June.
Today, our journey will take us to the 4 regions in the North West: Valle d'Aosta, Piedmont, Liguria, and Lombardy.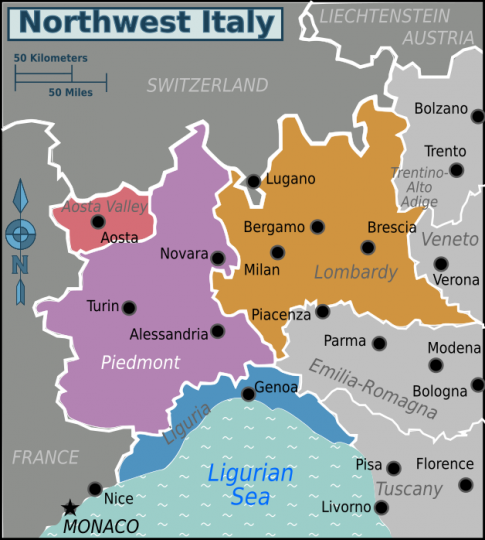 Valle d'Aosta: a symphony of Alpine pastures
This region's traditional cuisine revolves around milk, cheese, meat, and other products of the land, reflecting a harsh beautiful land and takes us back to an ancient civilisation.
With an extremely high average altitude, these are culinary traditions influenced by its harsh alpine climate, history, and contact with both Swiss & French culinary cultures.
The cuisine is based on local products [cabbage, rye bread, chestnuts, and milk], but has since the time of Ancient Rome merged with ingredients from neighbouring regions. For example, its proximity to Switzerland and France accounts for the famous traditional 'Fonduta' [Fondue], originally made with 'Fontina cheese', a dish you need to try. If you ever find yourself in Cogne, we suggest you visit the Bar à Fromage Restaurant de Montagne, where you can taste not only a great fonduta, but also many other traditional dishes.
Roman legions brought vine-growing and it all began with 'Fumin' a rustic native from Aosta Valley and 'Cornalin', they also brought meat dishes, and barley in soups. These soups, which local people still prepare with rye bread and seasonal vegetables, are enriched with meat, cheese, and butter. To this day, 'Seuppa Valpellinentze' [Seuppa is in dialect, Zuppa in Italian], a soup of white and Savoy cabbage, fontina cheese, and rye bread, remains a favourite. Among the most dispersed and romantic places where you can enjoy a truly amazing soup is La Taverne, a restaurant located in Voueces, in the province of Aosta, but please note that in low season, the restaurant is only open on weekends and by reservation.
While the discovery of America in 1492 brought corn and potatoes to the rest of Europe, here 'Polenta' [maize porridge] was introduced only in the 18th century. Today, polenta is a characteristic Alpine dish best enjoyed in a trattoria, osteria, agritourismo, in a high-altitude Rifugio [mountain refuge], or in one of the many Alpine festivals such as 'La Sagra della Polenta' in Doues, a small village with little over 500 inhabitants. The local dish is known as 'Polenta Concia Valdostana' and is traditionally served with butter and fontina cheese, or with meat and a variety of sauces.
Meat, was for centuries a rarity, eaten only in winter, when climatic conditions made conservation easier and feeding animals was very costly. The need to preserve food for long periods, led to the development of numerous types of sausages, dried and cured meat, such as salted beef, which is the basis of 'Carbonade', stewed beef, which owes its name to the charcoal colour the meat takes on, after slowly cooking for many hours in red wine. Other delicacies include 'Larde d'Arnad', cured belly pork flavoured with local alpine herbs and spices, and 'Teteun', dried cow udders, preserved in salt and flavoured with herbs.
For all those who visit Valle d'Aosta, Italian Dining Summit advises you not to miss the 'Coppa dell'Amicizia', [Cup of Friendship] where a cup is filled with 'Caffè alla Valdostana' [A mix of scalding hot coffee, grappa, red wine, sugar, and lemon zest] and passed from one person to the next till everyone is rather 'happy' and new friendships are forged. If you happen to be in the medieval village of Forte di Bard, do yourself a favour and stop at La Posada de Bertolin, where you will be able to taste a great 'Caffè alla Valdostana'.
Wines & Liqueurs
The region's most famous wine is 'Blanc de Morgex et de La Salle DOP', also known as 'Glacier Wine' and made from a grape variety called 'Priè Blanc', grown at altitude of up to 1,300m.
While being tempted by the numerous varieties of 'grappa' and the famous 'Génépi', an infusion of mountain artemisia flowers and berries in alcohol, don't overlook a nice glass of 'Ratafia', obtained from the infusion of wild cherries, brandy, lemon zest, and sugar syrup.
Festivals
One of the region's key food & wine event is the 'Esposizione del Jambon de Bosses' held every second Sunday in July in Saint Rhèmy en Bosses, a few kilometres form the Swiss border and at the feet of the Saint Bernard Massif. This festival celebrates the local DOP [Denominazione di Origine Protetta] raw ham, the 'Jambon de Bosses', which has a characteristic flavour. If you want to mix in with the locals, you need to put the ham on a nice slice of crisp rye bread, buttered with mountain butter and enriched with slightly heated Fontina cheese.
In Arnad, on the last Sunday in August, the popular 'Festa del Valle d'Aosta Lard d'Arnad DOP', which dates back to 1969, is a special occasion where you can taste the famous lardo and enjoy local sweets, cheeses, and wines. In August, at Gignod, the 'Fëta di Teteun e della lumaca'' [Teteun & snail party] is celebrated, with the dish served as an antipasto, paired with garlic sauces, or various marmalades, together with various snail-based dishes.
Piedmont: a land of wines & truffles
Piedmont's, [which in the local dialect literally translates to 'Foot of the mountain'] cuisine is generous and offers infinite range of delicacies. Sipping one of its great wines, is the best way to start our journey of traditional culinary discovery.
You probably know that autumn is the perfect time to enjoy wine and truffles, but did you know that in ancient times, truffles were also known for their aphrodisiacal properties and are best enjoyed when eaten raw and thinly sliced. In Alba, in the province of Cuneo, between mid-September and late-December, you are likely to bump into a 'trifulau' [truffle hunters] or two and always accompanied by their faithful dogs, without which it would be practically impossible to find truffles. These dogs are so important that in 1880 the 'Università dei Cani da Tartufo' [University of Truffle Dogs] was opened in Roddi, also in the province of Cuneo.
A Piedmontese lunch is a real ritual, starting with the ever-present 'antipasto' of aromatic salami such as 'Salame della Duja', which takes its name from the 'Duja', [the terracotta container used to age the product], and hams, served with sauces or in salads, stuffed vegetables, 'Frittata' [something similar to omelettes], and a variety of cheeses.
First course dishes such as 'Agnolotti' or 'Ravioli' [Fresh pasta, stuffed with roasted meat and/or vegetables] are extremely rich. 'Taglierini' represents an alternative to rice, which is a fundamental ingredient in the local diet. The typical rice dish being 'Bagna Càuda', [hot sauce] comprising a sauce of anchovies, olive oil, butter and garlic, and typically served once a month, boiling hot, and together with raw vegetables for dipping peppers, cardoons, celery, carrots, Jerusalem artichokes, and cauliflower. If you happen to be in Piazza Emanuele Filiberto in Turin, stop by the restaurant L'Antica Bruschetteria Pautasso, considered to have one of the best 'Bagna Càuda' in our Solar System [Italians are not shy when talking about their food]
Those visiting Piedmont, must try some of the 200 local varieties of cheeses. The best known are from the Novara area: 'Gorgonzola', a naturally matured cheese with green and blue veins. Did you know that it takes its name from the village where it was first produced, almost by mistake in the 15th century? The other is 'Castelmagno', produced in limited quantities in the town of the same name and exclusively using Cuneese Valgrana's cattle milk.
The region's unforgettable desserts call out from the multitude of pastry shops found in every town you will visit. 'Krumiri Rossi' from Casale Monferrato, 'Biscotti di Novara' ideal for dipping in wine, or 'Rosolio' [rose-flavoured liqueur], 'Amaretti' from Mombaruzzo, in the Asti area, which combine perfectly with vanilla ice cream, and 'Torcetti' from Biella. Torinese chocolatiers have created many award-winning delicacies, but none better than 'Gianduitto', a sugar, cocoa and hazelnut paste, usually shaped as an ingot.
Wines & Liqueurs
From its reds 'Barolo', 'Barbaresco', Gattinara', and 'Barbera', to its whites 'Erbaluce', 'Roero Arneis', 'Gavi', and 'Cortese', to its dessert wines 'Asti Spumante', 'Brachetto', 'Moscato d'Asti', 'Malvasia', 'Alta Langa Metodo Classico', and 'Caluso Passito', the range of Piedmont DOC [Denominazione di Origine Controllata] and DOCG [Denominazione di Origine Controllata e Garantita] is very impressive.
For those of you wishing to immerse yourself in this experience, do the 'Asti Wine Trail' and discover small bars and trattorias, as well as museums dedicated to food, wine, and rural life. A must visit, is the Cantine Storiche Gancia, located below the city of Canelli and now recognised by UNESCO as a world heritage site.
Festivals
The 'Douja d'Or' has been taking place in Asti since 1973 between the second and third Sunday of September to now become one of the most prestigious wine fairs in Italy. Here you will have an unlimited choice of wine tasting, plus the ability to enjoy a great traditional dinner and local delicacies at the town's market.
During the month of October and November, Alba hosts the 'Fiera Nazionale del Tartufo Bianco' [National White Truffle Festival], if you are a lover of truffle, local wines, and other culinary delicacies, this is an event you cannot miss.
The 'Salone del Gusto', one of Europe's most important food & wine events, held in Turin in October is a must do. Another is the 'Festa dei vini autoctoni del Piemonte', which takes place in Alba in June and celebrates wines made only from grapes native of this region.
Liguria: a celebration of Mediterranean colours
Local cuisine is based on humble ingredients, exploiting the flavours of the land and the sea with elegant simplicity. The Ligurian diet is Mediterranean, with olive oil, vegetables, and herbs giving flavour to simple and traditional dishes, which are both very healthy and well balanced.
'Pesto' the ambassador of Ligurian cuisine around the world, is a magical sauce, for which, every family will tell your that theirs is the "real" recipe, is a mix of basil, garlic, pine nuts, Parmigiano, or Pecorino cheese, and olive oil, traditionally served with 'Trofie' pasta. Apart from Pesto [called Péstu in Ligurian dialect], let's not forget sauces such as 'Aggiada' [Garlic and fresh breadcrumbs, served with fried fish and boiled vegetables] and 'Marò' [finely chopped raw broad beans with cheese, garlic, oil, and aromatic mint].
Popular traditional dishes include 'Burrida' [a fish soup] and 'Cima' [meat stuffed with vegetables and herbs], salt cod and stockfish are also popular in many recipes. Unique tastes, such as those offered by the regional bread 'Focaccia' [Fügassa in the local dialect] and 'Farinata', a cake very low in salt, prepared with chickpea flour, water, salt, and extra virgin olive oil, without forgetting the delicious vegetable tarts will tempt you. A must stop for focaccia lovers in Genoa, is at Focacceria Al Forno di Albaro, while for a historic and delicious farinata, go to Farinata dei Teatri, which opened in 1861. Inland, 'Funghi alla Genovese', mushrooms prepared in a pan with potatoes, garlic and basil, or simply coated in breadcrumbs and fried are a delicacy.
Liguria's most famous cake, is the 'Pandolce Genovese', made with butter, candied peel, and raisins. Equally well known are 'Amaretti', almond flavoured biscuits from Sassello, and 'Gobeletti' from Rapallo. 'Canestrelli' butter biscuits are particularly good in Torriglia, Montebruno, and Acquasanta, while a version flavoured with fennel seeds is produced in Monterosso.
Wines & Liqueurs
Liguria boasts numerous DOC and DOCG status wines; the oldest 'Rossese di Dolceacqua', a red wine and one of the few obtained from a single grape variety, the most popular being produced by the Terre Bianche winery, founded in 1870. Then there is 'Cinque Terre Sciacchetrà', a fruity white produced in Riomaggiore, Monterosso, Vernazza [three of the famous 'Cinque terre'].
A must do is the 'Wine and Olive Oil Trail', which winds through the provinces of Savona and Imperia, passing through historical towns, olive groves, vineyards, farms, olive presses, and trattorias.
Festivals
What is undoubtfully the most popular festival and the modern version of the centuries-old festival of Saint Fortunatus, patron saint of fishermen, is the 'Sagra del Pesce', held on the second Sunday in May, in Camogli. Here, fried fish is prepared in the world's largest frying pan [4m wide] from which over 30,000 plates are served per day.
In Cadimare, in the province of La Spezia, the 'Festa del Muscolo'[Mussels Festival] where you can enjoy fresh mussels, in addition to various other traditional seafood dishes, takes place throughout the month of July. If you prefer more earthy flavours, at the end of August in Maissana, you can enjoy the 'Festa dei Funghi' [Mushroom festival].
Lombardy: risotto, great lakes, history, & innovation
Despite its image as a centre of industry and business, Lombardy is Italy's second most productive agricultural region, a land of intense cultivation, whose products feed herds of cattle and pigs, bred on the rice plains in the Lomellina.
The legend behind Lombardy's most famous dish 'Risotto alla Milanese', is worth telling. In the 2nd half of the 16th century a Belgian stained windows craftsman, was nicknamed 'Zafferano' [Saffron] due to his habit of adding a pinch of saffron to the glass. One day, he arranged for a chef to mix saffron powder into rice and voilà, 'Risotto alla Milanese' was born. This region's cuisine has also for centuries, been influenced by Spanish, French, and Austrian occupation.
Alongside rice, there is a great tradition of stuffed pasta, with a wide variety of fillings, including meat, vegetables, and cheese. A good example is 'Casoncelli' the ancestors of 'Tortellini' from Bergamo and Brescia and made with spinach, eggs, cheese, amaretti, biscuits, and breadcrumbs. We suggest you visit the trattoria La Colombina in heart of Città Alta, in the province of Bergamo, you can savour amazing Casoncelli, and many other traditional dishes.
Anyone who spends time in the mountainous Valtellina, must try 'Pizzoccheri alla Valtellinese', short buckwheat tagliatelle, baked in the oven and served with Savoy cabbage, abundant butter, and stringy cheese, or 'Polenta Taragna', also made with buckwheat flour and served with sausages, ribs, or grilled vegetables.
From the plains of the Po Valley to the peaks of the Alps, Lombardy is dotted with dairy farms; it is thus no surprise the region's cheese making tradition is rich and varied, nor that meat plays an important role in the local cuisine.
A large salami with medieval origins 'Cotechino', is eaten once cooked and traditionally at the stroke of midnight on December 31st, accompanied by lentils, which locals consider, bearers of wealth. Spanish soldiers brought 'Cassouela' to the region, a soup, made with the poorer cuts of pork and crispy Savoy cabbage. Boiled meats, stews, grills and roasts, together with chicken, turkey, and goose, also play an important place.
Dishes such as 'Zuppa di trippa' [stewed tripe] and 'Ossobuco,' which is generally served with saffron risotto, have a peasant origin. In this region, cake means 'Panettone', a classic Milanese Christmas tradition and topic of a never-ending dispute between those who prefer it with candied fruit and those who don't. Its archenemy 'Pandoro' will be discussed next month as we travel through Veneto.
Wines & Liqueurs
Lombardy 3 main wine producing areas are: Valtellina, Bresciano [in particular Franciacorta] and Oltrepò Pavese, where more than 60 DOC, DOCG, and IGT [Indicazione Geografica Tipica], white, red, and sparkling wines are produced. These include 'Franciacorta' with the most famous being 'Cuvéè Prestige Brut', 'Valtellina Superiore', 'Valcalepio', the various wines of 'Oltrepò Pavese', and the 'Garda Classico'.
A perfect way to immerse yourself in the local cuisine, is to follow one of the region's 12 'Strade del Vino e dei Sapori Lombardia' [Food & Wine Trails of Lombardy] and visit a variety of wineries, agriturismi, wine bars, and trattorias.
Festivals
A unique and not to be missed gastronomic festival is the 'Sagra del Salame d'Oca' [Goose Festival], which takes place in Mortara, in the province of Pavia, on the last Sunday in September. The town's streets overflow with gastronomic stands; here you will be able to sample and purchase prized goose gastronomic delights. While you are there, don't forget to put time aside to enjoy the 'Palio dell'Oca' [Goose race]. The 'Fiera Regionale di Lonato del Garda', in the province of Brescia, held in January, features exhibitions, gastronomic offerings, cultural, shows, sporting events, show cooking, and conferences.
This region's vegetable gardens offer excellent products such as the asparagus to which Cilavegna dedicates the 'Festa dell'Asparago' [Asparagus Festival], held in May and the red onion protagonist of the 'Festa delle Cipolle' [Onion Festiva] taking place in Breme in June.
Today our culinary adventure throughout Italy began as we travelled through the 4 North West regions, but your journey cannot end here.
As a discerning traveller, you need to enjoy the 'Dolce Vita' to the max. Join me next month as we travel through the NE and let me tempt your taste buds as we journey from Trentino-Alto Adige, to Veneto, Friuli-Venezia Giulia, and finally to Emilia Romagna, the gateway to Central Italy, the focus of our 3rd adventure.
I would also like to take this opportunity to publicly thank Vegetarian Chef Paolo Baratella, Carlo Asmar, and Camille Asmar, all members of Italian Dining Summit Florence chapter, for their valuable editorial input and assistance in bringing this article to fruition.