Not every expat destination is created equal. Some cities will offer greater variety in entertainment or leisure activities while others will be focused entirely on work. One location may be surrounded by peaceful countryside; another might be a bustling concrete jungle.
Whatever might suit an expat best, exciting metropolis or sleepy hamlet, the reality is that most expats follow the money to their destination. The majority of expats will be travelling to a town or city that affords them the best job opportunities or where work is already waiting for them.This makes it all the more important that the numbers stack up. Imagine uprooting yourself for years to take up what looks like a dream job, only to find that your dream job pays peanuts.
Expats always need to remember to adjust their salary expectations to suit the local economy. Sometimes this means a pay cut but increased spending power, in other cases even a big pay rise may be cancelled out by an exorbitant cost of living.
In some parts of the world a loaf of bread can be USD$9 and renting a small apartment may be enough to break the bank. Without the support of friends and family, setting up a new life in a new country can be an expensive prospect, meaning many expats struggle in their first months.
A survey by consultancy firm ECA has studied the world's cities to work out which are the most expensive for expats. It found that Tokyo has taken the top spot for a variety of complex reasons.
The rankings for 2016 show dramatic changes from the previous year, with a number of Japanese cities entering the rankings, knocking Luanda in Angola, Zurich and Geneva down the table and cities like London and New York out of the top 20 all together.
So how costly is it to live in the Japanese capital? Firstly, it's important to understand that the ECA survey has left out data on rent, utilities and education expenses for expat kids. The logic there is that many employers will pick up the bill for these expenses, while this is true of larger companies transferring high level managers and executives. These generous remuneration packages won't be on offer to every expat heading to Japan.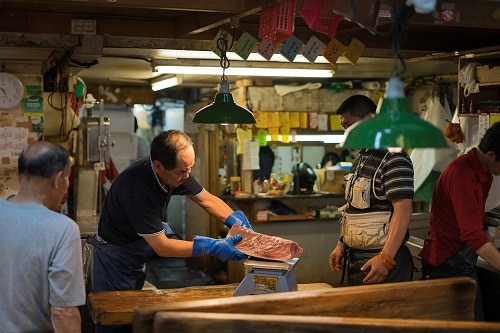 Shopping like a local can save you money
© 3569930 on Pixabay
Instead the survey compares consumer goods across various destinations. ECA explains that it uses "a basket of like-for-like consumer goods and services commonly purchased by assignees in over 450 locations worldwide". Where a loaf of bread may cost USD$.94 in Bangkok, the same loaf is USD$1.9 in Tokyo. There are even anecdotes of imported brands costing up to USD$9 a loaf.
It's important to remember also that the basket does not vary between cities. So, in Tokyo where an efficient public transport network makes driving an expensive luxury, the cost of a gallon of fuel is more than double that of the USA. But it is unlikely that any expat will go motoring in the Tokyo metropolis.
And it's important too to remember that buying familiar brands overseas means paying for expensive imported products. Enjoying a taste of home in a foreign culture is a comforting cure for homesickness, but can be a pricey proposition. Japanese cuisine is pretty distinct and a menu filled with foreign dishes is likely to be expensive.
Part of the point of being an expat is to explore another culture, which is also the cheapest way to live in any country. Eat, drink and play where the locals go and you will invariably spend less than sticking to expat bars or foreign chain restaurants. It's easy enough to find delicious sushi for less than USD$2 if you just follow the locals to lunch.
One problem that strikes both locals and expats alike is the crowded streets of Tokyo itself. Walking to work can be a mad scramble through the scrum of your fellow commuters, as the working day begins in the most populous city on earth. Nearly 38 million people live, work and play in this city. For a sense of scale, New York has a population of just eight million.
So it should be no surprise that accommodation in Tokyo is at a premium. Monthly rent for a generous, furnished studio apartment can range from USD$1,300 to USD$2,800. This expensive essential can cause worries for expats whose employers aren't footing the bill and makes is all the more difficult to get to Japan without a solid offer of employment.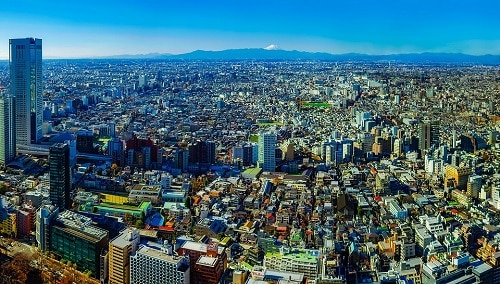 Tokyo is a densely populated city where space is at a premium
© tpsdave on Pixabay
The main reason for Tokyo's top spot on the list, and the inclusion of three other Japanese cities in the top 10, is that the list is relative. By comparing the cost of living in different cities, not only is the study comparing the cost of items in shop windows around the world, but it is also comparing the entire economy of that country.
The Land of the Rising Sun could be justly renamed as the Land of the Rising Yen, such has been the rebound for Japan's currency. After years of stagnation, the Yen's relative value against global currencies improved greatly during the course of the study, meaning that British Pounds Sterling or American Dollars would buy less and less in Japanese markets. However, the study took the temperature of the Japanese economy in March and September 2016. Since then the Yen has lost its lustre. A number of scandals have hit the country's biggest companies and US President Trump's reluctance toward foreign trade have had negative impacts on the Japanese economy.
Some sources suggest that the Yen has lost 17% of its value since September 2016, meaning the buying power of newly arrived expats is greatly increased again.
Wherever you go in Japan, make sure you know exactly what your employer is paying for and how much cash you will have to splash out in order to live comfortably. Don't be afraid to explore local markets or hunt for bargains away from familiar brands.
Have you lived in Tokyo? Do you have any money-saving tips for other expats? Share them in the comment below, or answer the questions here to be featured in an interview!
Article by Andy Scofield, Expat Focus International Features Writer