Kuwait is a country situated at the tip of the Persian Gulf. Located at the northern edge of Eastern Arabia, this country shares its borders with Saudi Arabia and Iraq. Only five countries have more oil reserves than Kuwait. This is responsible for Kuwait's strong economy and why the Kuwait Dinar holds the highest value among other global currencies. The World Bank has stated that the country has the fourth highest per capita income as well. It is also one of the most progressive and liberal countries in the Arabian region. These factors make Kuwait seem like a very lucrative option for expats.To add to that, there is no state tax on personal income. The opportunity to reap the benefits of this financial power has resulted in many expats working in Kuwait. The expatriate population in Kuwait is large, with foreigners making up about 70% of the workforce. Despite being an Islamic country, the cultural and social atmosphere in Kuwait is fairly diverse and tolerant. The large number of foreign nationals working in the country promotes a healthy cultural exchange that is enriching for most expats.
Kuwait through time
To get a better sense of Kuwaiti culture and its cuisine, it is important to look at the foundation of Kuwait's heritage. The original inhabitants of this country were nomads who decided to move from the arid Arab deserts to an area near the water.
The first community around what is now the Kuwait City consisted of fishermen. These early settlers from the 17th century then expanded the city, making it an important commercial hub for trade. Since then the country has been won over by the Persians and also briefly served as a British colony. Both these historical events left important marks on the culture of the country, much of which is evident even today.
The steady stream of foreign nationals, especially from the neighbouring Arab countries, India and southeast Asia, has also expanded Kuwait's cultural spectrum.
Cuisine
Food is the one of the first cultural changes that we experience when moving to a different region or country. The food in Kuwait is a delight. Borrowing influences from Persian, Arabian, Indian and Mediterranean cuisines, Kuwaiti food is rich in spices and flavors. Since it started as a fishing town, seafood still dominates the cuisine of the country. Fresh fish is easy to come by. The most popular seafood items are hamour, zbaidi, sobaity (bream) and safi (rabbitfish). Hamour (grouper) is typically served grilled or fried. It can also be paired with biryani rice. Kuwait is also famous for flavored seafood curry served with basmati rice.
One can find a large number of local Irani bakeries all over Kuwait. Bread is usually paired with mahyawa fish sauce. Other bakeries can also be found in various parts of Kuwait, serving all kinds of breads and cakes to cater to the expat population. The Indian influence is also strong, as can be seen from the dominance of the biryani rice in Kuwaiti cuisine. Additional seasonings like cardamom, cinnamon, raisins, and lentils are also Indian influences.
Fruits constitute an important part of the Kuwaiti diet. Desserts often appear in the form of fruit salads and fruit custards. Dates are another favourite ingredient, found in abundance in the diet here. Dates are dried or squeezed into jams, sauces and dips to be had with bread or crackers.
Here are a few of the most popular delicacies in Kuwaiti cuisine.
Warak Enab: Warak Enab is an Arabic dish consisting of grape leaves that have been stuffed with a fragrant, delicious mix of rice with mint and parsley, and a bit of finely cut tomato and onion. These little packages are cooked by simmering them in olive oil and lemon juice till they become soft and succulent. The grape leaves are kept in vinegar for preservation. After draining the vinegar, the leaves are stuffed with the prepared mix. The rice is usually cooked ahead of time. To make the wrap, the fried ingredients are kept on the stem end of the leaf and then the leaf is rolled around them.
Warak Enab is usually served piping hot. When the preparation is allowed to cool down before being served, it is called waraq enab bi'l-zayt. This soft, smooth wrap is a local favourite and definitely first on the must-try list.
The Iranian Khubz: The popular and traditional flatbread in Kuwait is the Iranian khubz. Baked in a special oven at high temperatures, the Iranian khubz is a flatter, circular form of pita bread which is oval and thick. The bread is baked at high temperatures, which causes the dough to puff. On cooling, the bread deflates and can be made into a wrap, around meat and vegetables. It can also be torn into tiny pieces to be dipped in curries, very much like Indian rotis. The khubz, often sprinkled with sesame seeds, can be served as garnish on stews and salads by toasting it and crumbling it over the gravy.
Machboos: Consisting of a simple combination of rice and meat, this is hands down the most popular dish in Kuwait and is often considered to be the national delicacy. The rice is cooked in rose water, saffron, and other spices, giving it a rich fragrance and taste. An assortment of spices are used to season the meat (which can be grilled, fried, or roasted), after which the meat and rice are combined, and the dish is topped with a caramelized onion garnish and sometimes accompanied by a sauce called Dakkous.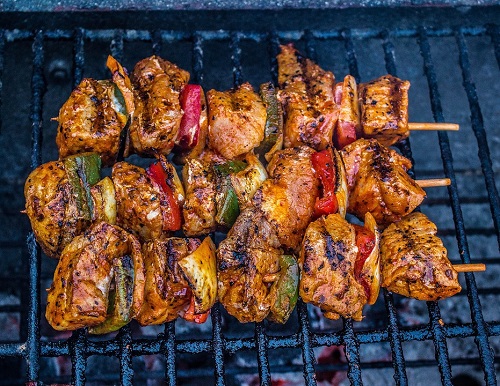 Kebabs are popular in Kuwait
Fatayer Lahme, Fatayer Jibna and Fatayer Zaatar: These can perhaps be loosely described as Middle Eastern pies – they are essentially breads that have been stuffed with three different types of fillings.
The first is a kind of flatbread with minced meat, similar to English meat pies; the second is stuffed with cheese; and the third has a stuffing that primarily consists of mixed herbs. Wild thyme is the most important ingredient in Fatayer Zaatar, and gives it a lot of its flavour and texture. The herb grows across the hills and fields of the Levant and the Eastern Mediterranean region.
This bread is also called Fatayer Fallahi (or villager's pie). In early Kuwait this dish was part of a staple diet in spring, which was the official season of collecting wild thyme.
Kuboos and Hummus: This is a type of flat bread that is popular around the region, and is made by kneading wheat dough and rolling it into flat pieces, and then baking it in a hot traditional oven.
The bread is most often paired with hummus, the chickpea-based spread or dip that most people around the world are familiar with today. Hummus consists of mashed chickpeas that are have been blended with condiments and olive oil. Sometimes hummus is also served with garnishes that can appear in the form of chopped tomatoes, coriander, cucumber, parsley, sautéed mushrooms or caramelized onions.
Koshari: Although the origins of this dish can be traced back to Egypt, Koshari is now a Kuwaiti favourite. Originally, Egyptian soldiers mixed two dishes to create this novelty. Eventually though, it spread and became popular in other parts of the region.
The dish consists of an unusual mixture of rice, macaroni, and lentils, which is steamed and then topped with vinegar and a spicy tomato sauce, along with fried onions and chickpeas as garnishing. Garlic juice, garlic vinegar, and hot sauce are optional additions that can be sprinkled on top. Expats who are familiar with Indian Khichdi and Italian macaroni will perhaps recognise koshari as a combination of the two.
Jireesh (Yireesh): An Arabic dish that is essentially cracked wheat porridge, this otherwise bland mix is cooked with chicken or lamb along with spices and tomatoes. An ideal comfort food, the Jireesh is light on the stomach but brings a world of flavours to your taste buds.
Shawarma: Shawarma is a Levantine meat preparation that is described by some as an improvisation of the Turkish döner kebabs. Huge chunks of chicken, turkey, lamb, beef, veal, or mixed meats are placed on a spit and grilled or barbecued for a long period of time. Thin slices are then shaved off the sides of the chunks which are left to stay warm on the spit.
Shawarma is usually eaten with taboon bread, tabbouleh, tomatoes and cucumber. The shawarma has become popular as a wrap in many parts of the world, but this is not always the case in Kuwait, where it is often simply eaten as a plated dish topped with tahini, pickled turnips, hummus and garlic mayonnaise.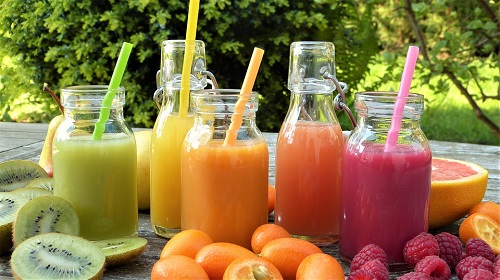 Fruit juices are popular in Kuwait
Kebabs: The Turkish doner kebab has found its way through all of the Arab world. Every street corner serves döner kebabs, characterized by meat rotating on a vertical spit. The kebabs are sliced off the chunks and served with bread or pita with sides of hummus, garlic sauce and tahini.
Luqaimat: The Luqaimat is another Kuwaiti version of the Indian Gulab juman. An iconic sweet served at Ramadan time, this sweet is crunchy on the outside and soft on the inside. The soft texture of the dough holds in the sweet syrup that melts in the mouth when biting into it.
Drinks
While alcoholic drinks are legally banned in Kuwait, the country offers an abundance of non-alcoholic drinks. In addition to serving global favourites like tea, coffee and soft drinks, the local diet also includes a lot of vegetable and fruit juices. Sugarcane juice is a cool respite in the scorching heat of the Kuwaiti summer. The basic taste of these juices is very sweet, but salt and ground black pepper can also be added to the beverages.
Another famous Kuwaiti beverage is the Leben. It is traditionally prepared by fermenting milk for approximately a day, then churning and removing the butter. The remainder is the buttermilk, i.e. Leben, that can be savoured at room temperature or cooled before consumption. Different sections of Kuwait have their own ways of brewing teas and making fruit juices. One can try snack corners for local variations of the teas and ask the server for specials.
Dining Etiquette
Since Kuwait is relatively liberal compared to some of its neighbours, there are fewer rules to conform to. However, some rules do exist, and while it doesn't take a lot to get used to the plethora of food on offer, expats must also remember to follow Kuwaiti dining etiquette.
When invited to a person's home, expats must try to arrive on time and remove their footwear outside the person's home. Elders are usually served first in Arabic culture. One must never point the soles of their feet at a person sitting in front of them, as this is considered offensive.
One must try not to turn down food or drinks, as turning down food is an insulting gesture. If you are unsure about what is served on the plate, it is advisable to ask the host. One must remember that when eating with their hands, only the dominant hand must touch the food. The end of the meal is symbolized by the host standing up to greet his guests. When dining in a hotel or restaurant, it is advisable to check the bill for a service charge. If there is no service charge on the bill, it is customary to tip 10-15 percent.
Kuwait is a delight for foodie expatriates who are looking for a high standard of living coupled with a rich lifestyle. The country offers a perfect mix of fast food stands and high-end restaurants, and whether you have a craving for falafels, shawarmas, or a delicious biryani, you'll always find something delicious at hand.
What's your favourite food in Kuwait? Share your thoughts in the comments below, or answer the questions here to be featured in an interview.