There's so much to take into consideration when it comes to purchasing property, including a buy-to-let investment. You obviously want to protect your assets and see a good return on investment, with a preferable rental yield or profit that makes the purchase and hassle worth your while.The Netherlands is beautiful country to live in which has economic stability, a high standard of living and a thriving industry, not to mention benefits from tourism! It's a great place to consider investing in property, so let's take a look at some of the figures.
Current Property Climate In The Netherlands
Following a housing boom that spanned almost 15 years, the Dutch housing market weakened in 2008 –as did many other markets around the world due to the financial crisis – and only really began to recover in 2014. Property prices are now soaring, with a supply and demand gap putting many first-time buyers in a precarious position. Despite the increasing demand, not enough properties are being built. Statistics from March 2018 show that only 5,986 housing permits were granted, which is down by 19.8% from the year before.
Property prices have increased in almost every area of the Netherlands. The price of existing homes in Amsterdam leapt up by 12.6% during the first quarter of 2018, and by 7.2% during the last quarter. Nationally, the average property price increased by around 8.2% in the first quarter of 2018 and by 4.1% in the last quarter.
The table below shows increases by property type during 2018. Note that figures may vary slightly once the first quarter statistics are in for 2019.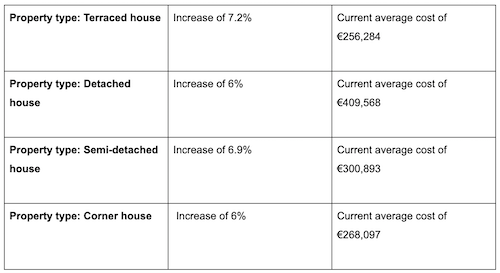 Mortgage Interest Rates
Interestingly, despite the soar in demand and the shortage in housing available, mortgage interest rates in the Netherlands remain low. The average mortgage interest rate in the first quarter of 2018 was around 2.39% which was down from 2.41% from the year before. In terms of new housing loans, the IRF (floating rate and interest rate fixation) for up to one year was 1.94% in March 2018, compared to 1.97% from the year before. The IRF figure for one to five years stood at 2.16% in March 2018, down from 2.19% in the year before. IRF for five to 10 years was 2.35% in March 2018, slightly up from the 2017 figure of 2.34%. For more than 10 years, IRF was 2.89% in March 2018 compared to 2.88% in the year prior.
Free Market Yields
Gross rental yields obviously vary from city to city. For example, in Amsterdam, rental yields on apartments range from around 3.7% to 5.3%. In the Hague, yields are around 5.6% to 6.4%. The Hague in general is a less expensive area in which to buy, and has huge potential, being the seat of government, home to the majority of foreign embassies and international company headquarters. This also means a greater potential for expat tenants, not to mention the tourism aspect, with some 1.2 million visitors coming to this location every year.
Is A Buy-To-Let Mortgage In The Netherlands A Good Investment?
At the end of the day, whether or not this is a good investment for you will boil down to a number of individual factors. If you fit the criteria for a buy-to-let mortgage and have ample cash savings, this could certainly be a good move for you. Property prices and rental costs are anticipated to continue rising in the future, so if you choose to buy now then you should see a decent return on investment and profit yield. Typically, the annual rental value exceeds the cost of a mortgage, as the largest part of the mortgage is interest-only.
Have you lived in the Netherlands? Share your experiences in the comments below, or answer the questions here to be featured in an interview!