Newcomers to the Netherlands seeking culture, debate and discussion in English can find a lovingly-curated programme of events at De Balie in central Amsterdam. The former district court, with its beautiful stained glass, doubles as a wedding venue when not hosting discussions and performances. In 2016, De Balie welcomed some 99,000 visitors to enjoy its film screenings, concerts, art exhibitions and debates. Not to mention the hundreds that flock there daily to drink coffee or meet friends for lunch.For Emma Lotte de Groot, the centre's PR manager, culture has a role to play in helping people engage with new ideas: 'We believe that art can really show things from different perspectives, so we have a lot of dance and theatre and music, but also debates.'
With eight full-time programme-makers with different specialisms, De Balie is unusually well-placed to offer this diversity. The expertise of the editorial team ensures that the key issues of the day in a given topic area are given floor time and the prestigious guest speakers are hand-picked. Within each specialism there is also room for considerable variety. The Middle East Report, for example, has included panel discussions, theatre, and even opera.
Free Speech
Also important at De Balie is a culture of tolerance and open ears. 'We try to construct safe spaces where people can think freely, speak freely, and share thoughts through talking, meeting each other, dancing and theatre,' explains Emma.
This has been a challenge at times, and debates on the floor and back in the office have been heated, but De Balie's goal to bring diverse groups together necessitates occasional conflict. 'Exchanging ideas is one of the fundaments of democracy,' says Emma. 'If you stop listening to each other then there's a problem in society.'
The social benefit of such a centre is recognised by the town council, who subsidise 18% of De Balie's running costs. De Balie also works in association with various NGOs who help fund several of the programmes they run.
Cultural Entrepreneurship
De Balie is a proponent of what it calls 'cultural entrepreneurship'. It is successful, not just because of the calibre of the programmes it organises, but also because it has become adept at selling tickets, renting its facilities, identifying project partners, and recruiting passionate staff with a clear vision for the centre. With the same principle in mind, De Balie also tries to give other entrepreneurs a leg up and nurture new talent. Each month, for example, it exhibits the work of a different young artist or photographer.
What Is 'International' About De Balie?
The origin and genre of the films at the De Balie cinema are deliberately international and varied. Recent screenings include La Chana (Spanish), De Keuze Van Mijn Vader (Dutch/Chinese), and 'I Am Not Your Negro' (English), all with either Dutch or English subtitles.
De Balie schedules at least one English-speaking programme per week. This could take the form of a panel discussion, debate, play or film.
From September 2017, English-speakers will be able to subscribe to De Balie's English newsletter, which will highlight those programmes running at De Balie of most interest to this audience. The English version of the website is also being updated as De Balie is keen to engage this demographic and share its interesting programme with them.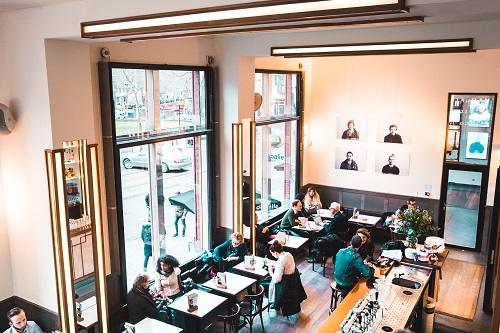 The bar and restaurant at De Balie
© De Balie
De Balie's international character is also reflected in the range of organisations it works with. It is a member of pan-European debating society Time to Talk, for example. Other collaborations include Human Rights Watch, the European Cultural Foundation, and the Battle of Ideas.
Multinational artists and speakers ensure a fresh perspective on the issues of the day. Previous guests include novelist Zadie Smith, musicians Pussy Riot, actor Jude Law, film director Ulrich Seidl, painter Marlene Dumas, psychologist and behavioural economist Dan Ariely, actor and playwright Taher Najib, journalist Fintan O'Toole, and economist Ha-Joon Chang.
De Balie TV
In 2016, 282,000 people tuned in to De Balie TV, the live streaming and archiving of all programmes run at the centre. Emma sees its purpose as multiple: 'This is partly because of transparency, because we want to show what happens here, but it is also because our main goal is to stimulate public debate, so that's why we try to enlarge our reach. By live streaming all our programmes, more people can watch it – also people who don't live in Amsterdam or are unable to come here on that specific night.'
A Place to Meet
Living abroad, it is sometimes hard to engage with the intellectual and cultural life of your new home. Meeting others and experiencing ideas first-hand is refreshing. 'People really value coming together in a physical way, sitting together in a room, instead of just watching it online or seeing it in a newspaper,' says Emma of the debates and discussions. 'I think that's because it's live journalism – there's no possibility to cut. It's really pure. What you see is what you get.'
For many daytime visitors, the main attraction of De Balie is the restaurant and bar area, which is large by Amsterdam standards, centrally-located, and very popular with expatriates. In the morning it is full of people enjoying coffee, while at night, the bustling bar is the focus. Behind the bar is a restaurant area offering three courses, including several vegetarian options and favourites such as burger and chips, roast pork and ravioli. Customers combining their meal with a cinema visit benefit from a 10% reduction on their dinner bill.
De Balie serves breakfast each day and, on Sundays, offers brunch with optional Bloody Mary or Mimosa.
The bar is also a great place to engage with the speakers and performers at some of the events. Known at De Balie as 'The Third Half', the discussions in the bar often linger long after the formal, seated part of the programme has finished. When last orders has been called and the lights go out, – as late as 3am on the weekend – it is hoped that the conversations continue.