Expat centres in the Netherlands are enjoying a radical restyle, and IN Amsterdam is leading the way. Expat Focus heads to its HQ in Amsterdam's stylish World Trade Center to find out more about the rationale behind the new branding and the services that expatriates can expect from the centre.The friendly Anglophone office of IN Amsterdam is nothing like the dismal ticketed queues at the town hall and the confused telephone conversations in Dutch to the tax office that newcomers here endured in the past. Described by one American client as a 'spa-like experience', the pristine help centre provides calm, easy-to-navigate support for people seeking to make the Netherlands their new home.
A unique experience
Els Bosma, the centre's newly-appointed director, is hugely proud of the welcome that IN Amsterdam provides. 'I've been an expat many times; I've lived in Africa, in the UK, and in America, and I've never been treated the way we treat people here,' she says.
With an estimated total of around 15,000 visitors this year and a 10-20% increase in clients year on year, the centre makes a huge impact on the settling of newcomers in the Netherlands. The focus is on the needs of highly-skilled workers and working in partnership with the companies that employ them.
IN Amsterdam can answer quick questions over email or on a walk-in basis. They also offer appointment-only services. For highly-skilled employees and their employers, it has never been simpler.
'You have some people, they come literally from the plane with their suitcase,' explains Els. 'They roll their suitcase in and they come and do their appointments because they've made them a couple of weeks in advance and they know already what to bring. They are fully prepared, arrive here, have their appointment, and go to the house or hotel and only have to come back once to pick up their residence permit – and that's it. That's unique.'
Combining local and national government services in one office has not been done before, explains Els. 'We were one of the first in the whole world to do this.' And it's a model that other expatriate centres are eager to adopt. 'There are a lot of countries trying to copy … and they're coming over here to ask us how we do it,' says Els.
Rebranding
Crucial to the success of the Amsterdam centre is the rebranding it underwent this year. The first part of this was to shed the old name, Expatcenter Amsterdam.
The team felt that the expat title was no longer a good fit for their clientele. 'The old-fashioned meaning of expat is the person that flies in… stays here one, two years, and then flies out [and] lives almost exclusively in their own little bubble' Els explains, whereas people tend to stay much longer these days. 'We noticed that the current international newcomers… come with a completely different mind-set. They come with the idea to immerse in the Netherlands, to become part of the community… They see that as a big enrichment for their life.'
The new name had to express that: 'We went from 'EX-pats', an exclusive community, to 'IN Amsterdam', an inclusive approach.'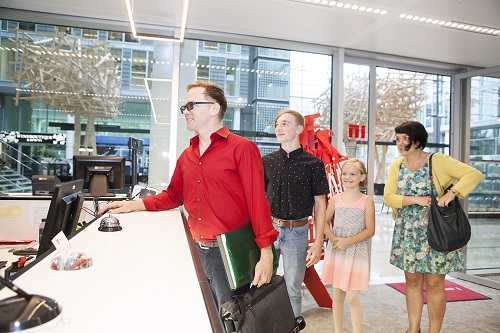 Some people come to IN Amsterdam as soon as they arrive
© Niels Blekemolen
And the smart website with its local news, events information, and practical advice reflects that diversity. Its up-to-date information is available in six languages and is intended to help international residents navigate their new home and improve the quality of their stay here, whether they are employees, family members or spouses.
Not all expat centres are the same
While IN Amsterdam's concept is much admired, expat centres across the country do vary. 'Everybody has their own approach,' explains Els. Some are foundations and some are sponsored by an international company or a university. IN Amsterdam itself is an official department of Economic Affairs of the city of Amsterdam. But the expat centres do work collaboratively, meeting at least 4-5 times a year. 'We talk a lot,' says Els.
Meeting client needs
These meetings provide the perfect forum to discuss the changing needs of the centres' clientele and how best to evolve to meet those requirements.
The UK's announcement that it would leave the EU in June 2016, for example, had the phone lines buzzing with wide-ranging questions from thousands of worried British expatriates.
The Expatcenter Amsterdam, as it was then, acted quickly. They collated the main concerns that people had, organised a meeting with Amsterdam's mayor, and asked a team of legal experts to provide a report on the rights of the British people. They also introduced a special phone line where you can ask questions about Brexit.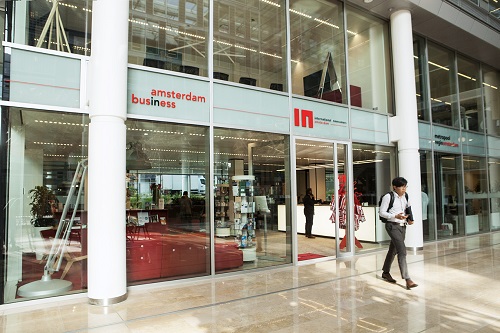 IN Amsterdam arrange meetings and help sessions for expats
© Niels Blekemolen
More recently, they have had feedback from companies that they would like to recruit more internationals but they are having trouble finding schools for their families. Together with the international schools, the Dutch government, and the municipalities, IN Amsterdam is seeking solutions to the problem and working on policies to make these changes possible.
A global job market
IN Amsterdam believes that meeting the needs of industry is good for everybody and making residency easy for highly-skilled migrants is an important part of that.
'It's a global job market,' says Els. 'You see Dutch highly-skilled migrants going to other countries and you see other nationalities coming in. So, it is a swap. The companies… benefit from having a diverse personnel community and that means they want to have international people included.'
'We'd like to see a strong [Dutch] economy,' she continues. 'And that you do by having a good variety of companies. And a good variety of companies benefit from a good variety of national and international talent.'
A network of advisors
Expat centres cannot achieve this alone, however.
IN Amsterdam works with a hand-picked portfolio of partners who are experts in different areas, such as education, housing, and health. If IN Amsterdam can't solve a problem straight away, they will always direct you to a service provider that can. 'Our motto is that we never send anybody away without an answer,' says Els.
ACCESS, a non-profit organisation which has a desk in the IN Amsterdam office, can also put clients in touch with subsidiary services. 'We are so happy that they are here,' says Els. 'Because there are a lot of people asking those additional questions and we want to make sure that they have somewhere to go.'
Migration made easy
It can be hard starting a new life abroad and it makes all the difference to be greeted by understanding professionals who are experts in helping people feel at home. Getting settled was once a bumpy ride but, for highly-skilled migrants in the Netherlands, times are changing. 'We make sure it's a soft landing,' says Els.
Expat Centres in the Netherlands
• Expat Centre Leiden
• Expat Center Twente
• Expat Center Utrecht
• Holland Expat Center South
• IN Amsterdam
• International Welcome Centre North
• Rotterdam Expat Centre
• The Hague International Centre