The Republic of Panama is a country in South America, bordered by the Caribbean Sea, the North Pacific Ocean, Colombia and Costa Rica. The main airport is Tocumen International, and there are plenty of planes arriving daily from all over the world. From there, you can either get domestic flights or continue by bus or a hire car, as the roads in Panama are pretty reasonable. Nearly half the country's population, around four million people, call Panama City their home. Fun fact – did you know that the name Panama is derived from an indigenous word meaning an 'abundance of fish'? Boasting 1,207 km of Caribbean coast and 1,700 km of Pacific coast, Panama is one of the few countries in the world where you are able to dive in two oceans in one day.Great diving spots can be found along both the Caribbean and Pacific coast of Panama, but the two most popular areas are Bocas del Toro on the Caribbean side and Coiba National Marine Park on the Pacific. There are numerous dive shops in Panama offering diving trips to suit every level of experience. Scuba Panama and Dive Adventure are some of the organizations in Panama City who offer PADI dive courses and daily 'dive two oceans' trips.
On the Pacific side, Coiba Dive Expeditions offers one to two week trips around the islands on a Yemaya liveaboard. Bocas del Toro has many dive outlets for you to choose from. The more popular ones include La Buga Dive and Surf, Starfleet Eco Adventures and Bocas Watersports. Two Oceans Divers is one of the top-rated dive shops near Colon. It can be found inside the Coco Plum Eco Lodge.
On the Pacific side, located in the Gulf of Chiricui, the Coiba National Park (Nacional Parque Coiba) consists of 38 islands. It would take about a day's drive from Panama City plus an hour and a half by boat to get there. The only overnight accommodation available in the Coiba National Park is a National Authority for the Environment (Autoridad Nacional del Ambiente, ANAM) ranger station, located on the Isla Coiba.
Since the Isla Of Coiba evolved from a penal colony with restricted public access, it survived virtually untouched, with an abundance of natural resources. It became a part of UNESCO World Heritage site in 2005. Coiba National Park is managed by National Authority for the Environment, and you will need a permit from them to access the park. Sharks can be seen on almost every dive, along with turtles, schools of large fish and dolphins. Some of the operators actually guarantee that you will see sharks during the dive or you get your money back.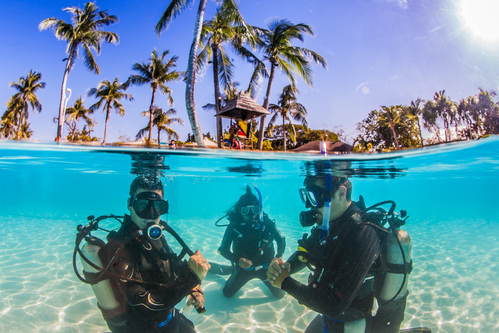 There is something for everyone in Panama's scuba spots
The Pearl Islands of Panama is an archipelago that includes around 250 small islands, most of which are uninhabited. The fifth largest is Contadora Island, which offers fine hotels, restaurants and pristine, crystal-clear water for diving. Scuba whale watching tours are also available.
If you are looking for colorful reef fish and magnificent corals, then you may want to check out the Caribbean side of Panama. Bocas del Toro often rates as one of the best diving spots in South America. Its located outside of the official hurricane zone and away from the pollution of large cities so the coral is very healthy. The lush archipelago is part of the La Amistad Biosphere Reserve that spans Costa Rica and Panama. Bocas del Toro also has a UNESCO World Heritage Site status due to its rich ecosystems. An estimated 95 percent of the coral species found in the Caribbean Sea can be seen within the archipelago.
There are plenty of diving sites you can choose from, depending of your experience level and interests. The most well-known artificial reef in Bocas del Toro, dubbed the Wreck, can be found at Mangrove Point. An intentionally sunk car ferry sits alongside the reef system and a steep 60-foot drop. Tiger Rock is regarded as one of the best dive sites of Bocas del Toro. It's more suitable for experienced divers due to strong currents, but is a good place to see sharks, rays, large fish schools and dolphins. The only downside is that in order to reach it, you will require near-perfect sea conditions.
If you are looking for a closer spot to observe some seahorses, morays and crabs then you can have a look at Bouy Line. This is a poplar shallow site located near a deep-water channel buoy. Airport is a protected site frequented by beginner divers. This is a sheltered area, which makes it well suited for training. And if the tide is on your side, it can be possible to start your dive at the Airport and finish up at the Wreck.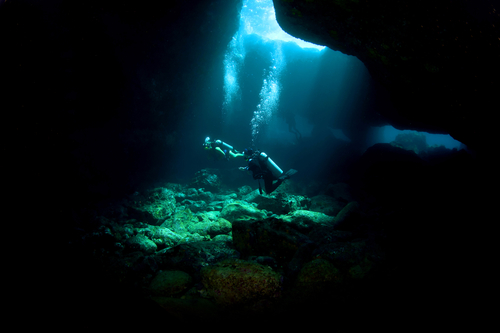 You can explore wrecks and reefs around Panama
Another popular spot is Colon, which is two hours from Panama City via the Transisthmian Highway. Just offshore, the Portobelo National Marine Park is filled with corals and sunken ships. Due to its proximity to Panama City, a large number of divers come direct from the city to see the beautiful reefs.
If you are looking for a more unique diving experience, then you must visit the Panama Canal and explore the underwater jungle of the nearby Gatun Lake. You'll be able to see the remains of the old railroad, ruins of the flooded villages and construction equipment submerged after the completion of the canal way back in 1914, to name a few.
Diving in Panama is possible all year round but the best months are February, March, May September and October. During these months, the sea is flatter and allows access to more remove diving sites. The tropical climate allows for little weather variation, so Panama is almost always hot and humid. Rainy season lasts from May to November, while the country is usually dry from December to April.