Zara, tell us a bit about yourself. What does a typical day in your life look like?
I'm a Portuguese world traveler and I make a living as a travel and food writer.I was an expat in Dubai for almost five years, until late 2011. Since then and until a few months ago, I was living as a nomad, with no exact place to call home. As such, I don't really have what most people would call a "typical day".
Depending where in the world I happen to be, my days include a mix of exploring, eating, engaging in different activities and, of course, a lot of travel content creation for my blog, Backpack ME.
I have recently moved to Lisbon with my husband Ashray, who's from India. After all these years on the road, we felt like having a base, and we think the Portuguese capital is ideal for this. We still travel a lot, but we now have a place to "come back home" to.
Are you an expat yourself? Where, when and why did you move abroad?
I am currently not an expat, but my husband is one, as he's from India and now living here in Portugal for the first time. We've been in Lisbon for about half a year now and we're happy to see that the city and surrounding areas has quite a large and active international community! Like this, we can hang out with both locals and expats – the best of both worlds!
You've recently written a food guide to Lisbon. Tell us a bit about the guide and what prompted you to write it.
The number of visitors who travel to Lisbon has been increasing like crazy in recent years! When I visit new places, I love reading about their food culture, about how their typical dishes relate to local life, and try the traditional foods that may be unique to that place. Often times, I read other blogs and articles to understand where I should even begin! I felt something like this was missing for Portugal and, as a traveler and food lover, I thought I could really give both visitors and new residents of my country a taste of all the amazing foods they can later discover on their own.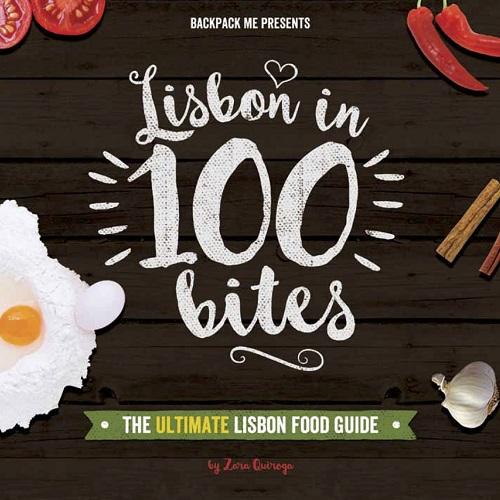 My guide is called Lisbon in 100 Bites and it's an easy to download ebook which doesn't suggest places to eat.
Instead, my mission is to make you more familiar with all the typical foods (dishes, snacks and sweets) you are likely to find just about anywhere in and around Lisbon. The info is complemented with photos that will make you drool even before you order your meal, as well as with tips to make ordering in Portuguese easier.
Uncomplicated and fun, Lisbon in 100 Bites will take travelers on a tasty journey around Lisbon!
In your opinion, how does getting to know a country's cuisine help expats?
Food has the power to connect you with the local lifestyle of a given place more than anything else in this world! We may not all share the same language. We may not all have the same passions or beliefs. But we all eat. And we do it every single day! In Portugal, more than anywhere else I've been to, food has an incredible potential to make it easier for expats to mingle with locals.
Not only do Portuguese folks love eating, we love talking about food too! When we get hungry, we discuss what we'd like to eat. While we're eating, we reminisce on other times we had the same dish, and how it may compare to this given meal. When we're done eating, and drinking, and having dessert, and coffee, and a digestive… well, then it's time to start fantasizing with the next meal! Believe me, there's nothing more Portuguese than food and food talk. If you can make chit chat about coffee, bacalhau and where the find the freshest seafood for the best value, then you're bound to have an extraordinary time in our food obsessed country!
What's your favourite dish that's featured in the book?
Bacalhau Com Natas! This is an oven baked dish made with shredded bacalhau, the salted codfish my country loves so much, and that you'll find virtually everywhere in the country. The fish is mixed with fried potatoes and onions, and covered with thick cream right before it's placed in the oven to be baked until the top is golden. This is typical Portuguese comfort food, and I miss it so much when I'm abroad!
Aside from your love of Portuguese food, what foods have you enjoyed most in your travels around the world?
If I say that trying new foods is one of my favorite things about traveling, I can follow that with multiple highlights of very distinct cuisines. It's hard to mention just a few foods though!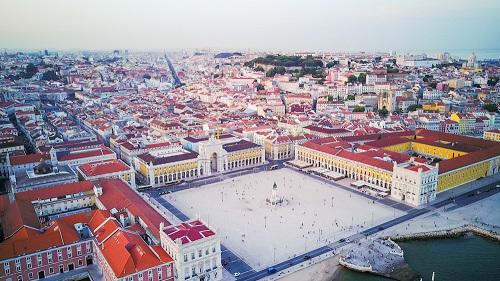 Lisbon is a beautiful city and a great destination for expats
Indian and Thai cuisines are obvious preferences while in Asia. But Vietnamese food, for example, was quite a novelty for me until we landed in Ho Chi Minh City. Since then, I need some steaming bowls of pho every now and then in my life! In Vietnam, I had the best soup of my life, for example. I'm not even kidding…
Another amazingly delicious discovery for me was Peruvian food. I am still amazed at how Peruvian dishes are not more known around the world! Peruvian food is not only tasty, but it's also diverse and unique. You have the heavy meaty stews from the Andes mountains region, the exotic preparations from the Amazon Jungle and, more popularly, the fresh ceviches from the coastal areas – I'll stick with those any day!
The one cuisine I already loved before I started to travel, and that I still do as much, if not even more, is Italian. Italy is one of my favourite countries to travel around for the sake of eating. I honestly don't think I've ever had a bad meal in Italy. Anywhere you go, outside the obvious touristic spots, there's a little osteria waiting to serve you a potentially life-changing plate of homemade pasta!
Why should potential expats consider Lisbon as their next destination?
Lisbon is one of the coolest capitals in Europe! The city is big enough to be cosmopolitan, but still retains a charming small town feel. The weather is pretty mild all year long, which does help to enjoy the surrounding natural areas, as well as invites going out to socialize often. We love eating, drinking and, generally, enjoying life!
And we love foreign people too… so making friends shouldn't be too hard. Plus there are a lot of expats already around Lisbon, so you'll feel like you are a part of a community. It's always positive to feel welcomed wherever you go, and I believe in Lisbon it's pretty easy to achieve that, no matter where in the world you come from!
What are your plans for the next few months?
My husband and I are off to India in a few weeks! We're planning some more traveling after that but, as we always hop on adventures last minute, we don't even know where to yet!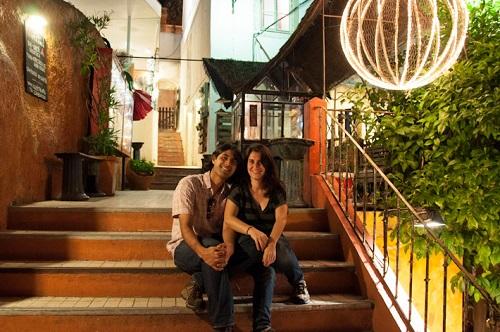 Ashray & Zara in Lisbon
Professionally, I'll be working on the promotion of my Lisbon food guide, as well as creating new content for my travel blog Backpack ME, where we're always sharing travel tips and inspirational articles to make our readers hit the road too!
Where can people keep up to date with your news, and how can they buy the book?
To read my travel blog, you can check our official website here, or follow us on Facebook for the latest live news!
If you're hungry and you'd like me to introduce you to the greatest dishes in Lisbon and beyond, you can download Lisbon in 100 Bites. The download is instant and in PDF format, so you can carry it around on your phone or tablet while you explore.