One of the greatest challenges of being a parent during the school holidays and weekends is looking for and arranging fun filled days and activities for you and your family.
We've compiled this handy expat guide to activities for children in Singapore to make this task easier for you in your new home.From theme parks and days out suitable for all ages, to brilliant interactive play zones and the best waterparks, there will be something in this guide to suit everyone's needs and interests.
Adventure
Does your child have an adventurous spirit? Do they love whizzing around on zip lines or challenging themselves with an obstacle course? If yes, then these are the places for you.
Forest Adventure
Singapore's first and only treetop adventure obstacle course.
Mega Adventure Park
Mega adventure park offers four different types of adventure: The Mega Zip Line, The Mega Climb (a premier high rope adventure course), The Mega Jump (a safety controlled 15 metre drop, replicating a free fall parachute jump) and The Mega Wall (one of the highest climbing walls in Singapore).
SAFRA Adventure Sports Centre
SAFRA has a small children's play area for toddlers and young children and a whole range of sports and adventure activities that older children can participate in.
Arts & Crafts
There are plenty of options for those of you with little budding Picassos or future thespians!
Art Bug
Holds multiple workshops such as an interactive mother and baby art class. Also holds art classes for children, where they learn anything from power drawing to applying acrylic on canvas.
Act 3 Drama Academy
"Singapore's leading art company for the young" provides theatre workshops and arts education.
Art Zone
Offers art classes for a range of different ages inclusive of materials.
Clay Cove Clay Workshops
A venue that specialises in pottery making classes for children.
Colourful Notes Music & Art Studio
A "multi-disciplinary arts centre with a strong focus on performing arts" where your little ones can learn to sing to their heart's content or learn to play an instrument.
Playeum
Playeum describes itself as a "Children's Centre for Creativity, where families can play and create together" and offers high quality play spaces and programmes. Check the monthly calendar on their website to find out more.
Family days out
If you're looking for activities that are suitable for all ages and fun for the whole family, then check out some of these suggestions.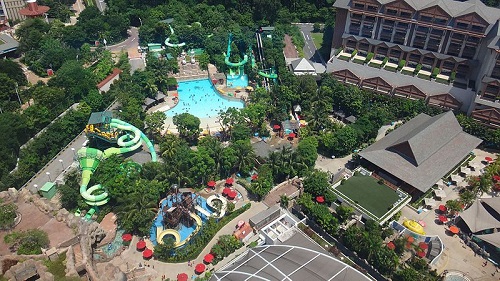 Waterparks are a great way to keep kids amused
© Haopee G on Wikipedia
Alive Museum and Trick Eye Museum
Different locations but both offering a barrel of laughs, with optical art illusions and interactive 3D artwork that you can pose with.
Amazonia
An air conditioned family entertainment centre with a play area for toddlers, glow in the dark mini golf, spaceball, a jungle play gym and a bistro.
Gardens By The Bay
The beautifully designed Gardens By The Bay is great for everyone. It includes a flower dome, cloud forest, the OCBC skyway and the mind blowing supporter grove.
Let 'em Play
A family "entertainment hub" which boasts Singapore's first " Augmented Reality Climbing / Bouldering", an indoor elements obstacle course and a robotics lab.
Madame Tussaud's
Madame Tussaud's is always a firm favourite for family days out and never disappoints.
Playeum
Playeum describes itself as a "Children's Centre for Creativity, where families can play and create together" and offers high quality play spaces and programmes. Check the monthly calendar on their website to find out more.
Sentosa Beach
Head to Sentosa island if the family are all eager for a day at the beach building sandcastles.
Singapore Flyer
Unparalleled views of the city from the top of a giant ferris wheel.
Universal Studios Singapore
Offers a fun day out suitable for all ages at a movie theme park.
Westgate Wonderland
Westgate is the largest rooftop mall playground in Singapore and features a 10 metre tall tree house.
Indoor Play Areas
Looking for some indoor play areas where your children can run around, ducking and diving, sliding and jumping and generally having a ball? There are plenty of options, from soft play areas to funky ball pens and much more at Cool de Sac, eXplorerKid E!hub, Fidgets, Go Go Bambini, Hokey Pokey, Kabodle Kids, KidsSTOP, Polliwogs, T-Play and The Tiara Society.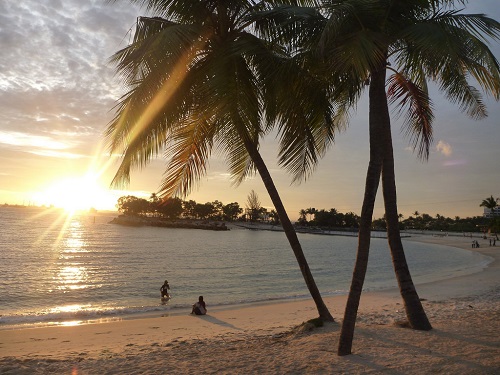 Sentosa Beach is popular with children and adults alike
© michaelspencer on Flickr
Interactive
Looking for something different, creative and immersive? Take some time to look at these interesting venues.
KidsSTOP
Specially more focused around science, KidsSTOP offers a more educational spin on the interactive play venues for children.
KidZania
An interactive indoor theme park that offers realistic role-play for children throughout a kid sized city.
Laser Tag
There are several companies around Singapore (such as LaserOPS, Tag Team and Combat Skirmish) offering the ever popular laser tag experience (an immersive hide, seek and shoot game).
The City
Similar to KidZania, offering pretend play experiences in realistic scenarios with role play props.
Trick Eye Museum and Alive Museum
Different locations but both offering a barrel of laughs with optical art illusions and interactive 3D artwork that you can pose with.
Learning/Educational
Do you want your children to have fun, but also to be gaining some useful knowledge and learning new things at the same time? There are more options that cater to this than you might think.
Take your children to any number of these child-friendly museums and science centres to learn about everything from dinosaurs to contemporary art: ArtScience Museum, Keppel Centre of Art Education, Lee Kong Chian Natural History museum, MOSH! Science Centre, Space Academy Singapore, Singapore Discovery Centre, Singapore Science Centre.
Nature & Wildlife
Do your children love animals? Are they fascinated by marine life? There are several brilliant places you can go! Some of the best include the Farmart Centre, Jurong Bird Park, Marine Life Park, Night Safari Singapore, River Safari, Singapore Aquarium and the Singapore Zoo.
Outdoor Playgrounds
If you would rather be out and about to get some fresh air, then stop by some of Singapore's fantastic outdoor playgrounds.
Some of the best in terms of design and function are Fort Canning Park, Jacob Ballas Children's Garden Playground, Marine Cove, Sembawang Park, Wallholla, West Coast Park, and Westgate mall park.
Sports
Keeping the little ones healthy and active has never been so easy! There are an abundance of sport orientated activities for kids in Singapore that will keep them on their toes.
Clip N Climb Singapore
For a colourful rock climbing experience with lots of interesting and uniquely designed walls.
JR Muay Thai
Focusing on one of the world's most popular martial arts, have your little ones learn valuable self defence skills as well as learning discipline and improving mental strength, focus and self confidence.
Kayaking at Pasir Ris Park
Have your kids try their hand at kayaking, available at the Water Venture at Pasir Ris Park
Mini Golf at Lilliput
The first of its kind, Lilliput offers a thematic indoor mini golf course.
Power Kids Gym
Offers programmes with progressive activities for babies, toddlers and children, they also include parent participation classes.
The Rink
An olympic sized ice skating rink where you can skate for fun or take lessons in either figure skating or ice hockey.
Trampolining
Your children will love bouncing all over the place, learning new flips and tricks. Check out venues such as AMPED Trampoline park, Bounce Singapore or Katapult Trampoline Park for classes or freeform spaces.
Urban Ski Singapore
Your children can learn to ski or snowboard with the lessons offered on the dry slopes at Urban Ski Singapore.
Waterparks
If your children absolutely love swimming and slipping about on waterslides then these wonderful waterparks will be the perfect place to go: Adventure Cove Waterpark, IMM Waterpark, Marina Barrage Water Playground, Palawan Pirate Ship on Sentosa, Splash @ Kids Amaze, Splash N Surf, and Wild Wild Wet.
We hope this expat guide helps you find some fantastic venues and provides many fun filled days out for you and your family!
What are your favourite places to take the family in Singapore? Share your recommendations in the comments below!