The property market can be overwhelming and confusing at the best of times, so we've put together this guide to explain everything you need to know about property in Singapore.
Property options
Rental
For foreigners looking to rent in Singapore it is usually best to choose a reputable agent who can use their knowledge of Singapore to secure a good deal for you and who will protect your interests.Research the areas that will be most suited to you such as near schools or public transport systems like the MRT if that will be the best method of commuting for you.
For the rental process you will need a photocopy of your passport and employment pass as well as a LOI (letter of intent). This will be a letter outlining your intentions for the property and requirements from the landlord.
The landlord should sign the LOI (ensure you make a copy for yourself to keep) prior to producing the tenancy agreement.
Check the tenancy agreement for a Diplomatic / Escape clause / Reimbursement clause which will protect you in the event that your contract of employment is terminated or you are relocated to another country.
In Singapore the tenancy is subject to stamp duty and will need to be "stamped" by the Inland Revenue Authority of Singapore to be considered valid. The costs incurred (which are dependant on the length of rental period) are usually covered by the tenant.
Up front costs
It is best to be prepared for the numerous up front costs that can be incurred during the first stage of your rental process in Singapore.
"We had to pay 3 months' rent in advance (1 month's advance rent and 2 months' security deposit). Also Singapore Power ask for a 500 dollar deposit in the account as well." – Expats in Singapore member Emma Stratford.
Buying
As with rental, it is wise for foreigners looking to purchase a property in Singapore to use a reputable agent.
Due to the Residential Property Act or "RPA" there are some restrictions on foreigners buying property in Singapore which mainly pertains to vacant land, "landed" properties (such as terrace houses, semi-detached houses and bungalows), shophouses, HDB apartments, executive condominiums or residential property in a building less than 6 levels. Purchasing such properties will require prior approval and an application must be made via the Land Authority of Singapore.
Foreigners are able to purchase apartments without prior approval, such as a condominium (if approved under the planning act) or an apartment in a building of six levels or more.
Additional costs
Aside from agency and solicitors' fees there are some additional costs for purchasing property in Singapore which should be taken into consideration.
Option to purchase
Prepare 1% of the purchase price for the option to purchase from the seller. This will usually be prepared by the seller's solicitor or agency and will be presented to you with the option to proceed.
Should you wish to proceed, this can often be followed by a further 4% – 9% before finalising.
Stamp duty (BSD) is based on the market value or purchase price of the property depending on which is the greater amount.
Additional buyer's stamp duty (ABSD) is an additional stamp duty which for foreigners would be 15% and for Singapore permanent residents would be 5%. It is payable at a fixed rate of the price paid or market value of property, which ever is the greater amount.
Types of property
Private apartments and condominiums
The most common type of rental property for expats in Singapore is a "Private Condominium", which is a serviced apartment that often includes facilities such as a swimming pool, gym or tennis court.
Private apartments are very similar, though without the additional facilities. Apartments range from studio apartments to five bedrooms with a separate dining room.
Shared accommodation is also popular in Singapore and is readily available. You can explore this option via private expat forums or local newspapers.
Other property types in Singapore include the following.
HDB
Apartments built and maintained by the Housing Developments Board. HDB apartments are on the restricted list for purchase by foreigners.
Foreigners can rent a room in an HDB flat if they have valid employment or a long-term visit pass.
It is more difficult for a foreigner to rent an entire HDB flat due to the non-citizen subletting quota.
EC
Executive condominiums are similar to private condominiums and are in between public housing (such as HDB) and private apartments.
The situation for foreigners is similar to that above. It is easier to rent a room than it is an entire flat as the HDB and EC apartments were designed to cater to Singaporeans as affordable living.
3Gen flats
Also launched by the Housing Developments board, these are specifically designed to be "multi-generation flats". They cater to Singaporean couples or families that will also have extended family members such as their parents living with them.
Due to the nature of these flats, they are not particularly a viable option for foreigners unless you are a permanent resident or married to a Singaporean citizen and require such an apartment.
For application you will need to be married or engaged, or divorced with children, and have at least one parent (who is also a citizen or permanent resident) residing with you.
"Landed" property
This is on the restricted list for purchase by foreigners. Due to the lack of space in Singapore, "landed property" (i.e. residential property where the owner has title to the land) is highly coveted and Singaporean citizens are put into consideration first.
Landed property also encompasses other types of property in Singapore such as town houses, terraced houses, bungalows, detached houses and semi-detached houses.
As mentioned earlier in this article, specific applications have to be submitted in order to be considered eligible to purchase such properties.
They are available to be rented by foreigners.
"Cluster" houses
Cluster houses are still a bit of a rarity and a hybrid of sorts between landed and condominium property. They come in various forms of bungalows, terraces and semi-detached dwellings but offer condo-style facilities.
Conversion houses
Conversion houses are historically significant properties in Singapore which have been renovated.
Shophouses
Not dissimilar to terraced houses but also come under the same band as conversion houses. These distinctive above shop dwellings are usually two to three stories high and do not tend to come up in the market very often.
As with other types of landed property, cluster, conversion and shophouses will be restricted for foreign purchase and will need specific applications, though they should be available to be rented.
Singapore Districts
Singapore is divided into 28 districts which was based on the old district postal system. Although this system is no longer used, the districts are still divided and referred to in the following order.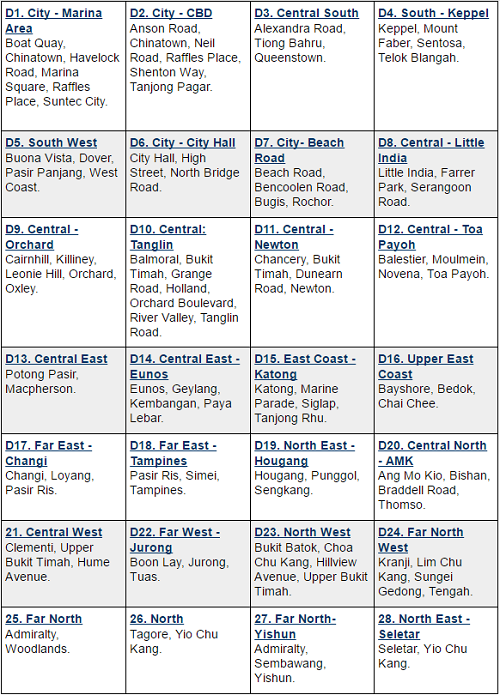 In addition to the above chart, the private residential property market is further divided into three segments, referred to as CCR (Core Central Region), RCR (Rest of Central Region) and OCR (Outside Central Region).
CCR is considered a prime location and as such is the most sought after area that has the highest property prices. It is comprised of Districts 1, 2, 9, 10, 11 and Sentosa island.
RCR is often referred to as the "Mid-Tier market" and is a popular choice for those looking to buy property still close to the central business and financial districts without the steep prices of the CCR area. It is comprised of districts 3, 4, 5, 7, 8 , 12, 13 ,14 and 20.
OCR is generally considered as the suburban area of Singapore and is comprised of the East, North East and North "planning regions" and includes the other districts not mentioned in the other two regions.
Average property prices
As with anywhere in the world, the average property prices in Singapore vary depending on property type, size and location.
As a general indication, the average price to rent a 1 bedroom apartment outside the city centre / CCR region is approximately 1,950 Singapore dollars and comparatively a similar apartment within the CCR area will usually cost around 2,873 Singapore dollars. For a 2-3 bedroom property outside the city centre you are likely looking at a price of around 3,277 Singapore dollars, which can increase up to 5,488 Singapore dollars in the city centre.
Singapore's mortgage market is one of the most developed in Asia. In the past two decades it has risen from 14% of GDP (in the mid 1990's) to around 45% as of 2015.
Purchasing a one bedroom condominium apartment can fluctuate in the region of 940,000 Singapore dollars depending on which area of the city it is located in.
Often you will notice that Singapore property is priced per square metre which stands at approximately 19,437 Singapore dollars in the CCR region of the city where prices are the highest.
Down payment and loans
A down payment of 20% is required for most purchases. The maximum loan amount is 80% of the market value of the property. The LTV (loan to Value ratio) depends on the length of time of the loan. The 80% maximum loan is only applicable for a loan of up to 30 years. If the loan is over 30 years, then the maximum amount would decrease to 60%.
An important aspect to take into consideration when looking at purchasing a property is Singapore's TDSR (Total Debt Servicing Ratio) which is essentially a cap on the amount of your monthly income that can be used to pay off loans. The TDSR currently stands at 60% and is inclusive of all personal loans (e.g cars, student loans, credit card debts etc.) which will need to be calculated in order to ascertain the amount that you can borrow.
When calculating monthly loan repayments, it is advisable to factor in 3.5% interest, although this could be more around the 2% mark. MAS (the Monetary Authority of Singapore) requires financial institutions to calculate repayments at the higher percentage to work out the amount of loan you can qualify for.
If you are intending on purchasing a second property but still have an outstanding loan on your first, then you can only borrow up to 50% of the purchase price of your second property, providing the loan does not exceed a 30 year period. The second property will still be subjected to the TDSR framework and included in your 60% cap.
Growth and property market trends
Country data
GDP Per Capita ($): 52,284,33
GDP Growth Rate: 2.92%
Population Growth Rate: 1.30%
(source: The World Bank, 2015)
Singapore property prices began to fall in 2015, with the CCR region falling by 1.8%, the RCR down by 2.6% and the OCR by 4% in Q1 2016.
The fall in price was also applicable to rentals which fell by 3.6% in the CCR region, 4.1% in the RCR region and 4.9% in the OCR region.
The drop in prices is the result of a deliberate government property cooling initiative (such as the LTV and TDSR frameworks being implemented) following a surge in the property market in Singapore around 2009/2010 that saw the residential property price index rise by 38.2%.
Interest rates on housing loans have been gradually rising following a significant drop between the late 1990s at 8.07% and 2014 at 2.93%. As of April 2016 the interest rate stood at around 3.39%.
The cooling measures are only just beginning to ease but will likely continue on in to 2018; property prices are expected to continue to decrease.
Transport – MRT lines
When considering purchasing or renting a property to reside in whilst living in Singapore, an important factor to take into consideration is your work location and commute options. Singapore has an excellent and inexpensive MRT system, which is very well connected all over the city.
It is even possible on many property websites to search property via MRT lines, although one can expect the prices to be higher the closer they are to well connected stations. If you plan to commute via MRT but are conscious of price, it would be worth researching property close to connecting routes / stations rather than direct.
For example, if you need to get to the Marina Bay MRT station, properties near direct transport links to a coveted area are likely to have higher prices, but you can research a route which might mean you have to change once or twice, but which could save you a considerable amount of money.
MRT maps are easily accessible on a multitude of websites but you can also use the journey planner option on the SMRT website to make your research and planning easy and efficient.
Tax on your properties
There is an annual property tax in Singapore, levied on all home owners, that is payable regardless of occupancy (owner occupied, rented out or otherwise vacant) though the amount of tax payable will vary depending on type of occupancy. The tax is determined by the annual value of the property.
This tax is paid to the IRAS (Inland Revenue Authority of Singapore) by the end of January of each year but can be arranged to be paid in instalments if in financial difficulty. The tax can now be paid via the GIRO system which is an electronic cashless mode of payment and can be organised by a direct debit to avoid late payments.
Rental income will be subject to income tax. However, due to the overseas income tax exemption as of 2004, this may not be the case with rental income from overseas properties.
We hope this article has given you some valuable insight into the property market of Singapore and assists you in making an informed decision for your living requirements.
Have you lived in Singapore? Did you buy or rent your property? Share your experience in the comments, or fill in the questions here to be featured in an Expat Experience interview!