If you are moving to Slovakia, you will find plenty of opportunities in this beautiful country for keeping fit and healthy. It is advisable to take out private health insurance cover for any healthcare needs rather than relying on the national system, which ranks comparatively low among European healthcare systems, but there are a good variety of private healthcare providers in the country.In addition, Slovakia has many opportunities for improving your health and fitness. The country's mountainous geography and climate offer a great many possibilities for both winter and summer sports, and the region is famous for its spas.
Football, tennis and ice hockey are the most popular sports among the Slovaks themselves (Slovakia ranks highly in ice hockey leagues across the world), but you can also become involved in other activities, such as: volleyball, swimming, cycling and hiking.
The Slovakian national football team has qualified once to FIFA and once to UEFA. The country also has a Rugby Union, with games held across the country. Basketball in the country dates all the way back to 1919 and is governed by the Slovak Basketball Association (Slovenská basketbalová asociácia). The country has had its greatest success at Olympic level in whitewater slalom, and you may want to try some whitewater rafting for yourself at a somewhat less professional level of engagement.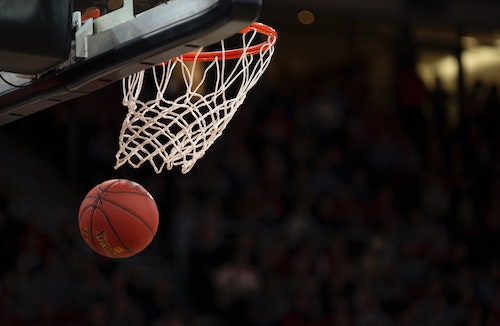 Basketball is popular in Slovakia
In winter, skiing and snowboarding up in the mountains will give you the chance to see some of the country's magnificent scenery as well as keeping fit. The best skiing is found at the highest altitudes, in the Tatras mountains which the country shares with the neighboring Czech Republic. Thus most resorts are found in the north east, including Donovaly, High Tatras, Low Tatras, and Pieniny.
The High Tatras has the longest run, the Lomnicke sedlo. This offers the chance to ski from 2190 meters above sea level down to Tatranská Lomnica: a 1300 m vertical drop. The largest resort is Jasna, in the Low Tatras. If you don't fancy hurtling down the slopes, then you might like to give cross country skiing a try. Some resorts, such as Oravice, also offer thermal spa facilities.
Hiking in the Tatras is also a possibility: autumn is the best season for this, as the weather is more stable at this time of year. One day trips are possible, but you can also undertake hut-to-hut hikes, and sleep out in the mountains. Take care to check the weather report, however, as fog in the mountains can be very dangerous.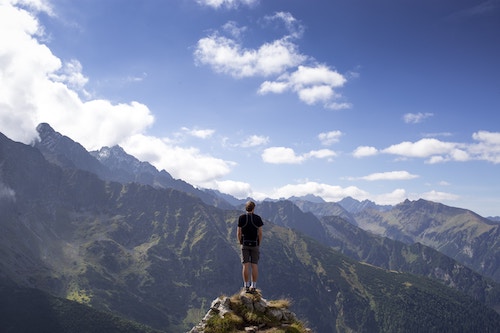 Hiking in the mountains is a popular form of exercise
Camping is not permitted in the Tatras but you might want to consider taking along a light-weight survival blanket for any emergencies: the mountains can be very cold. As a UNESCO Biosphere Reserve, the Tatras are also home to marmots, chamois, lynx and even brown bears. If you get tired of hiking, there are cable cars to some of the highest peaks and restaurants are situated around many of the lakes.
Not far from the High Tatras lies Slovak Paradise in Slovensky Raj National Park, if the thought of some adventurous but safe climbing appeals to you: this is an outdoor obstacle course with wooden ladders and metal catwalks attached to vertical cliffs. You can stay in one of the region's towns, including Tatranská Lomnica, one of the largest urban centres in the area with hotels that feature hot tubs and spa experiences, including various luxury treatments.
If a more leisurely kind of outdoor experience is more your thing, then Slovakia has a range of golf courses: 12 courses and 10 golfing academies, in addition to golfing holiday packages. Some of these are part of country clubs.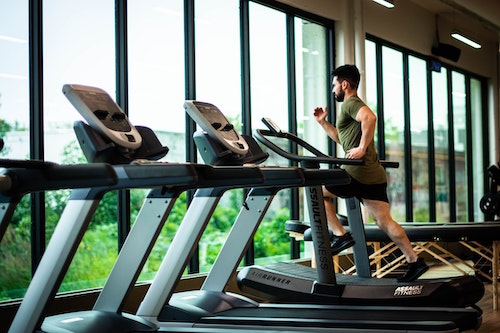 There are many gyms and health clubs in the cities
As an expat living in one of Slovakia's cities, you may want to take advantage of one of the nation's many health clubs, where in addition to the usual variety of gym equipment you can also get massages and other wellness treatments for a competitive price (massages are around €40 per hour). Some have outside thermal pools – a winter attraction.
Some spas combine conventional treatments with luxury treatments, such as Strbske Pleso, which is frequented by people with respiratory complaints due to the purity of its air. Bojnice specializes in post-burns skin treatment, and several spas such as Brzno and Ciz offer mineral water treatments for skin conditions and other ailments. Some of these spas are old and have been treating European patients for over 100 years.
If you prefer to seek exercise in the summer, then Slovakia's lakes offer the opportunity to undertake wild swimming in a safe environment (the waters are regularly tested by the environmental authorities). Palcmanská Masa is the largest water reservoir, created by the Hnilec river. Nitrianske Rudno is a lake resulting from a dam in western Slovakia, 12 km from the spa town of Bojnice. Zemplinska Sirava, Vinné, is the biggest man-made lake in Slovakia and provides opportunities for water sports, fishing and hiking. You can take sailing courses, too, along with rowing, diving, water-skiing, sailing, and windsurfing on the country's legion of lakes, rivers and tarns.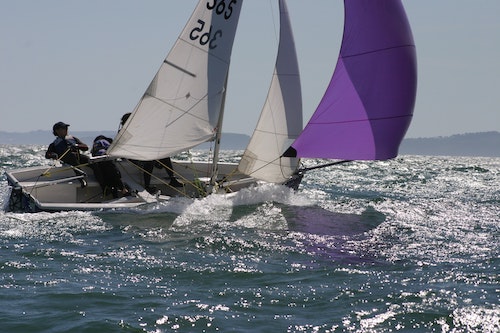 There are several watersport options available
It's not just sports and fitness that will keep you well in Slovakia. Diet is important, too, and although the Slovaks, like most Eastern Europeans, have hitherto enjoyed a largely meat-based diet, vegetarianism and veganism are gaining ground. Bratislava has a number of vegetarian and vegan restaurants recommended by vegan organisations and some of these also serve gluten-free options and cater for those with food allergies and intolerances. They include options other than traditional Slovak food, including many Asian specialties. You can find these easily online.
If you keep up your exercise regime, drink in moderation, eat sensibly and, perhaps most of all, enjoy the stress-busting effects of Slovakia's beautiful mountainous scenery and its many spas, you should have little difficulty in remaining fit and well during your stay in the country.
Would you like to share your experience of life abroad with other readers? Answer the questions here to be featured in an interview!