Who are you?
I'm a Californian, born and raised. I come from a 14 year professional background in the wine industry. I did study abroad in 2005 when I was 25 ( I went to school over many years due to not having enough $ to do it in four years or without loans and aid) in Italy.I happen to have a European passport due to my father being British, but we never traveled abroad as a family (we had 4 children so it was financially not possible) growing up and no one else in my family has pursued dual citizenship. My father has no family in Europe. And in fact no one knew about being able to get dual citizenship in my family until I researched it in my 20's and decided to go for it (when I was 24).
I love hiking, writing, reading, and traveling. I love to travel most of all because of the people that I meet (on trains and planes), the stories that I hear, the experiences that I have (with locals) and the languages / foods / traditions I am exposed to.
Where, when and why did you move abroad?
In October 2014 I left my 14 year career in the wine industry with the intention of spending one year in Europe, traveling slowly (1 or more months in each place), working on my writing and building a freelance social media/marketing business. The intention, over all, was to get a break from a profession that had been killing me (health wise, stress wise, hours wise, etc) and to build up / update the skills that I needed to get into a different area of my industry upon my return.
I also hoped I would be able to build up some sort of independent business that would enable me to make income on the side, and give me more freedom in my employment choices in the future.
However, here I am, two years later and I'm still in Europe. In Spain to be exact. I've been in Spain off and on since last December. What kept me in Europe a year longer than I planned? Did I get a great job? Did I start making a ton of money online?
No. I fell in love. And so, despite my plans, despite what would be the 'intelligent' decision, and despite my bank account (which had been drained by this time and held only enough to start over back in the U.S) I chose to stay with my partner in Spain until we could figure out how to move somewhere else, together.
We are now applying for a K-1 Visa (fiancée Visa) and planning to start our lives together in the U.S shortly after the New Year. The process is not easy, particularly after being technically unemployed for two years and living off of my life savings and occasional freelance projects or tutoring work in Spain.
What challenges did you face during the move?
Getting rid of things at far less than they were worth. I sold about $10,000 worth of Burgundy, Cote Rotie, Chateauneuf du Pape and high end California wines for about $2500 in order to make cash. I couldn't afford the exorbitant fees to store it for a year or more while gone and had no idea whether I'd be able to afford a place where I could keep it upon my return. The cash was much more valuable to me at the time.
The other biggest challenge was finding a way to explain my decision to contacts, friends, and associates that didn't make it seem as if I was going off on some backpacking adventure like a 21 year old and looking to become a permanent nomad. I needed not to seem flighty, unrealistic, or like I was giving up on a normal life and job forever. That's easy in your early 20's. It's much harder to understand when you are in your mid 30's and have had a career.
What is your relationship like with the locals?
I'm now engaged to a Spanish man so….
But during my 1st year of slow travel through Europe, I found it challenging to get connected to locals. Unless you are working in the country, you aren't meeting locals except for at bars or restaurants or supermarkets during short exchanges. Expat organizations are fabulous and connect you with all sorts of people from around the world but they are all outsiders in the community just like you. So the challenge is: where do you meet locals? How do you connect with them?
I ended up using Meetup.com to join hiking groups, theater groups, wine groups, language exchange groups, etc and I met some locals this way. This is a great way to meet locals as you are meeting over shared interests.
But the absolute best resource I used to develop local friendships and relationships, was volunteering as an English conversation partner/tutor in language immersion programs for professionals. I did this for three separate one week programs in Poland, and for three separate one week programs in Spain.
During these programs (in remote areas out in the countryside or small villages) I spent 12-14 hours a day with Polish or Spanish professionals looking to improve their English. Most hours of the day were spent speaking one on one with people. Then there were the meals which we all ate together and during which we were always next to a Polish or Spanish person (not another English speaker). As you can imagine, at the end of weeks spent in such close quarters and drinking together at night and walking together during the breaks you have made some great friends. From these friendships, I went on to visit many places I wouldn't have known about in Poland.
And in Spain, I had a circle of Spanish women friends who were my resources for navigating Madrid in my first few months. They met me for lunch or tapas, we'd get together for group dinners and we even once all organized a trip out of town to stay at one of the women's hotels (my boyfriend was allowed to come since I met him in the same program where I met the Spanish women!)
I could not have developed so many friendships with real locals this quickly without these programs. It would have taken years to meet this many people and get to this point (trust, comfort, friendship)
What do you like about life where you are?
I actually really don't like Madrid – I'm only here for my boyfriend. But I love Spain and spent many months traveling through other areas of Spain before staying here with him. That's what I like about Spain and the other countries I've spent months in in Europe. The ability to see something historic every weekend if I want to. As an American, visiting tiny places that have thousand year old buildings is something that cannot be experienced at home. I also love the warmth and friendliness of Spaniards. They are much more fun loving, they smile more, and they are easier to become close to than many other European cultures. This fits well with my personality as a Californian.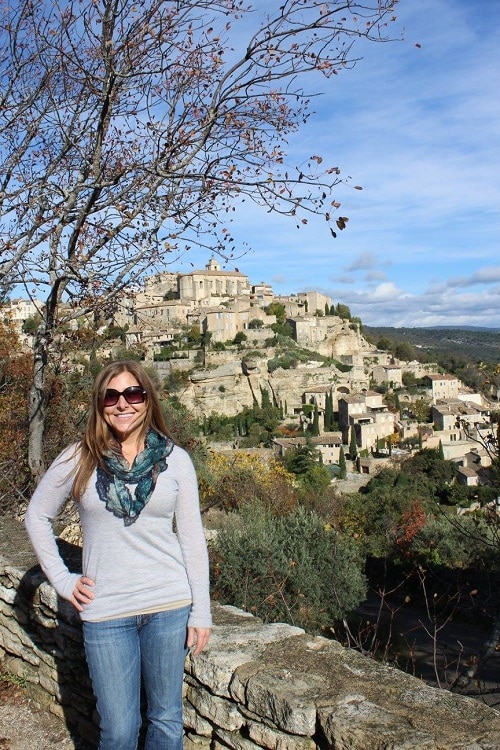 I also like being able to take a 2 hour plane ride to other countries. This is impossible in the U.S due to our large size. We wait for Ryanair specials here and then fly to Italy for 4-5 days. Suddenly we are immersed in another language and culture. It's that easy. It will be one of the most difficult things for me to give up. It has given me thousands of article topics to write about and I'm sucking up every moment before I go home, as if it's my last.
What do you dislike about your expat life?
I dislike being poor and at a disadvantage. Spain is not an economically strong country right now and unemployment is very high. As an English speaker who is not fluent in Spanish the job opportunities are pretty much limited to teaching English, which doesn't pay well (especially compared to cost of living in Madrid) though young fresh out of college kids don't find the pay to be bad since they have different expectations. If you want a professional position in Spain you need to apply for one before you are in the country, and while you still have another professional job.
You are not anyone's first choice as a candidate, if you don't know a few different languages fluently. Americans don't have this advantage. I know Italian and English. Italian is not helpful with being qualified for jobs.
I am poorer now than I was even in my 20's, mainly because I don't have a job. But I don't have the choice of moving somewhere else for a job because my partner is here. Because we are in Spain, it wouldn't be as easy for my boyfriend to just 'find another job' somewhere else. That might take 6 months. So it limits us to staying where one of us has a job.
There is also an insane amount of inefficiency in Spain and a lack of work and customer service ethic that astounds foreigners from certain parts of the world.
What is the biggest cultural difference you have experienced between your new country and life back home?
The above inefficiencies and lack of care about customer service or helping people with the correct information, or giving any information that is not specifically asked for even if they know you need it and that you don't have it.
What do you think of the food and drink in your new country? What are your particular likes or dislikes?
There's a lot of nice food in Spain but as a wine industry professional from California where we eat foods from literally a dozen different cultures on a regular basis, have access to organic fruits and veg of every kind and good quality food from everywhere in the world as well as our own backyard, I'm not as impressed as many Americans (from places like the Mid-West) are by Spanish food. Then again, I've also spent many many months over the past 5 years in both Italy and France (in many regions) so my palate has higher expectations than some. How you feel about a country's cuisine has a lot to do with your own food history and diet.
The biggest thing for West Coast Americans when they come to Spain is the lack of variety. Where is our Pho? Our tacos? Why are there never any vegetables with my dinner except a salad or peppers drenched in olive oil? Where are the whole grains? You learn to work around these issues in creative ways.
If you live in a big city like Madrid or Barcelona, you have much more opportunity to find ethnic options. It takes some research and time to sort out where to go for what. In small towns you won't have these options. So get ready to eat a lot of Jamon, white bread, and tortilla espanola.
I'm a celiac so for me, half of my life is spent searching out where I can buy whole or mixed grain flours to cook gluten free bread (not just white rice flour which is nutritionless), where I can find ethnic cuisines that are naturally gluten free, and where I can find to-go, casual food that is gluten-free (not just salads with meat!) so I can feel like a normal person and don't have to cook everything. In a city like Madrid there are a lot of foreigners but Spanish people tend to stick to eating Spanish food so you have to go to the barrios where certain groups of people live to find the best ethnic foods ☺
One big benefit you will have in Spain is that you can buy/taste wines from all of your favorite Spanish regions for much less than at home, and you can try wines you can't get at home. So for me, as a wine industry professional, it's great to be able to keep tasting lists and photos of the hundreds of wines I've tasted that aren't exported to my country ☺
Also if you go to a region that is a coastal region (like Galicia) you will eat VERY well and very inexpensively and have tons of fresh seafood that is right out of the sea. This is something rare in the U.S as we are so populated nothing is cheap.
What advice would you give to anyone following in your footsteps?
My advice would be get a job BEFORE you move to a Spanish city. Unless you want to be an English teacher. There are always English teaching jobs (for those that are from EU or have Visas).
But, be aware of how the teaching positions actually work. Don't think you will be working few hours, getting paid well and have an easy life. That's not the case unless you are living outside an expensive city like Madrid, and working full time at one location (versus teaching Business English which requires you to travel from business to business for your classes). And even then, the pay is low, but if you are young and renting a room and living a simple life you can have a decent quality of life.
If you want to see beautiful Spanish architecture, and learn Spanish and live the romantic 'Spanish life' you've dreamed of, don't choose Madrid. Choose somewhere down South with low cost of living and lots of sun and beauty. And fewer people who are at a high level of English.
Also get an NIE (the number you need to rent an apartment, get a bank account, and that most schools want you to have before they'll hire you) ASAP. As well as your social security number (not the same as the NIE).
What are your plans for the future?
We will be starting our lives in the U.S (California) at New Year, so that I can go back to having a career (my career makes more money than my boyfriend's and he wants to live somewhere with a better economy as do I), and getting back to a financially ok place. We plan to visit his region (Galicia) every other year and to retire in Spain in our 60s. We hope to be able to save up enough money over the next 15 years to buy a house in Spain that we can rent out as a vacation rental until we are ready to move into it.
I also plan to start another small side business, taking groups of people to European wine regions that I love and am well acquainted with for food / wine / scenery / locals who own small businesses focused experiences.
You can keep up to date with Brooke's adventures on her blog, A Different Kind of Travel, and on Twitter.