Some countries are famous for their cuisine: the spicy servings of India, the delicate dishes of France and the hearty fare of the UK. But Switzerland has more of a reputation for cuckoo clocks and yodelling than for its food.
The alpine nation is seen as a bastion of efficient financial services and a haven for snow-loving adrenaline junkies. Sat in the heart of the European continent, Switzerland shares borders, traditions and recipes with its neighbours.To the south, Italy shares its secrets with Swiss chefs, lending them polenta, pasta and risotto. Cheese is a French specialty, but Swiss recipes layer on the gooey dairy products with abandon. Last but not least, the Germans add their own ingredients to the Swiss culinary stew, bringing sausage, bread and sweet pastries to the party.
That's not to say that Switzerland is just a buffet of foods from other countries. The Land Of Milk And Honey takes these ingredients like an expert chef and throws in its own along with a little inspiration, serving up delicious dishes that will warm a chilly skier or revive an exhausted mountaineer.
We've taken a mouth-watering look at Swiss cuisine and taste-tested the best grub on offer in the country. Pull up a chair and take a plate for a giant serving of Swiss foods expats need to try.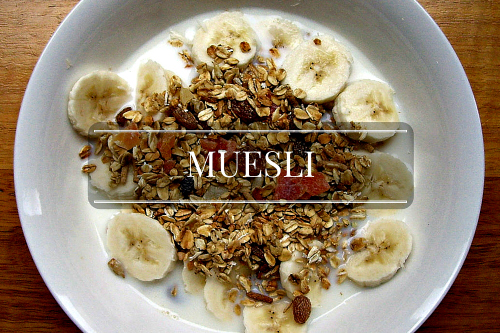 © VirtualSteve
Start the day right with the most important meal. The Swiss believe in the value of breakfast so much that they almost have prescription for it. Maximilian Bircher-Benner was a doctor working in a Zurich hospital, who encouraged his patients to take on a diet of fresh fruit and vegetables when conventional nutritional advice recommended meat.
Legend has it that in 1900 the good doctor looked to the fit, sprightly shepherds who tended their flocks on the alpine slopes. These men worked long, physical days and ate a diet of nuts and dried fruit.
Bircher-Benner sought ways of including this nutty mixture in everyday diets, coming up with a mixture that he modestly named 'Birchermuesli'. The patients enjoy the mixture for breakfast, snacks and light dinners, they enjoyed it so much that it became a food fad across Europe.
An American man by the name of Kellogg tried the mixture, and liked it so much that he set about making his own version of muesli and invented cornflakes.
The original organic wholefood, muesli is still a staple of Swiss pantries and expats can look forward to bowlfuls of grainy, nutty, fruity healthy breakfasts.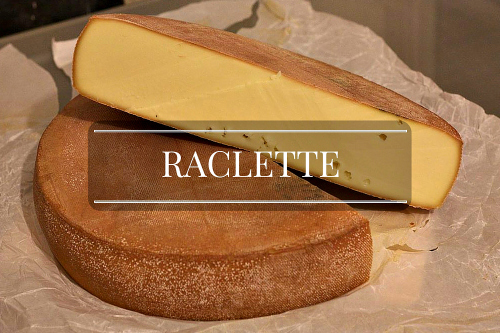 © Pierre Guinoiseau
Raclette is the name of a soft cow's milk cheese that usually comes in a giant wheel. It doesn't tend to stay a solid round shape for long, though.
In days gone by the raclette would be hung in front of a roaring fire, and as the cheese melted the hungry family would scoop gooey helpings onto plates to eat. The name raclette even comes from the French 'to scrape', after the motion of slicing off a serving.
Nowadays the raclette menu is a little more varied. Most households will have a dedicated electronic dish for softening the cheese over helpings of meat, bread and vegetables.
Raclette enthusiasts will often invent their own concoctions of onion, garlic, pickles and potatoes over which to drizzle the nutty flavoured cheese.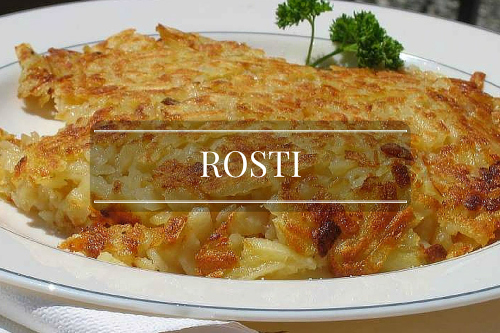 © Benutzer:Mussklprozz
This humble hash-brown-like snack is a symbol of Swiss-German culture. Rostis are so strongly associated with Germany that the border between Switzerland's German-speaking region and the Francophone area is known as the 'Röstigraben" or rosti ditch.
Rosti can be found in many countries around the world., even served up in fast food chains. But the true home of this humble fritter is Switzerland, and when served with spinach and fried eggs forms what many regard as the national dish.
Any self-respecting restaurant in Switzerland will offer rosti as a side dish to a main meal, but it was originally the main even at breakfast. Farmers in the canton of Bern would grate up potatoes and fry the shredded spud in butter and salt. A staple food of hard-working folk, the rosti gave a large dose of carbs with which to start the day.
Variations of the traditional recipe are commonplace, with chefs and household kitchen experimenters adding ingredients to this simple staple. Bacon, cheese and onion are popular in savoury variations, whilst apple and cinnamon have become sweet alternatives.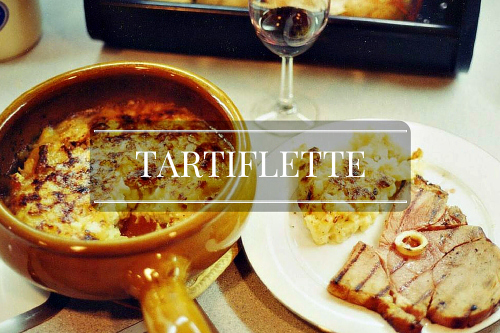 © Hayford Peirce
A favourite close to the French-Swiss border, tartiflette is akin to dauphinoise potatoes. Thinly slices spuds are layered up with caramelised onions, smoked bacon and lashings of Reblochon cheese.
The cheese might date back to the 16th century, but the delicacy was facing extinction in the 1980s. An inspired piece of marketing made tartiflette popular amongst visiting skiers and the dish is now a regular feature of Swiss resorts.
A rich, decadent dish, the rick to making tartiflette at home is to cut chunks of rebelchon and nestle it in with the potatoes before covering the mixture with cream. When the pan goes into the oven, the cheese will mix with the cream to make a thick, tasty layer on top. For an extra kick, sprinkle dried chilli flakes over the dish for a spicy spark that compliments the nutty cheese.
Tartiflette can be served on its own to be enjoyed slowly with wine or as a side dish to grilled ham.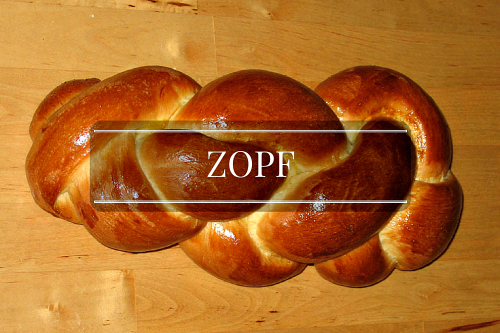 © Smerdis
Switzerland has a variety of breads that draw on traditions from neighbouring countries. Zopf is very definitely a German import.
Meaning 'braid', a good serving of zopf is intricately woven into a regular plait, resembling an ear of corn or the plait of hair widows traditionally cut off to bury with their husbands. Traditionally zopf is only eaten on Sunday mornings before church services, but lately it can be found at any time of the week.
Similar to Jewish challa bread, it is made of white flour, butter, eggs and yeast. Amateur and professional bakers alike pride themselves on the tightness with which they plait the dough and the sweet, glistening shine on the finished zopf, thanks to a quick brushing with egg yolk before the loaf goes into the oven.
A fluffy white bread will come out of the oven and goes well with sweet jams and savoury soups. No Swiss Sunday is complete without a generous serving of Zopf.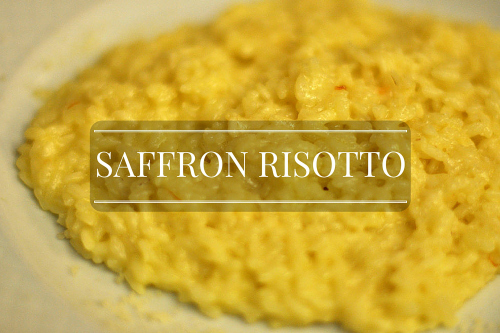 © cyclonebill
Risotto might not seem like a luxurious, decadent dish. The stodgy gelatinous rice dish is an Italian favourite and a kitchen cupboard fall-back for quick and easy meals the world over. In Switzerland though the rice dish has been given a fabulous makeover thanks to an expensive ingredient.
Pound for pound, saffron is one of the most expensive commodities traded around the world. The spice is worth more by weight than gold, fetching £75 per gram, due to the intense labour needed to harvest the garnish.
Saffron is refined from the stigma of the saffron crocus flower. Each bloom produces only three stigma and these must be delicately collected by hand before being dissected, dried and packaged. Tens of thousands of flowers have to be collected at exactly the right moment of the season in order to give even the smallest amount of the valuable spice.
The Valais canton grows saffron and adds it to risotto to make the region's trademark dish. Rice is cooked slowly with onions, stock, wine and cheese before being garnished with saffron threads.
Enjoy the dish with red wine, cheese and raw pork luganighe sausage.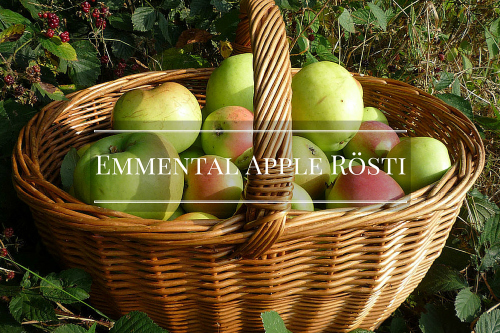 © Oxfordian Kissuth
The Swiss love apple almost as much as they do cheese and rostis, so it's hardly surprising that the three ingredients have been combined into one mighty serving of comfort food.
Apple juices and ciders are popular beverages, and in Switzerland apples crop in a surprising array of dishes. Älplermagronen, or 'alpine herdsman's macaroni' is a formidable dish that includes pasta, bacon, potatoes and cheese, but as big as this mighty meal sounds, it isn't complete until it's slathered in apple sauce.
Apples also find their way into rice dishes, but the national favourite is a twist on the humble rosti. Along with the usual handful of spuds, apples are grated into the mixture and left to simmer with the potatoes and onions, creating a savoury-sweet patty.
The finished rosti is then layered in emmental cheese and, if that wasn't enough to warm you up on a cold alpine night, topped with a runny poached egg.
Seen as a go-to dish for busy people, it should be easy to make even for those in need of the fastest food, especially as no self-respecting Swiss household is ever without cheese, apples or potatoes.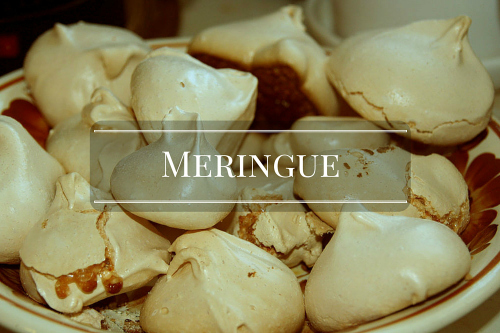 © Marcin Floryan
The most famously French of decadent desserts, the meringue really hails from the Swiss village of Meiringen, but was then taken on tour around Europe as various chefs claimed to have invented or perfected the recipe.
The light, fluffy, crunchy, crisp shell has become the basis for a wide variety of creamy confections, from pavlovas to baked Alaskas. Swiss meringues tend to be denser and smoother than their French cousins thanks to an elaborate process which ensures the sugar ingredients have all completely melted before a thorough beating is administered with a whisk.
Whilst meringues are stuffed with sugar, the delicious dessert is entirely fat free, making them relatively guilt free and all the more enjoyable.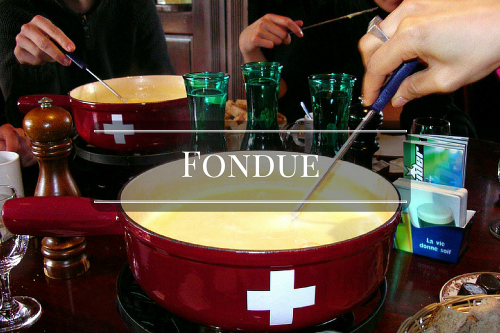 © Julien29
As fun as it is delicious, this Swiss institution became the must-have dish for swanky parties during the 1970s. Like so many trends from the decade that taste forgot, fondue is a now a rarity outside Switzerland, which is a real shame.
Fondue isn't just about tucking into a massive cauldron of bubbling cheese. It's a great way to get friends around a table, ply them with booze and then watch them try to negotiate the delicate art of fondue-eating.
Diners use long-handled forks to spear pieces of bread or meat and dip these morsels in to a steaming pot of molten mixture of cheese, garlic and wine. The stringy, gooey mixture requires deft handling to make it to hungry mouths without leaving pools of the concoction over the table.
Best served alongside Bon Pere William, a pear brandy with a smooth taste and a 43% kick so powerful it is banned in the USA. The fun associated with fondue doesn't just extend to dinner parties.
Swiss diplomats have been giving away fondue sets to ambassadors, military attachés and visiting bigwigs for decades, creating a cheese-based diplomacy system responsible for keeping the Swiss dairy industry in business through tough times. As cynical as this sounds, the official advertising slogan, "fondue creates a good mood", really is true.
This is even more the case with the dish's latest incarnation, chocolate fondue.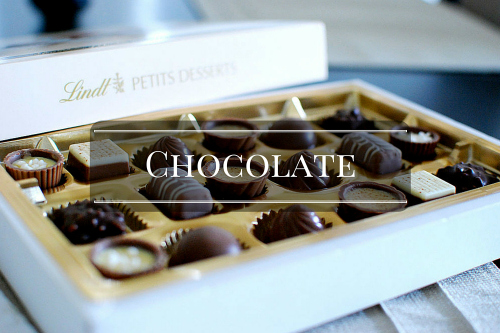 © angelcandy.baby
Swiss chocolate is about as Swiss as it gets; the delicious confection is as famously Swiss as luxury watches or bizarre little knives with tools for removing stones from horses' hooves.
Being a landlocked, cold, high country, Switzerland can't grow its own cocoa beans or sugar cane. Instead the country's reputation as the home of sweet treats is thanks to its incredible range of high quality truffles, pralines and luxury chocolates.
Swiss chocolates became a byword for the most decadent, delicately constructed, melt-in-the-mouth blends of milks, sugar, cocoa coating fruits, honeycombs, and a plethora of nutty, chewy, sweet fillings.
Today the chocolate industry is worth about USD$137 million to the Swiss economy, and the country has a higher chocolate consumption rate per capita than any other country on earth.
The current market isn't just about expensive luxury chocolate. Everyday treats make up the bulk of sales and entire aisles in Swiss supermarkets are dedicated to chocolate. Internationally recognised brands can trace their heritage to small alpine villages.
What are your favourite Swiss foods? Let us know in the comments!
Article by Andy Scofield, Expat Focus International Features Writer