Wherever you live, health and fitness are important, but when you move to a new country, it can be hard to establish a good routine. Fitness can become a low priority, especially while you are sorting out your accommodation, establishing a new friendship group, and getting used to a different environment. This article will take you through different ways to keep fit and healthy in Thailand.If you are not used to a hot, humid climate, you may find that exercise is challenging at first, and you should take steps to acclimatise. There are a number of ways you can do this. The most important thing is to stay hydrated. Your body needs more liquid in humid climates, and you can get dehydrated very quickly. If you are going out, take plenty of drinking water with you. This should be bottled or distilled rather than from the tap, as local tap water is not always safe to drink. You will find small stores and vending machines selling bottled water more or less everywhere, and it is not expensive.
Wear natural fibres, if possible, and loose fitting clothing. As in any hot climate, use a good quality sunscreen for your skin, and wear a hat to help prevent sunstroke. Also, although this may be hard at first, try to resist the temptation to run your air conditioning as cold as possible. You will adapt more quickly to the local conditions if you keep it closer to the temperature outside. Avoid exercising at the hottest times of day. Early mornings and evenings are cooler, and you are less likely to risk sunstroke or heatstroke at these times.
Sport is popular in Thailand, and many Thais take part in some form of sport or exercise regularly. As a result, you will find plenty of options available to you in this respect, and it need not be expensive – some classes may even be free.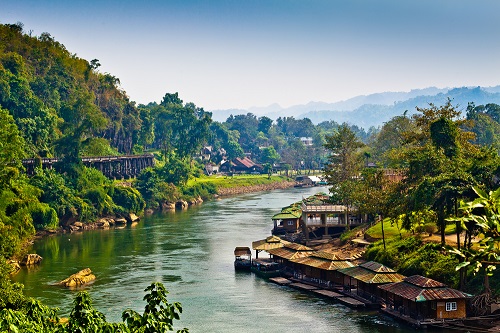 Sport is popular in Thailand, and many Thais take part in some form of sport or exercise regularly
Outdoor fitness
If you are a runner or a cyclist, be aware that major roads in cities can be very busy, and while there may be cycle lanes, these are often blocked by parked cars or small traders. Where possible, stick to back streets or the paths alongside canals and rivers. A better option is to use one of the many public parks. Most of these are free and have parking; a few charge, but the cost of admission is not high. Opening hours tend to be long, from 4.30 a.m. to 9.00 p.m.
In cities, some parks have free, open-air weight-lifting and mobility equipment for you to use. In the mornings, you will find outdoor classes for Tai Chi, mobility and meditation, and in the evenings, you can join aerobics classes. Many of these are free. They are taught in Thai, but you can follow the exercises by watching the other members of the class. You will also find free aerobics classes run by local supermarkets.
You should remember to take drinking water with you if you are planning to exercise outdoors, and carry a salty snack, as your body uses more salt in humid climates. If it is wet, make sure any cuts and abrasions you have are properly covered, and clean them thoroughly when you get home, as puddles and standing water may contain leptospirosis.
Cycling
Thailand is a popular destination for cyclists, and you will find a variety of routes and trails across the country. In cities, in addition to quiet back streets, you will find cycling routes, both for commuting and for leisure. There are cycling clubs across the country, and websites in English that offer advice and guidance on routes. Outside the cities, you will find a wide variety of cycle routes for all levels on all sorts of terrain, from mountains to beaches. These range in length from a few kilometres to over 800 kilometres. If you are a serious and experienced cyclist, then Northern Thailand, around Chiang Mai, offers a great selection of challenges, as well as beautiful scenery.
Swimming
You will find swimming pools in many parks, as well as in shopping malls and fitness centres. Some hotels will also allow you to use their pools for a small fee. Public pools charge – but again, the cost is inexpensive – and they may ask to see a medical certificate showing that you are fit enough to swim. You can get one of these from your doctor. If you are intending to use a particular pool regularly, take out a membership, as this will reduce the cost even further.
You can also swim in the sea and in some rivers and lakes, but always check local conditions first. There are poisonous animals – particularly jellyfish – in the sea, and you should always be careful of hidden rocks and currents. On a beach, do not enter the water if a red flag is flying.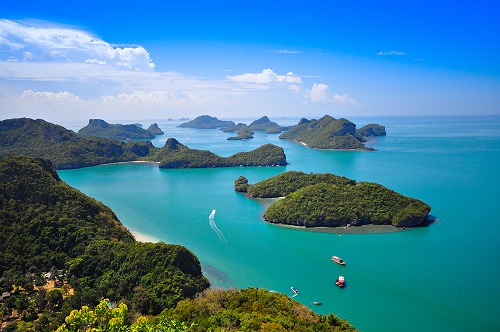 You will find swimming pools in many parks, as well as in shopping malls and fitness centres
Muay Thai
Muay Thai is growing in popularity in the US and Europe, and you can attend a beginners' training camp in many parts of Thailand. Finding a gym is easy, too, through a simple internet search. Most of them will be small, and the tuition will be in Thai, but many welcome expats. There are a number of women-only Muay Thai gyms, particularly in the cities.
It is worth doing some research on gyms and instructors before you commit to anywhere, and try to choose somewhere that makes you feel comfortable. Many gyms have no air conditioning, or they train members outdoors, so take plenty of water with you. You can train in Muay Thai at any age, but it is a demanding sport with a steep learning curve, so unless you are already very fit, you might want to build up your aerobic fitness before you join a class.
Gyms and sports clubs
There are many gyms in towns and cities in Thailand. Apartment blocks often have small gyms for residents, and you can find larger, better equipped gyms in malls and office buildings. These offer classes, as well as use of equipment, and memberships start at around 2000 baht per month (£52/$65).
Sports clubs tend to focus on particular sports or groups of sports and can be anything from casual to exclusive and expensive. You will find expat clubs for soccer, cricket, rugby, tennis, golf and more in Bangkok. It is often a good idea to ask colleagues and friends for their recommendations, especially if you are new to the area.