Who are you?
My name is Allan Wilson, lifestyle and travel blogger at Live Less Ordinary, and author of A Potato in a Rice Field. With my wife Fanfan, we chronicle our lives and travels in Thailand and Asia.Where, when and why did you move abroad?
When I first made a permanent move to Thailand it was back in 2011, but I had been planning the move for three years prior. At the time I saved to buy property in Bangkok, while living and working in the UK, and I put this money into a comfortable condo, which ultimately gave me a foothold in Asia. These days however, I spend more time at our new home in the rural regions of Northeast Thailand (Isaan).
What originally motivated my move wasn't so much that I didn't enjoy life back home in the UK. It was more inspired by a fascination for Asia. I have always been drawn to this region, and Bangkok was a convenient location to get there. It's like the gateway to Asia, and these days it's rare for us not to have travel plans in the pipeline (Malaysia next week, Macau and Chiang Mai the month after, and Osaka, Japan in the months after).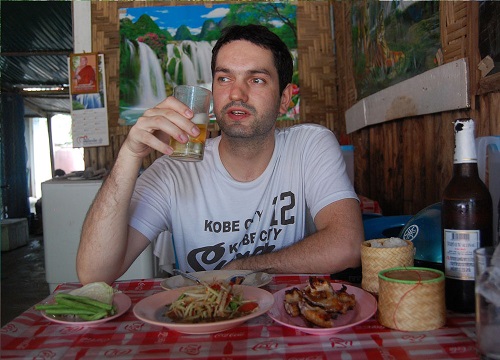 What challenges did you face during the move?
I actually invested in the property during the 2008 financial crisis so, for more than a year, I was terrified of losing everything. At the time I had moved to live with my parents, and had killed my social life back home. I was also working a mundane civil service job which didn't help. So the years running up to this permanent move were not the easiest, but the sacrifices certainly were worth it once the condo was fully paid for and I was able to move in.
Are there many other expats in your area?
It would probably be 50/50 within my condo in Bangkok. Actually it would probably sway more to the side of the expats as there are many expats from Korea, Japan and China, which I often forget. Bangkok is easily one of the most popular expat cities I've come across, and living in the central Asok area means I'm close to restaurants and bars of all sorts of nationalities.
This is very much the opposite when living in the rural areas of Thailand, where there are no expats in my local village, although my barber once cut the hair of a Swedish guy.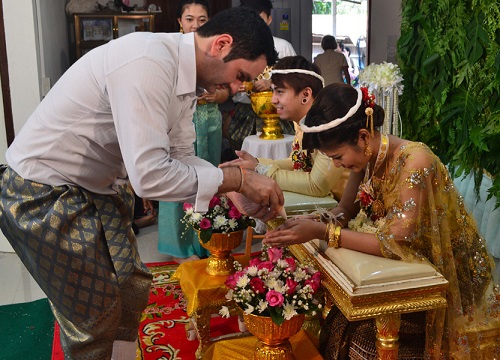 What do you like about life where you are?
Bangkok is an amazing food city where not only local food is cheap, but pretty much any international cuisine I can think of is available and affordable. And more than not, food will be cheaper there than its origins. For example, I could (and occasionally do) order Big Mac Meals to be delivered to me when drunk at the pool at 3am in the morning. While it may not be a Michelin Star destination, the food scene is exciting which is perfect for me as I am a bit food obsessed.
With our lives in rural Thailand it would be the simplicity which I love, and the cheap cost of living. We kind of live off the land where we would cook meals from the trees and bushes on our compound. We would grate and squeeze coconut milk from scratch and pounding together chilli pastes from the bushes, grasses and roots in the garden. Our monthly costs are around 10,000 Baht a month (200 quid) and this covers two of us and our two Persian cats. Everything from eating out, to phone, internet and air-con bills. Inevitably we spend what incomes we save on travel.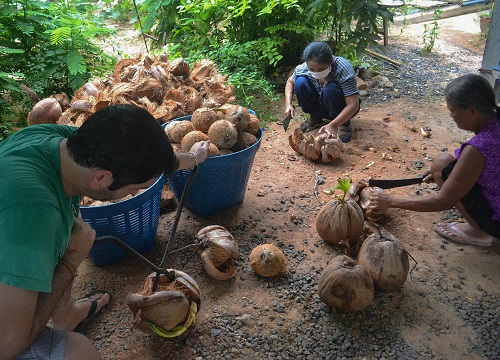 What do you dislike about your expat life?
People do scream at me for this answer, but it's the heat. The temperatures in Thailand are unrelenting, and they're almost constantly between 30'c and 40'c year round. In many ways I did move to Thailand for the sunny weather but, ironically, I now find myself escaping it more often. But it still beats the grey skies of back home. Again our travels have changed somewhat because of this where we would now look forward to our winter holidays and our escapes to cooler climates. This is why Osaka and Japan is on the itinerary this year where we have plans to travel north to Hokkaido, for the Sapporo snow festival.
What is the biggest cultural difference you have experienced between your new country and life back home?
Bangkok is very multicultural, so there were no glaring differences in my life there. In rural Thailand, however, we live on a family compound which is strict in Buddhist belief. This means I am always involved in temple ceremony and celebration and, being the token foreigner of our local temple, I am often given opportunities which few others do. I have been flung into roles during holy days and have been involved in ceremonies ranging from funerals to Buddhist monk ordinations. I am generally an introvert as well so it is quite new for me to be thrown under the spotlight. Terrifying at times, but it has helped me grow in confidence.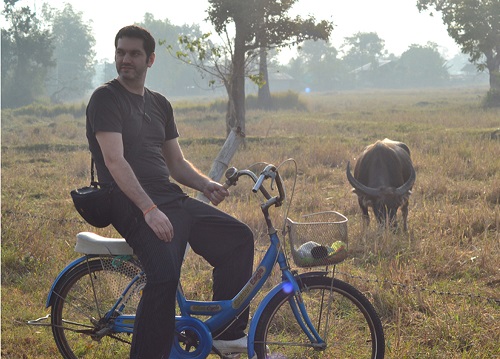 What advice would you give to anyone following in your footsteps?
If it is your passion, then definitely follow it. What I have found is many people arrive to Thailand hoping just to live a cheap life, and take advantage of the privileges foreigners often have over locals. They don't come with any interest for local immersion or integration in local society or culture. Inevitably their outlook becomes quite miserable and jaded towards their new lives and surroundings. On the other hand I only have positive and inspirational stories to share of my time here, as ultimately my passion was always to explore and be part of these cultures.
What are your plans for the future?
This year I plan to wrap up much of my blogs, and to revive my previous Bangkok expat blog which got lost as I started writing about further travels in Asia. It's a mess right now, but I hope to make it relevant and helpful again for expats considering a similar life. I will also be publishing 'A Potato in a Rice Field' as I had mentioned above. But I am realising now that it has been five years since first moving to Asia, and I haven't fully settled. It still feels like a holiday at times, so we are aiming for a more sustainable and permanent lifestyle. We have also been spending more time in Europe and have agreed 6 months on each continent for now, giving us the best of both worlds. But family is quickly becoming a priority and we will have to settle somewhere in the end. I am making the most of the uncertainty right now, as I always thrive on not knowing what comes next (We actually promised earlier this month to quit travelling this year. Over the past 4 days we booked every one of those destinations mentioned above).
You can keep up to date with Allan's adventures on his blog, Live Less Ordinary, or on hisBangkok expat blog. You can find out more about his book, A Potato in a Rice Field, here.