Trinidad and Tobago is often thought to be a single destination, but they are actually two islands that are quite different from each other. The main difference is the size of the islands. Trinidad, the larger of the two, is the fifth largest island in the West Indies atnd is 1833 square miles. Tobago is a small island measuring just 116 square miles, and with a population of 60,874 in 2011. Trinidad has a population of 1300,000. English is the spoken language on both islands and they both were a part of the UK until they attained independence in 1962.Retirees who prefer more of a city life should consider settling down in Trinidad. The capital of Trinidad and Tobago, Port of Spain, has all the marks of a busy city with its tall buildings, bright lights and bustling streets. But the multicultural Caribbean atmosphere is still very much a part of Trinidad and expats can expect to hear Calypso across the city, the pinnacle of which is reached during the internationally renowned Carnival.
Expats who love the arts, music and dance will prefer Trinidad with its diversity and active art scene. There is theatre, dance, visual arts, music, fashion and jewelry design to be enjoyed. Trinidad also has cricket and football matches, a botanic garden, several malls, museums, historical buildings and festivals that take place all year round.
Tobago is the ideal destination for expats who enjoy the peace and quiet, and who are looking for a relaxed Caribbean life. There are plenty of outdoor activities to engage in. Retirees who like cricket especially will have a nice time on the island as the sport is very popular in Tobago, having been brought there by the British. Local teams are always engaged in matches and during practices, the teams are sporting enough to allow you a place in the field, if you know how to play. There are also pick-up matches played on the beach.
Active retirees who would like to get a bit of physical activity into their daily routine will also have the option of cycling. Tobago has a diverse terrain that is perfect for mountain biking. There are winding terrains along the Main Ridge Forest Reserve, which travel through the old mangrove forests and cocoa estates. Almost all the trains end at one of the stunning waterfalls or pristine beaches of the land.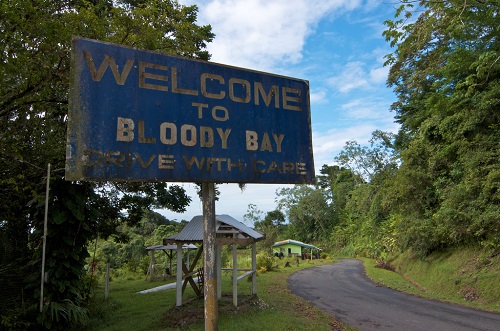 The Gilpin Trace trail near Bloody Bay is a popular hiking choice
© dpsurtees on Flickr
Hiking is possible along the band of tropical rainforest that is the spine of Tobago's Main Ridge and extends along an expanse of the two thirds of the island. Pigeon Peak at the north end is the highest point at 550m. Main Ridge became a reserve in 1776 and is the oldest legally protected forest in the western hemisphere. A large part of it is virgin territory except for some hiking trails. The most popular hiking trail is the Gilpin Trace trail that has its entrance just off the Roxborough-Bloody Bay Road. The trek to Bloody Bay is a downhill one just past a small waterfall.
Golfing is a sport that is popular among retirees and Tobago provides even in this respect. There are two 18-hole golf courses that are of championship quality. In the north coast is the Mount Irvine Bay Golf Course whose fairways are lined with coconut trees. The 9th hole is especially scenic and offers views of Buccoo Point and Buccoo Reef. The Tobago Plantations golf course is on the south coast and provides spectacular views of Scarborough. The golf course extends for two and half miles along the beach and is sprinkled with a number of small lakes.
The social life on the islands tends to be family-oriented. This can make it difficult to get to know people as they prefer to socialize within their own extended families. Much of the interaction that takes place among expats is with work relations. Retirees will find it easier to make friends within the expat communities on the islands.
Expat retirees will find that the quality of life in Trinidad and Tobago is excellent. It is especially beneficial for those who want to maintain an active life during their retirement years. There are plenty of water sports to partake in. The islands are also preferable for those who would like to live in warmer weather. Buying or renting homes is an easy process and come at reasonable prices, especially in comparison to other Caribbean countries.
Trinidad and Tobago are known for their laid back lifestyle and have a reputation of scheduling things on their own timetable. Expats may take a while to get accustomed to this way of life. It is ideal for those who prefer a slow-paced life with few worries.
Retirees may be able to get a state pension from their home countries while living in Trinidad and Tobago. However, the rules are different from one country to another. Expats should verify with the pensions service in their home countries before they decide to move to the islands, in order to ensure that they will still be able to claim their pensions. It may be possible to still claim pensions but the payments may have to be placed to a bank account in your home country, and you may have to transfer the amount yourself. Some countries may dispatch pension payment checks directly to your new destination.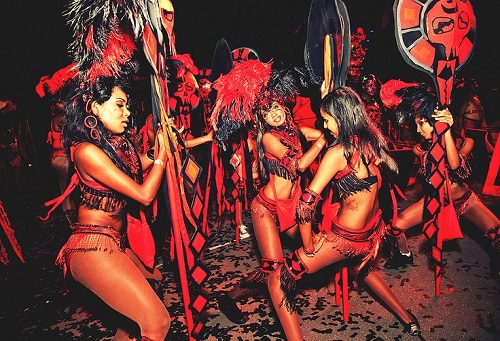 Carnival is a vibrant local custom and a lot of fun!
© Daphne Lantier on Wikipedia
Retirees with private pensions may have to also do some research on how they will receive their pension, and make the necessary arrangements. Like state pensions, it may be that the funds will first be paid into a back account in your home country and then you have to make your own arrangements to transfer the funds to your new back account.
Expats moving to Trinidad and Tobago will not be able to claim pensions and other benefits from the social security system in the islands unless they have made contributions to the social security system for many years. Expats who want to acquire long-term residency visas without a work permit may have to furnish evidence that they have a source of independent income, to prove that the Trinidad and Tobago government will not be expected to provide for them.
Trinidad and Tobago is a modern Caribbean haven and expats moving to these islands will be treated to beautiful beaches, a sunny tropical climate, rich rainforests and stunning coral reefs, along with all the modern amenities of city life.
It will be easy for expats to make new connections because Trinidad and Tobago has many expat groups, especially in the capital city of Port of Spain, and other cities such as Scarborough and San Fernando. Expats in Trinidad and Tobago come from a variety of different ethnic backgrounds and there are several established communities such as Portuguese, Lebanese, African, East Indian and Chinese. New expat retirees will find it quite easy to fit in, especially since English is the official language.
Trinidad and Tobago has the reputation of being a laid-back, relaxed destination, but the natives are hardworking and professional in work settings. The economy of Trinidad and Tobago is based on the oil industry and most expats work in this sector. There are also expats working in the finance and electronics industries. Many expats have also decided to invest in Trinidad and Tobago.
Trinidad and Tobago has a number of international schools that are ideal for expat families moving to the islands. Most of these schools are located in the capital of Port of Spain. The island's healthcare system is of a high standard and emergency services are available to everyone, including expats, without any cost. However, many expats still prefer to use the private healthcare system in Trinidad and Tobago and make it a point to take out insurance before they arrive on the islands.
Expats will be happy to know that Trinidad and Tobago has no major security concerns. But basic caution must be exercised: for instance, keeping valuables out of sight and taking extra care in crowded spaces. Other than these minor concerns, expat retirees are not likely to face any other security problems.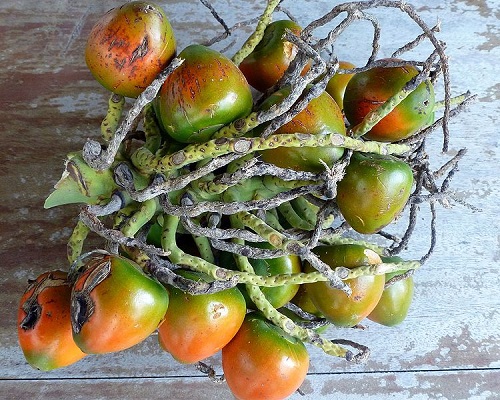 Many delicious types of mango grow in Trinidad & Tobago
© Kalamazadkhan on Wikipedia
Expats in Trinidad and Tobago will find that they can enjoy the best of both worlds; they have access to modern infrastructure while enjoying the pleasant climate, plenty of outdoor activities and incredible natural landscapes. Thus Trinidad and Tobago offers its inhabitants a balanced lifestyle.
Here are some ways in which expat retirees can make the most out of their time in Trinidad and Tobago.
Visit local restaurants
Both Trinidad and Tobago offer some of the most tantalizing cuisine one can come across. Trinidad and Tobago's rich cultural diversity combines with the best of international cuisine to create a mouth-watering fusion of flavors. The highest quality ingredients are used to design menus that satiates the sophisticated palette of the islands' residents.
The local chefs are trained in serving up different styles of menu such global fusion, Mediterranean delicacies and nouvelle Caribbean, a type of menu that combines Caribbean flavors with modern European cuisine. The local chefs are constantly challenged by their customers' tastes and make an extra effort to pair their menus with the best wines. As a result, many of the restaurants have repeat customers. Some of the best eateries in Trinidad and Tobago include Jaffa's, The Seahorse Inn, La Cantina, Buzo Osteria Italiana, Kaizan Sushi, Hakka and Texas de Brazil.
Spend your weekends by the beach
The rejuvenating Caribbean sea water offers a natural spa treatment as good as any other place in the world. Some of the best beaches in Trinidad and Tobago include:
• Macqueripe: A small beach that is accessible through some flights of stairs. With clear cool water and an absence of too many waves, this beach is ideal for soaking.
• Blanchisseuse: Set along a lovely coast, the beach's shallow waters are ideal for soaking.
• Mayaro: This is the ideal place to rent a house for a weekend. For those who love the waves, the strong currents here produce some huge ones.
When at the beach, don't forget to sample the local treat of 'bake and shark', a tantalizing fish sandwich. Many expats also regularly rent boats to visit the smaller islands around Trinidad and Tobago.
Feast on the local fresh fruit
Trinidad and Tobago has some of the most succulent selections of fruits, and many different types of mango. From the juicy Julie mango to the other varieties like Mango Vere (Long Mango), Calabash Mango, Starch Mango, and Mango Dou Doux, you can find them all here at Trinidad and Tobago. Then there are the guavas, passion fruits and the soursop, which is native to the Caribbean. Of course, this list must include coconuts. A drink of coconut water is the ideal refresher for a sunny day on the beach.
Savour your time in the happiest country in the Caribbean
The 2013 World Happiness Report placed Trinidad and Tobago as the happiest country in the Caribbean and the 31st most happy in the world. Many factors have led to this positive rating; the strong economy, plenty of festivals, a diverse gastronomy, local music and beaches that are famous the world over all bring out the best in the islands.
Play 'mas!
The retirement years are mostly a time for rest and relaxation, but Trinidad and Tobago will spice up your golden years in true Caribbean style. Don't be surprised to find yourself playing mas at any of the islands' carnivals. Playing 'mas is marching with a band, dancing through the streets or listening to the sounds of local music. The Trinidad and Tobago Carnival can easily be called the greatest show on earth with its vibrant masqueraders and a type of Caribbean music called soca!
Have you lived in Trinidad & Tobago? Share your experiences in the comments below, or answer the questions here to be featured in an interview!