You've moved into your new home and perhaps it's a little empty; you want to fill your new space with colour and style, but you're on a budget after your move. Or it could be that you want to find some unique interior accents or antique pieces to really make your new abode stand out?There is an option for everyone's taste in London, whether you're looking for a flat-pack DIY set for your home office, a new sofa for your lounge or a vintage dressing table for your bedroom. You can find anything that you're looking for, from salvaged, re-upholstered bargains in need of a little TLC to brand new items that are straight out the pages of an interior design magazine. Whatever your requirements and preferences, there will be something perfectly suited to them all.
We've compiled this guide of the best homeware shops in London – as well as few honourable mentions of excellent online stores that deliver – to make the experience of finding just what you need to make your dream home a reality.
Antiques
The best places to source antiques in London are from private dealers, who may operate in listed buildings or traditional flea markets selling vintage and retro goods.
Camden Passage Antique Market – Islington
This narrow pedestrian passage which dates from 1767 and previously existed as an alleyway can be found just off of Upper Street in Islington. It's filled with a variety of antique shops, as well as hosting a popular antique market, which was first founded in the 1960s, on Wednesday and Saturday mornings.
Grays Antique Markets – Mayfair
Located in a beautiful 19th Century Grade II listed building, the Grays antique market first began in 1977 and is home to over 200 dealers, who are sprawled out over two buildings and across two levels. Amongst the hubbub of activity in its labyrinthine corridors, you can find anything from ancient artefacts to 20th Century collectables.
LASSCO (The London Architectural Salvage and Supply Co) – Vauxhall, Bermondsey and Milton Common
With stores found in several locations, this company is considered London's prime resource for architectural antiques, salvage and curiosities. Whether you are looking for specific period pieces such as a Victorian table, or a George III oak press cupboard, or for something niche like salvaged wooden beams, you are likely to find it here.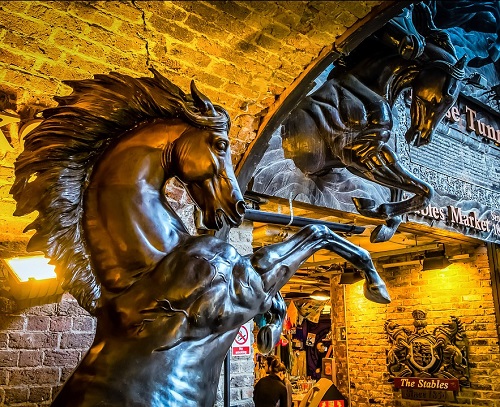 Camden is a great place to shop for antiques and unique finds
Northcote Road Antiques Market – Battersea
Established in in 1986 and open seven days a week (including most bank holidays), an excellent variety of vintage, antique, and retro items can be found in Northcote market. The market has been listed as one of the 50 best markets to visit by the Independent newspaper, and is home to more than thirty dealers.
Budget
If you're looking for more afforable homeware shopping to boost your home décor, these tips will help.
Homesense
With stores in various locations across London and over 50 stores throughout the UK, Homesense, the sister brand of TK Maxx, is a fantastic budget store for homeware. Much like TK Maxx, you can find well-known brands with savings of up to 60 percent compared to the recommended retail price. With deliveries every week, the stock in each store is always changing, given an endless variety of choice.
The Range
The ethos of the Range is 'to bring customers great quality products at the most competitive prices, drawing together everything you need for a beautiful home.' With 140 stores nationwide, this is an excellent and convenient option to consider for budget homeware shopping.
Dunelm Mill
Dunelm provides all the staple furniture you need, from beds and sofas to wardrobes and coffee tables – all at a very reasonable prices and in a lovely range of styles to perfectly suit a variety of tastes. Their collections include shabby chic inspired furniture to 70s inspired retro pieces.
Made.com
Made.com offer original furniture design straight from the designers at affordable prices by cutting out the middleman. Highly rated by the Telegraph, Living Etc, and the Financial Times, as well as being in the Independent's list of Top 50 Furniture Shops, this online store which offers fuss free returns is certainly worth looking at.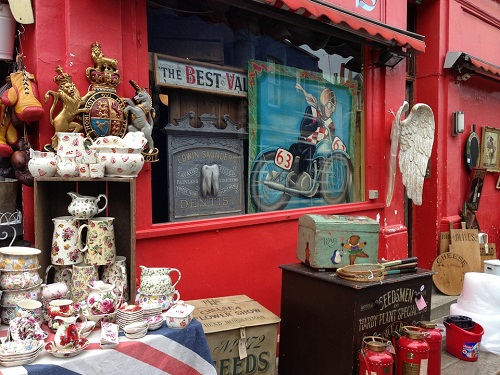 London has plenty of quirky, one-off shops as well as larger chains
Charity Shops
You can often come across unexpected finds and good quality second hand items, ideal for a small budget in some of these UK charity shops.
• All Aboard
• Barnardo's
• British Heart Foundation
• British Red Cross
• Cancer Research
• Crusaid
• Octavia Foundation
Unique
If you're searching for some boutiques and spots to get unique finds and one-off pieces, try these shops out.
The Conran Shop – Marylebone
Having started in London, Conran is now a widely successful luxury retailer. Amongst the plethora of beautiful decor available, they also have the option to "build your own" items, where you can choose from 15 different styles, 6 fabrics and 42 colours to create something unique that perfectly matches your taste.
Decorator's Notebook
This online shop is certainly worthy of mention for anyone looking for unique interior design inspiration. Decorators Notebook focuses on ethical items made from natural resources or recycled items such as saris. From colourful Turkish slippers to hand-woven baskets and lovely one-off quilts, you are sure to find something different on this website.
London's Famous Markets
Some of London's most famous markets such as Camden, Notting Hill, and Portobello are great places you to explore if you are looking for unique finds and quirky pieces that will bring something different to your home.
Mint Interiors – Kensington
Mint Interiors provide a fully comprehensive interior design consultation for their clients, tailoring exclusively to your personal vision and style. They are easily able to arrange for special requests and commissions, which is an excellent option for those who want a truly unique home.
Pitfield London – Shoreditch
This eclectic emporium only stocks "beautiful, unique and attention grabbing homewares." If you're looking to discover some unique vintage pieces, beautifully reclaimed/re-worked/re-upholstered furniture or retro posters to decorate your walls, then this is a wonderful place to lose yourself for an afternoon.
Budget Superstores
For everything you could possibly need for your home with an affordable price range, try these shops.
Supermarkets
Most supermarkets in the UK now such as Asda, Sainsbury's, Tesco, Wilkinsons and Marks & Spencers have released affordable and budget friendly homeware which can be found online as well as at plenty of the larger sites in London and across the UK.
Argos
Argos have introduced superstores in a few locations, bigger and better than the average high street version; with more space and in-store selection to accompany their catalogues. Expanded booking, pick-up sections and better wheelchair access are all welcome improvements.
Luxury Department Stores
Check out these locations for an incredible shopping experience and convenient high-end, luxury goods.
Harrods – Knightsbridge
Opened in 1849, Harrods is synonymous with luxury and excellence. It is often referred to as the 'one-stop designer shop,' and is home to over 1,000 different brands spanning over seven floors. The Harrods Studio offers an exclusive interior design service.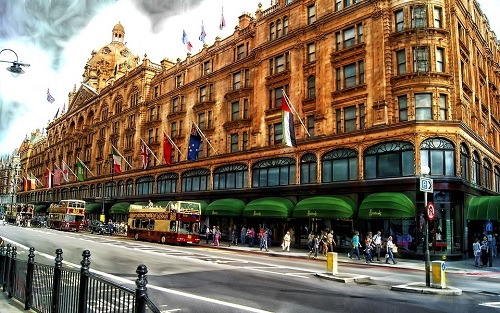 Harrods of Knightsbridge is a London institution
Selfridges – Marylebone
One of the most iconic department stores in London, or indeed England is Selfridges. Established in 1906, Selfridges is the only store to have been given the title of 'Best Department Store In The World' three times. If you're looking for the ultimate luxury department store, then this is it.
John Lewis – Marylebone
Since opening on Oxford Street in 1864, John Lewis has developed a reputation as a chain of high-end department stores, with many sites in London and across the UK. The flagship store has been awarded a Royal Warrant from Her Majesty the Queen as suppliers of haberdashery and household goods.
DIY
If you're looking for some excellent "Do It Yourself" options to put together your new home, look no further!
Ikea
The flatpack goliath has more than 387 stores in 48 countries and is a hugely popular. You can buy just about anything you need for your home at Ikea – although assembly is required. Most stores have mock-ups of rooms and examples of put together furniture so you can get a better idea of how the products look when finished.
B&Q
B&Q doesn't just offer self-assembly furniture, they have all the essentials you could possibly need for every aspect of DIY. They stock all the tools you could need from drills to paint rollers and raw materials from finishing timber and sheet materials to cement and sealants.
Homebase
Similar to B&Q, Homebase also supply tools and raw materials as well as furniture, and are known for their low prices. Homebase has more of an emphasis on gardening and outdoors than B&Q.
We hope this guide has given you plenty of useful resources to decorate your new home! If you are a member of our Facebook community, perhaps share a photo of any interesting purchases that you pick up at any of the markets or stores we have suggested.
Do you have any other suggestions you'd like to add? Share your thoughts in the comments below!