It's the final few weeks summer and you're in the mood for a getaway. Why not stay within the shores of the UK and bypass the annoyances of long drives to the airport, delayed flights, and the difficulties of conversing in a foreign language? Going overseas means you will miss out on all that the UK has to offer. Here is our expat guide to summer getaways within the UK.
Pembrokeshire
This county in the south west of Wales has won awards for its spectacular coastline. It is a haven for those who love the beach, swimming, wildlife, walking and the outdoors. Its many little villages, towns and campsites are ideal for a summer getaway for the whole family. In Pembrokeshire, you can find everything from sandy beaches to miles and miles of stunning coastal land.
You may even spot a couple of castles during your stay there. In fact, the majestic Pembroke Castle is one of the historical hotspots of the area and one of the main attractions. It stands as a grand fortress on the banks of the River Cleddau and offers scenic views of the neighboring green landscape.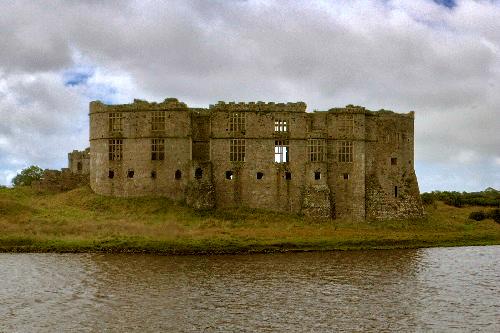 Families with children can head to the Oakwood Theme Park that has over 30 rides and attractions, including a Roald Dahl-inspired land. One of their most thrilling rollercoasters is the aptly named Brave Speed, a steel rollercoaster with a sheer vertical drop. Children can explore in the Lost Kingdom, while animal lovers can visit the Manor House Wildlife Park.
You can choose to stay in any of the cozy coastal cottages embedded along the coastline. There are the options of a self-catering cottage or a caravan or even a campsite that is close to the sea. If you're travelling as a group of friends, try out the hostel or bunk house. Families, especially those with young children, can opt for a farm stay. You can even book your stay in a holiday village if you would like your accommodation, activities and eateries all in one place.
The English Riviera
A 22-mile expanse of spectacular South Devon coastline, the English Riviera, consists of seaside resorts, quaint villages and rocky coves. It enjoys beautiful warm weather and is one of the most popular places to go on holiday within the UK.
The four Riviera towns of Torquay, Babbacombe, Paignton and Brixham each have their own unique charm and character. The English Riviera is renowned for its award-winning beaches and exotic atmosphere. A holiday here is ideal as a family getaway or a romantic break, with breathtaking scenery and seaside activities.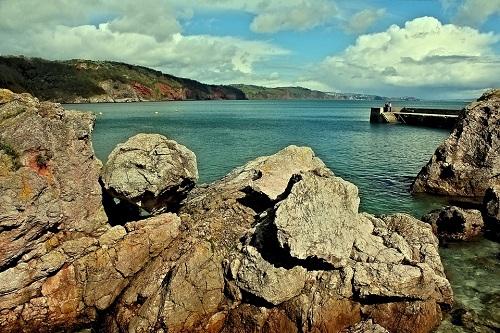 The beaches are the main attraction, many of them holding the Blue flag for cleanliness, an accolade considered to be the gold standard for beaches. The region is also known for its outstanding cuisine and its many events and festivals.
Mystery lovers can revel in the Agatha Christie Literary Trail, a collection of sites that reveal insights about the popular author's many novels. If you're looking for more things to do, visit Torquay with its many beaches, Kents Cavern and the Living Coasts coastal zoo. There are also boating and fishing trips, as well as sightseeing excursions.
Paignton is popular for its lovely zoo, while Babbacombe has its acclaimed Model Village, and in Brixham you can visit the replica of Golden Hind, Sir Francis Drake's famous ship.
Hunstanton and West Norfolk
Hunstanton or Hunston, as it is known by locals, is an elegant resort that is the perfect place from which to appreciate the incredible Norfolk coastline. The seaside town was built as a resort in 1846 and still has a Victorian air about it. It is a popular summer getaway destination for people of all ages.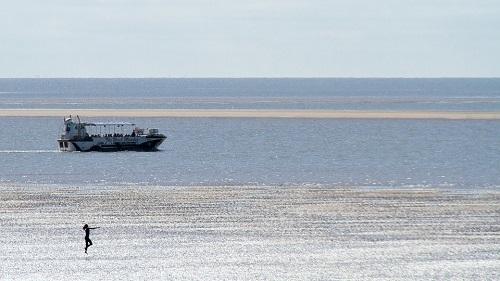 There are family activities to be enjoyed, such as Pitch and Putt and Crazy Golf. There's also the Oasis Leisure Centre, which has a varied selection of facilities and serves as an ideal getaway for the whole family. One of the main attractions is the 33m aqua slide that descends into the warm waters of the 25m pool. There's also the shallow toddler pool for the Oasis Leisure Centre's younger guests, while the whirlpool spa is perfect for washing away your stresses as the bubbling water and massage jets work on your muscles. Children can play in the Fun Castle adventure play area. There's even roller-skating during the summers.
The historic town of King's Lynn lies in West Norfolk and is a quintessentially British destination, with charming scenery and countryside. The Queen even spends Christmas in the region each year, at the Sandringham Estate. You can find a wide range of luxurious yet budget-friendly hotels at King's Lynn.
Pentewan
The name Pentewan has its roots in the Cornish language, in which 'Pen' means a headland, while 'Tewan' indicates a sand-hill or dunes. The village of Pentewan stands around a circular hill called The Round. An Iron Age settlement was known to exist on the hill, where hut traces and signs of an entrenchment have been found.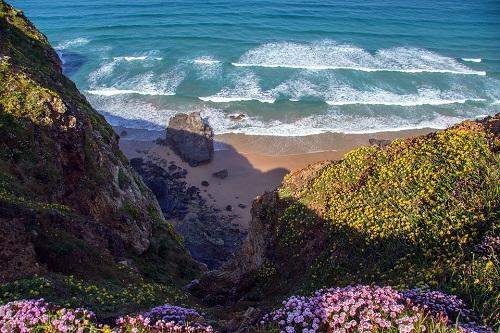 Pentewan is located on the south coast of Cornwall. Visitors can explore the Horseshow Trail, a 1 mile circular walk that winds around the back of Pentewan and down the valley.
For a luxurious getaway, head to the renowned Pentewan Sands, a 5-star holiday park with a full range of family facilities, and a location right on the beach. This is a family-run park that is located on a half-mile beach that is privately owned. It's a perfect holiday for the family or for those who want a short break away from the city. The park has two indoor swimming pools and a whirlpool bath, along with an amusement arcade and an indoor soft-play zone for kids.
Southport
Southport is a classic English seaside resort that is accessible by road or rail. It is a 35km journey from Liverpool along England's northwest coast that offers beautiful views of sand dunes, beaches and pinewoods. You can explore Lord Street, a Victorian boulevard surrounded by trees that has a number of shops, eateries and charming tearooms. It is also home to the Wayfarers Arcade, a grand, glass and iron-domed shopping arcade.
If you're in the mood for a light stroll, head to Southport's pier, England's oldest iron pier. From there you can explore the beach or take a trip by boat on Marine Lake, the largest man-made leisure lake in the United Kingdom. Along the beach you can also see statues by famous artist Anthony Gormley.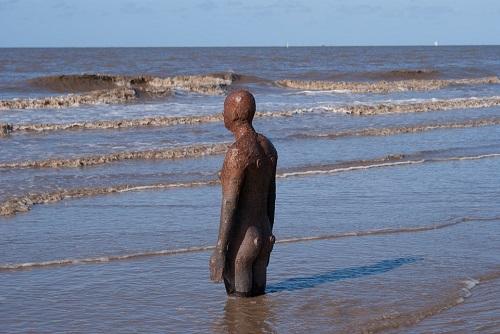 Southport has an exhaustive choice of restaurants, a museum, an art gallery and three theatres. It is also close to 12 of the best golf courses in the UK, which make up England's Golf Coast. Royal Birkdale hosted the Open Championship in 2008. Some of the events that take place in Southport include the British Musical Fireworks Championships. The Southport Air Show, the Southport Flower Show, the Southport Food and Drink Festival and the Southport Comedy Festival.
Lytham St Anne's
Lytham St Anne's is a short distance away from Blackpool and Preston, in the Fylde area. It is full of charming villages with cafés, teashops and boutique hotels. For those who love the outdoors, there is also a wide variety of activities such as walking, cycling and bird watching.
Lytham and St Anne's are both seaside towns with packed events calendars. In July, St Anne's plays host to the St Anne's Music and Arts Festival that takes place in the Ashton Gardens and is a weekend of live music.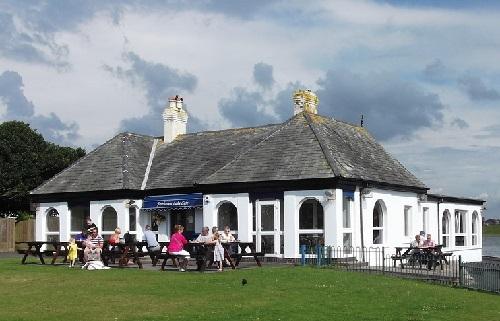 In August, there is the Lytham Festival which features several big names on the music scene. Also in August, occurring in Lytham Green and all around Lytham, is the 1940s Wartime Festival which is an event the whole family can enjoy. It is a chance to delve deeper into the period of wartime Britain, while enjoying live entertainment, reenactments of battles, vehicle displays and much more.
The St Anne's Kite Festival takes place in September and lights up the skies above the seafront with a fantastic display of kites. One of the attractions of the kite festival is Oscar, the world's largest teddy bear kite!
Llandudno
A historic, Victorian seaside resort, Llandudno sits on a peninsula and is surrounded by long beautiful beaches on both sides. It is an upmarket holiday destination for visitors. It has a 19th century air, with typical Victorian architecture decorating its waterfront promenade. You will find plenty of B&Bs and small hotels that fill up with families during the summer. Llandudno is also popular among mature visitors, although they tend to visit during the off-season.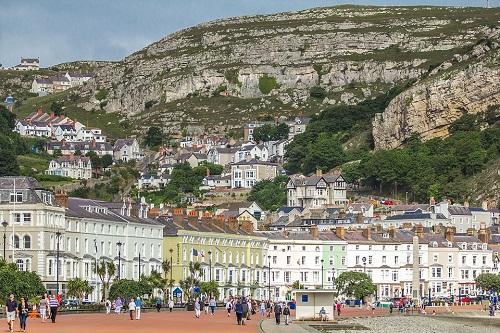 The prime attraction is Great Orme, a mini-mountain that is steeped in history. It is an enormous piece of limestone rising right out of the sea and its name means 'sea monster'. You can visit this attraction by taking a cable car or the Great Orme tramway. It is a treat for those who love to explore archeology, wildlife, history and geology. It is composed of different habitats ranging from sea cliffs to woodland, and is home to a variety of species of wildlife and plant life. There are even some rare species here, such as choughs and the silver-studded blue butterfly.
Llandudno also has a tenuous connection to Alice in Wonderland. It is believed that the real-life inspiration of the beloved book, Alice Liddell, used to holiday in Llandudno with her family. There are statues of various characters from the book around the town.
Great Yarmouth
This is East Anglia's major beach resort, which has the distinction of being the hub of the herring industry, an important component of its rich maritime heritage. The region is ideal for those who enjoy seaside entertainment. There are venues for both indoor and outdoor entertainment, with rides and attractions that cater to people of all ages dotting the seafront.
Some of the activities here include adventure golf and rides on giant snails! The place is also known for its fish and chips, and ice-cream shops. Apart from the activities, Great Yarmouth also has beautiful countryside, picturesque villages, the Breydon Water, a large scenic stretch of sheltered estuary, and the settlement of Gorleston-on-Sea, a quiet, appealing seaside resort. There's also the vibrant seaside destination of Hemsby. Great Yarmouth has been attracting visitors since the late 1700s and is among the most popular destinations within the UK for weekend breaks and day trips.
Norfolk and Suffolk
People flock to Norfolk and Suffolk mainly for the beaches, which even in the busy summer season have space for activities like kite flying or picnics. Children love Norfolk and Suffolk for the boating, crabbing, wading in muddy creeks and searching for cockles.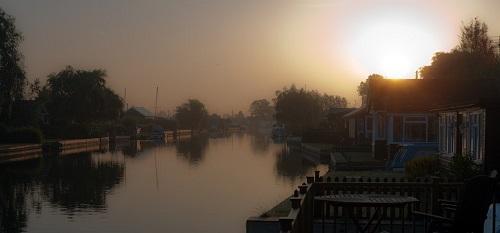 The region is dense with pine forest and has large salt marshes, which transform into lush purple in August due to the sea lavender. The area is also rich in bird life and wild flowers.
The wetland of Norfolk and Suffolk, the Broads, is one of the UK's premier wetlands, and is designated as one of England's National Parks. It is home to over 400 rare species of butterfly, dragonfly and moth. Further inland, the scenery transforms into sleepy countryside, with quaint villages and paths for walking and cycling. There is a lot more to see such as the stately homes, old castles and medieval churches. You can shop in the vibrant Georgian towns like Burnham Market in North Norfolk and Southwold in Suffolk. Cozy pubs abound here, serving up delicious ales and local specialties such as honey, smoked fish and pungent cheeses.
Where are your favourite UK getaways? Share your thoughts in the comments below!