The 5th of November is a day of historic significance for the people of the UK. More than 400 years ago, back in 1605, 13 conspirators planned to blow up Parliament and kill King James I in what is now known as the Gunpowder Plot. One of the plotters, Guy Fawkes, was arrested by the police while guarding the explosives that had been placed in a cellar beneath the House of Lords. The rest of the conspirators were seized shortly after that, and disaster was averted. That very night, Londoners celebrated the defeat of the conspirators by engaging in street festivities and lighting bonfires.Since then, people across the UK have celebrated the 5th of November as Guy Fawkes' night, also known as fireworks night or bonfire night. Many head for the capital to enjoy the cool and crisp autumn with a spectacular display of fireworks and colors across the city. There are numerous bonfire night events to choose from in London. Here are the 15 best places in London to celebrate Guy Fawkes' Night this year.
Alexandra Palace
Located high above North London, Alexandra Palace offers a panoramic view of the whole city as the fireworks light up the evening sky. There is plenty for you to see and do in the grounds of the iconic building in addition to the fireworks display. The festival became a two-day affair in 2016, meaning more families can enjoy food and drink stalls, funfair rides, parades and ice skating rink. There is also an adult-only German Beer Festival you can take part in for an additional fee.
The bonfire is scheduled to be lit between 6 and 7pm each night, while the main explosive event commences at 9pm on Friday and 8pm on Saturday. Find out more here.
Battersea Park
Head to the banks of the River Thames to see Wandsworth Council's colorful pyrotechnics display illuminate the evening sky, while tunes by legendary musicians fill the air. As well as taking in the dazzling fireworks and bonfire, you can enjoy some family entertainment while indulging in the treats on sale at the various stalls. If you prefer to avoid the crowds, the fireworks cruise may be a better option.
The gates at Battersea Park open at 6pm, and no-one is granted entry after 8pm. Since this event has been known to attract more than 50,000 revelers on previous occasions, it is a good idea to get there early. There are restrictions on what you can carry in with you; glass bottles and your own fireworks are prohibited. Pets are not allowed in the park during the celebrations either. Tickets go on sale (and are usually sold out) months in advance. Click here to read more about the event.
Bishop's Park And Ravenscourt Park
The Hammersmith and Fulham Firework Fiesta is held at Bishop's Park in West London, just a short walk from Putney Bridge, on the eve of Guy Fawkes' Night. This event is a warm-up for the celebrations in Ravenscourt Park, which happen the next night. There is something fun and interesting for people of all ages, since the events offer firework displays for children as well as adults, and culminate in a display of pyrotechnics that is choreographed to music. These events also have a bar and funfair with food stalls.
Tickets for the event can be bought online months in advance. The gates open at 6pm and the fireworks start at 7.15pm. For bookings, contact the Lyric Theatre box office or call 020 8741 6850.
Blackheath
Attracting close to 80,000 people, this is one of the biggest free community displays in London. The Blackheath Fireworks displays always sets the Lewisham Skyline ablaze! Best of all, this popular event has a family-friendly vibe and a community atmosphere.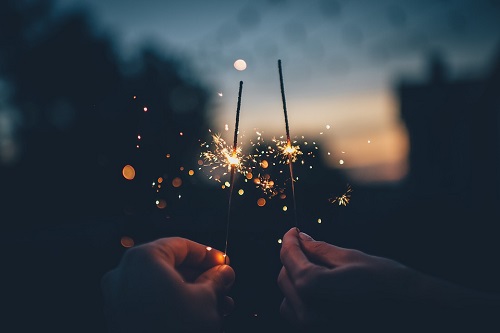 Bonfire night is a fun time for the whole family
The fun fair begins at 12noon, while bars and food stalls open around 5pm. The display of fireworks begins at 8pm. To make a donation or read more about the event, visit Lewisham's official website.
Crystal Palace
Each year, thousands of people from the capital and its neighboring areas gather at this South London park to witness a double bill of shows from the city's longest running display of fireworks. This year's theme is marked by two magnificent shows, a quieter display for the children and a larger, louder one for the adults. Food and drink stalls are put up for the revelers.
The event begins at 6pm, with fireworks starting at 7pm for the children and 8.30pm for the adults. No one can enter after 8.15pm, so it is best to get there as early as possible. To book tickets in advance, click here.
Ealing Cricket Club
The display of fireworks at the Ealing Cricket Club in West London is based on the theme the pop world – USA style this year, meaning visitors can expect to be treated to a dazzling display of pyrotechnics, whizzes and bangs, set off in sync with some of popular music. As well as the main event, people can also look forward to a fully-stocked bar, barbecues, glow novelties, fun rides and sweet treats.
People begin arriving at 6pm, and the fireworks are scheduled to begin at 7.30pm. You can visit the council's website or call 020 8997 1858 or 020 8810 7999 to get more details about the event.
Harrow At Byron Recreation Ground
Why just celebrate fireworks night, when you can make an entire day of it instead? That's why many families prefer the Harrow Fireworks Festival at Byron Recreation Ground. The theme for this year is outer space, a theme which should be out of this world! As well as the 20-minute pyro-musical show, you can also look forward to a fun-fair, live DJ, outdoor bar, global food, barbecue, beer festival, face painting and plenty of other cosmic entertainment.
The gates open at 12noon, and early arrivals get free entry until 4pm. You can get discounted tickets if you purchase them a few weeks in advance. The fireworks begin at 7.30pm. Go to harrowfireworks.co.uk to book your tickets.
High Elms Golf Course
Scheduled for the eve of bonfire night, the celebrations at High Elms golf course will include dazzling fireworks, along with a live band, dancing, face painting for children, a bar and a barbecue. This is a great family event.
The doors open at 6pm and the display begins at 7.30pm. You can purchase family or individual tickets by calling 01689 858175. Click here to learn more about the event.
Kempton Park Racecourse
In support of the Round Table Charity, Kempton Park promises a spectacular evening with fireworks that illuminate the skyline above the Racecourse. There is plenty to do for people of all ages, with fairground rides, a live DJ, food, drinks and a party atmosphere.
You can choose to upgrade your view and book space in the Desert Orchid Suite, which has its own balcony. However, this does cost almost double the price of the standard advance admission fee. Large groups of people (minimum 20) can book their private box with a barbecue menu for a higher price.
The gates open at 6pm and the 20-minute firework display starts at 8pm. To read more about the deals available, click here.
King's Meadow Stadium
The Kingston upon Thames round table and rotary club fireworks display will be held at Kingsmeadow Stadium on the eve of Guy Fawkes' night. Entertainment for the evening includes a funfair for children, the Radio Jackie team and a fireworks show that is set to music.
Gates open at 6pm. Entry is only granted up until 7.45pm, since fireworks are scheduled to begin at 8pm. Click here to read more about the event and book tickets.
London Eye
The Eye, one of the most popular tourist destinations in the capital, gives you a 360 degree view of the entire city. The spectacular view will give you the experience of a lifetime on Guy Fawkes' night, as you can enjoy the brilliant display of fireworks across the evening sky. The array of lights, colors and sounds is nothing short of extraordinary. You can also take advantage of the champagne or wine tasting experience in your pod to make the orbit even more memorable. It is best to your book tickets well in advance, as the London Eye always draws huge crowds, especially on bonfire night.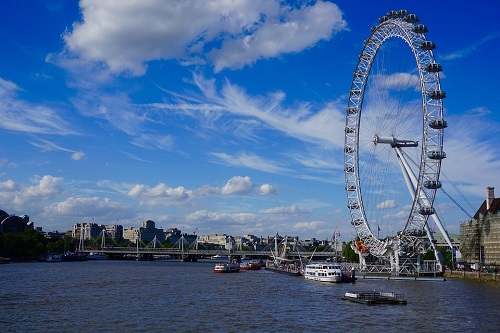 Watching the fireworks from the London Eye is an experience that won't be forgotten.
You can purchase your ticket for a ride on the giant ferris wheel here.
Lord Mayor's Show
This is probably the most amazing public fireworks display across London. The Lord Mayor's annual event has been taking place across the city for centuries. Barges on the river are piled with unlit fireworks and sent out to the River Thames. At around 5pm, as the boat moors between Blackfriars and Waterloo bridges, an impressive array of fireworks are set off.
This is one of the few events that commence in the morning, at 11am, with a parade involving over 6,000 people, Chinese acrobats, military marching bands, and a procession of floats as well as a State Coach, in which the Lord Mayor travels.
Find out more here.
Modern Park
This South London park holds two spectacular firework shows, a magic-themed one for children, starting at 6.45pm, and pyrotechnic display featuring music from around the world for the grownups, starting at 8.30pm. The venue also has a funfair, along with food and drink stalls that are open until 10pm. Visitors are not allowed to bring pets, personal fireworks and alcohol.
To read more about the event and book your tickets, click here.
Royal Gunpowder Mills
This historic site comes alive as the fireworks display lights up the Royal Gunpowder Mills at Waltham Abbey. Visitors not only enjoy the brilliant show but also have a chance to interact with 17th century characters. Other attractions include theater, science shows and funfair rides.
Since the venue opens at 2pm and parking is limited, you should try and get there as early as possible, especially as your ticket does not guarantee a space for your car. There is no entry after 6.30pm. Visit here to book your tickets.
Richmond Athletic Ground
Scheduled for the day after bonfire night, this event is ideal for those who would want to keep on celebrating. The Richmond Athletic Ground hosts will a fireworks show for all ages, set to iconic tunes from popular movies. After the display, you can enjoy live entertainment, savor delicacies from the food stalls and go for a ride at the funfair.
The doors open at 4.30pm, and the fireworks start at 7pm. Pets and personal sparklers are prohibited. Click here to book your tickets.
The events listed above are some of the most popular fireworks displays. Other entertaining shows can be found at Allianz Park, Barnes Sports Club, Croydon Road Recreation Ground, Danson Park, East Village at Victory Park, Finchley Cricket Club, Scout Park, Southwark Park, Totteridge Millhillians Cricket Club, Waltham Forest, Wanstead Flats, Wembley Park (Brent) and Wimbledon Park. There are a number of other smaller events all across the city too, which will also be enjoyable.
How will you be celebrating bonfire night? Let us know in the comments below!