If you are thinking of moving to the Texan city of Austin, what are your priorities going to be when it comes to finding out more about your destination? Austin is a popular choice – its unofficial slogan is 'Keep Austin Weird', and it's known for being a blue city in a (largely) Republican state. We are going to look at ten important things to take on board if you are planning to make Austin your home.
Can I find a job?
If you are a white-collar worker, particularly in IT/tech, then the home of 'Silicon Hills' is a good choice for you. Austin has become an IT hub, and business continues to boom. Social media companies, such as Facebook, have a home here, and fintech continues to be well represented by companies like PayPal. Apple, Amazon, Tesla, Oracle and Google can be found here, too.
However, IT is not the only industry in Austin. Banking, business, healthcare and communications, plus governmental employers (local, state and federal), are a major part of the business scene, too. In 2020, the US Bureau of Labor Statistics (BLS) ranked the Austin area as the best-performing metro (in a list of the top 50) for jobs. However, locals warn that there are a lot of highly qualified people here, and markets are competitive.
What is the housing market like?
The housing market here is buoyant but relatively expensive, particularly in high-end areas such as the downtown area, East Austin (gentrification is in progress) and South Congress. Locals suggest North Austin and Westgate to those looking for more affordable options. Circle C is a large, planned estate, with a reputation for being family-friendly, with a very strong Homeowner's Association.
What is the cost of living in Austin?
The cost of living in Austin is relatively high. The median cost of property is $347,000 – this is steep compared to the rest of Texas ($185,000) or the USA overall average ($238,000). Average monthly costs for a family of four were recently estimated at around US$2,888, not counting rent. For a single person, also minus rent, you would be looking at around US$600. The cost of living is offset in higher paid jobs by comparatively high wages, but nurses, lower earning government workers and schoolteachers are finding it extremely difficult to live within the Austin city limits, often moving to outlying communities instead.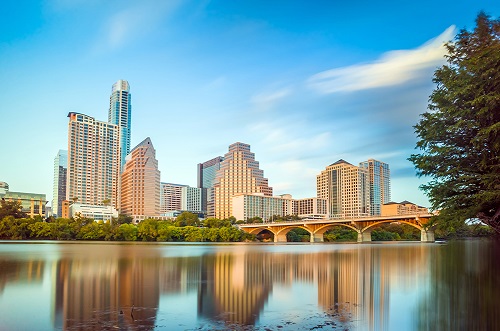 What is the crime rate in Austin?
The crime rate in Austin is comparatively low, including violent crime and crimes against property, although it has been rising in recent years. The murder rate rose sharply by 54% between 2019 and 2020, to the extent that federal, state and local law enforcement, plus prosecution authorities, have set up Operation Undaunted to deal with it.
What is the quality of life like in Austin?
The city has scored top slot on US News' Best Places to Live list for two years running, and locals describe it as a vibrant and diverse place to live. Live music is booming, and the quality of food here is excellent, particularly when it comes to BBQs. 6th Street is often compared to Bourbon Street in New Orleans, and you will find the city's signature food trucks supplying much of your sustenance needs.
The city is known as a 'majority-minority' city – no single ethnic demographic is in dominance, and Austinites say that this is how they like it. South by Southwest and Austin City Limits give you a chance to attend a music festival, but there is also the Austin Food and Wine Festival to enjoy.
Do not be surprised to find musicians playing in your local grocery store. The local international airport also has several small music stages in the baggage area!
Is it a healthy place to live in?
You will find lots of activities available in Austin, from hiking and biking to camping, swimming and climbing. The city has a large number of waterparks and public pools. The Zilker Metropolitan Park in the heart of Austin includes the spring-fed Zilker Pool, for example. The city is one of the greenest in the USA, regularly appearing in sustainability charts, and has been aiming at carbon neutrality. Watch out for 'cedar fever' – a weapons-grade type of hay fever – which afflicts some people.
Three of the city's 46 hospitals rank among the highest healthcare provisions in Texas, although the state scores relatively poorly in healthcare rankings for the US. Scott & White Hospital South Austin Hospital, the University Medical Center Brackenridge and Seton Medical Center Austin were listed top out of more than 5,000 hospitals in the entire USA. Healthcare in the city is continuing to expand, and you should have no trouble in accessing an excellent standard of care.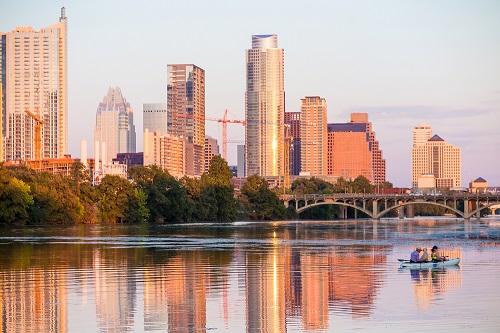 What is the quality of education here?
Educational facilities, such as the University of Texas (UT), are major employers here. UT has a top of the range library and research center. Other institutions include Huston-Tillotson University, the historical Black institution of St Edwards University, and Concordia University. Another option is Austin Community College.
Austin also has several magnet middle and high schools, for which you must apply and be accepted.
What is the weather like?
"Violet Crown City" (so called for Austin's unusual purple twilight) trends hot; this is Texas! However, it is less baking than Houston or Dallas, and the low hills that surround the city make it a little less scorching. Winter is warm, but spring and summer can be very humid. There are weeks where it reaches over 100 during the afternoon every day and may not cool down below 80 at night. It's a great place for solar cells!
What is the traffic like?
Austin routinely scores poorly for traffic levels, and driving is still the main way of getting around, although Capitol Metro is a public transport choice. The citizens of Austin have recently voted to fund Project Connect, which includes a rail system and express bus routes. State Highway 130 is the main route to San Antonio, and it is known as a fast toll road. Alternatively, you can take IH35, which can be either a slow-moving parking lot or fast and furious with lots of interstate truck traffic.
If you are moving to the city and have hired a removals truck, then remember that Texas requires you to have a temporary parking pass. Contact the Texas Department of Motor Vehicles to ensure that you do not start your life in the city with a fine!
What will life in Austin be like for my pet?
Austin is known as one of the most dog-friendly places in the USA, so this is a great city to live in if you own a pup. There are lots of trails to walk your dog along, such as the Ann and Roy Butler Hike-and-Bike Trail at Lady Bird Lake – a 10-mile trail that includes skyscrapers, neighborhoods, ball fields and cultural sites.
And, as a final curious fact, the city is also a big centre for bat conservation. It has the largest urban bat colony in the world, which you can view from the Congress Avenue Bridge or from Lady Bird Lake.