If you are thinking of moving to the Texan city of Houston, the fourth largest city in the USA, what should your priorities be when it comes to finding out more about your destination? Houston is one of the state's most popular cities, with a solid job market and a high standard of living. We are going to take a look at ten important things to consider if you are planning to make Space City your home.
Can I find a job?
Employment here is, even with the disruption of Covid-19, relatively stable. There are some big name employers here, such as Walmart and the Memorial Hermann Health System, and some major sectors, such as medical, retail, aerospace, tech, oil and gas, manufacturing and life sciences. There's a vibrant start-up scene, too. If you have a background in STEM subjects or IT, Houston is a good place to seek work.
What is the housing market like?
The first question to ask yourself is whether you wish to live 'inside or outside the loop' (the loop of interstate 610). Inside the loop includes the city's downtown and some of its principal neighbourhoods: Midtown, the Heights, Montrose and Desert Oaks. Beyond the loop are the metro area's main suburban neighbourhoods, such as Sugar Land or the Woodlands (median house price is $365K for a family home). Katy and Cypress are also popular areas, and the Bay Area is up and coming, but bear in mind that anywhere very close to the Gulf will be prone to some severe weather.
House prices in Houston are considerably cheaper than in some other metro areas. Average house prices come in at under $300K, which is not too far from the USA overall average (estimated as $238,000). However, it is steeper than the rest of Texas, which has an average house price of $185,000. Many family homes are under $200K. It's estimated to be 19% cheaper than Austin and 5% cheaper than Dallas.
To find an apartment, you can use an agent, or online property listing apps such as Craigslist can help. Experts suggest finding a short-term rental first and using it as a foothold to find somewhere more permanent.
What is the cost of living in Houston?
There are no state or local income taxes in Houston, but you will find that property taxes, for example, can be quite high. However, because of the relatively low cost of housing, you will find that the overall cost of living in Houston is a pleasant surprise compared to metro areas such as San Francisco or NYC. Gas prices are relatively low and so are energy costs. Forbes estimate that you'll need a salary of just under $70K per year to live comfortably here, although note that this has gone up by 25% in recent years and may continue to rise.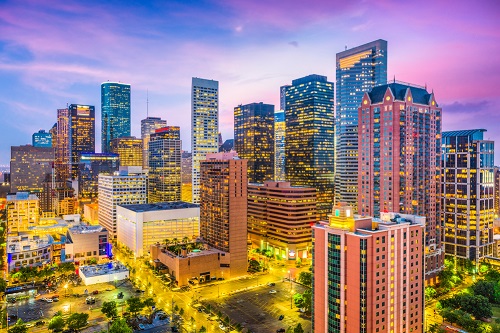 What is the crime rate in Houston?
Violent crime has been spiking in Houston, according to the local police, and the murder rate is at its highest for a decade. There are also high levels of assault and motor vehicle theft, although overall Houston is estimated not to be as dangerous as Austin, and it is perceived to be a comparatively safe place by residents. 56 residents in every 1,000 are estimated to have been victims of a crime.
What is the quality of life like in Houston?
Houston is very diverse and is home to a large number of ethnic groups. It's also home to the space industry, so if that is your thing, you'll need to head to the Space Centre. There's a fine Museum District, too, and a Theatre District. Retail opportunities are good at the Galleria and elsewhere. Foodwise, Tex Mex and BBQ are obvious contenders, but you'll find a wide range of cuisines here (the late Anthony Bourdain called it "a Wonderland of Strange and Diverse" food) and plenty of taco trucks and 'ice houses' – laid back local bars.
Is it a healthy place to live in?
Houston is rich in parkland. It may not be as green as Austin, but it nonetheless has many parks, including Hermann Park and Memorial Park, which has 30 miles' worth of trails, allowing you to hike and bike in the heart of the city. Houston residents take fitness seriously, and there's a plethora of gyms and exercise classes in the city. The Chevron Houston Marathon is home to 40,000 runners in January.
Houston is home to the Astros, the Rockets and the Texans, for baseball, the NBA and the NFL respectively. You will find the largest medical centre in the world here, in the form of the Texas Medical Centre – a complex of research institutions, which includes the world's biggest cancer centre.
What is the quality of education here?
The Houston Independent School District is the largest in Texas, operating over 180 schools, some of which are top-rated nationally. If you choose to go private, there is a British International School in the city, run by Nord Anglia. For further education, the University of Houston is here, and so is the Ivy League rated Rice University.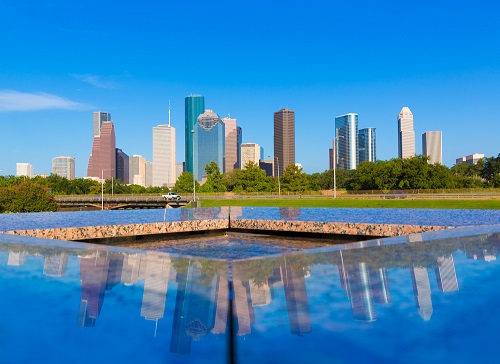 What is the weather like?
In a word: extreme. Houston is close to the Gulf of Mexico and has been badly hit by hurricanes and tropical storms. It is also subject to occasional tornadoes. January is the coldest month, with temperatures around 41.2°F, but in July temperatures will rise into the 90s and stay there. Northern Texas can see snow, and Houston does get sleet from time to time. If you're not a hot-weather person, however, either Space City is not the place for you or you'll need an efficient AC system!
What is the traffic like?
Houston is enormous – it's one of the biggest cities in the USA, coming in at 627 square miles – so expect a substantial commute. It is not a very walkable city. Public transport needs an upgrade, although you can use the metro system. You will probably need a car. Bike lanes are being expanded, but it still remains a car-based city. Rush hours – the usual morning and evening periods – can be very congested.
What will life in Houston be like for my pet?
Houston is reasonably pet-friendly, and there are a number of places where you can take your dog, from cafes and bars to parks, both on-leash and off. There is an annual Dog Day at Minute Maid Park.