If you are contemplating a move to Portland, you will find that it is one of the most popular destinations in the US for good reason. The Pacific Ocean and the Rocky Mountains are nearby, and there is world-renowned food, high levels of education, a famously laid-back culture, plenty of good quality jobs, and – according to JD Power (2019) – America's best airport! It also boasts Powell's, which proudly calls itself the world's largest independent bookstore. What will you need to know before you go? We will take a look at your top ten questions below.
Can I find a job?
The Greater Portland region has a broad, vibrant employment market, with over 35,000 jobs in computers and electronics alone, and is host to major companies in many fields – for example, IT, health sciences, tech, sports and outdoor pursuits, metals and machinery and education. Big names include Intel, Nike, Columbia Sportswear, OHSU, and Boeing. There are many other active sectors, including pet health, web and software development, and emerging technologies.
Portland salaries are said to be on the low side, but they are around 10% above the US minimum, although the cost of living in the area is relatively expensive. Surveys from the last five years indicate that a salary of perhaps $50,000 to $60,000 is required to live comfortably, which would be around the median for the region.
Remote working, already very popular in Portland, is a culture that is very much here to stay.
What is the housing market like?
Portland has been described as a city of neighbourhoods, and housing costs in the Greater Portland region vary considerably. A two-bedroom apartment will cost $1,400 a month upwards, plus around $200 upwards for utilities.
Median house prices for the Greater Portland area fell slightly in early 2020, but they are now back up at around $450K and climbing, with an 8% increase predicted by some in 2021. However, the post-Covid-19 property market is volatile and unpredictable.
To find an apartment, you can use an agent, or online property listing apps, such as Craigslist, can help. Experts suggest finding a short-term rental first and using it as a foothold to find somewhere more permanent.
What is the cost of living in Portland?
Portland is an expensive city to live in, although it is possible to eat relatively cheaply there in many neighbourhoods. Also, with no sales tax, some items can be significantly cheaper, especially electronics and white goods. Many residents cycle, meaning they don't have to pay parking fees.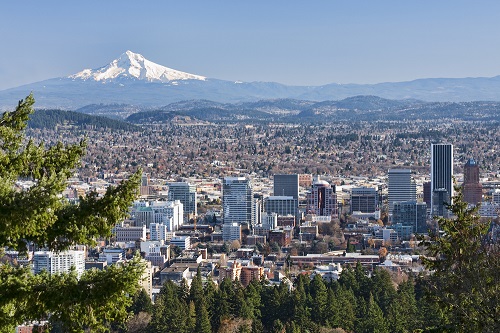 What is the crime rate in Portland?
Even without the recent street disturbances, Portland does have ongoing crime issues, just like many other cities, and the authorities have taken some actions (partially defunding the police, for example), which are not seen as viable long-term solutions. Progress has been made, but with around 850 shootings in the city in 2020 and a 200% increase in gun-related injuries, it is slow. However, available recent statistics show a levelling off of reported incidents, with Downtown and Hazelwood having the most issues.
What is the quality of life like in Portland?
Quality of life in Portland is high. Cycling is actively encouraged, with many cycle parks and routes. Portlanders are keen to maintain a work/life balance. There is an underlying green ethos, with well-organised recycling, and exceptional bars and restaurants, as well as a great selection of clubs, museums, cinemas, and art galleries. Many neighbourhoods have planting schemes to enhance their appearance.
People from larger more frenetic areas, such as San Francisco, will notice a huge difference in the vibes – the city is famously laid back in comparison.
There is no state sales tax, which arguably goes some way towards making up for the perceived lower salaries.
Is it a healthy place to live in?
The City of Roses is felt to be one of the healthiest places in the US, and keeping fit is a Portlander's pastime. With close to 300 parks and gardens within the city limits, there is something for everyone, in addition to the many available outdoor pursuits within easy driving distance – such as nearby camping facilities, like the Stub Stewart State Park, or Rocky Mountain scenery for hiking and fishing, or Cape Lookout offers whale watching (in season), and yurts are available if you don't have a tent.
What is the quality of education?
The population of Portland is highly educated. Around 90% are high school graduates, and an impressive 44% have a bachelor's degree. These numbers are in some measure due to high education standards in Oregon. There are over 100 primary and secondary schools, including a full range of public and private institutions. Portland State University has a student roll of 30,000, with a good reputation in MBA and planning. The Oregon Health and Science University (OHSU) offers degree level medical, dentistry and nursing streams, and there are at least a dozen other further education institutes specialising in a variety of fields – choice and quality are regarded as excellent.
What is the weather like?
Rain is a constant feature of the weather in Portland, but it is relatively mild all year round, given the proximity of the mountains and the ocean. Locals dress accordingly and will be out walking or cycling whatever the weather is doing. Locals will ask 'Is the mountain out today?', and Mt Hood is indeed an impressive sight when the weather clears. The warmest month is August, with temperatures in the 80s, and although the temperature can dip below freezing in winter, it rarely gets really cold.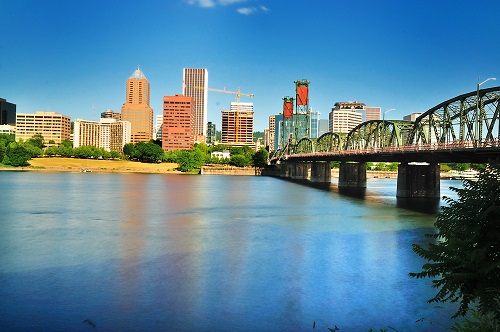 What is the traffic like?
Despite all the encouragement and uptake of cycling as a viable alternative form of transport, Portland still ranks high in the bad vehicular traffic tables. The midweek evening rush hour (5 pm) is the worst. Expect to spend some time in queues if you have to commute in conventional hours.
What will life in Portland be like for my pet?
Bear in mind that if you are initially renting, not all landlords allow pets.
There are numerous strict animal welfare laws and regulations in Oregon – many of which are designed to control puppy farming. The city is generally pet-friendly. Your pet will be as welcome as you are.
There are over 400 restaurants and bars where dogs are welcome. There are also designated off-leash areas in some parks and open spaces, but your dog must otherwise be kept on a leash.