If you are contemplating a move to the 'American Riviera', you will find the Pacific Ocean on your doorstep and the Santa Ynez mountains close to the city to the north. It is a picturesque, vibrant, and yet small city. What will you need to know before you go? We will take a look at your top ten questions below.
Can I find a job?
Despite recent nationwide pandemic disruption in employment, there are still jobs available in Santa Barbara, which boasts a very high percentage of white-collar workers, and which still has a low unemployment rate. High end jobs are found in agriculture, wine, tourism, services and healthcare, while building and design and tech also contribute to a varied job market. It is a very expensive city, though, so remember to factor that into your salary expectations. For owner occupiers, the median salary is $106,000. It is wisest to secure a job before you go. Income tax is high, and sales tax is almost 8%.
What is the housing market like?
Permanent housing in Santa Barbara is extremely expensive, at around double the average for California, with a median house price now over $1m (and the market is showing little sign of slowing down). Some experts recommend getting a short-term rental if you are buying, to allow you time to familiarise yourself with the area.
Renting is similarly expensive. The average monthly rental is $2,100 for a single bedroom apartment, rising to almost double that for three bedroomed accommodation. Westside is amongst the cheaper areas for renters, and Downtown is no more expensive than the city in general.
Whether you choose to rent or buy, local brokers can assist you in finding suitable property, and there are also online listing apps, such as Craigslist.
What is the cost of living in Santa Barbara?
Santa Barbara is considered to be one of the most expensive cities in the US, with the cost of living at around double the national average. Accommodation is going to be by far your biggest cost, but utilities and general expenses are also quite expensive. However, you may not have to spend much on transport, as the city is small.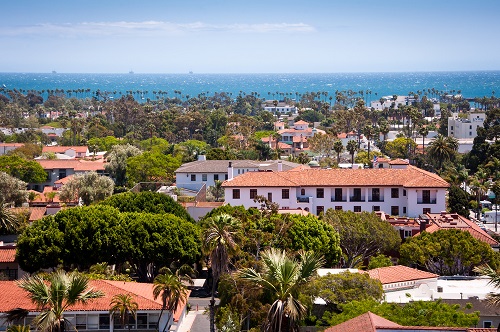 What is the crime rate in Santa Barbara?
Santa Barbara is not listed among the worst twenty cities in California for crime, with violent crime being significantly lower than the state average. However, it still has issues, especially in relation to property crime. The overall crime rate over the last year or two has dropped slightly.
What is the quality of life like in Santa Barbara?
Quality of life is high, assuming you can afford it. Santa Barbara is seen as one of the best places to live in California. It cannot expand into the mountains, so it retains a marked small city feel, with the Old World red-tile roofing downtown covering a diverse cultural scene with good quality restaurants and bars. There is also a wide range of facilities and entertainments that many larger cities would be proud of.
There are national parks in the area, and there is a huge selection of outdoor activities. The scenery is spectacular, as the city is tucked in between the ocean and the mountains. Cooler weather grape varieties thrive in the region, so if you like Cabernet Sauvignon, Chardonnay or Pinot Noir, you are in the right place!
Is it a healthy place to live in?
Santa Barbara is one of the healthiest cities to live in, with ocean walks, city parks and the possibility of walking around the city. The Botanic Garden covers almost 80 acres, with miles of gentle paths in sub-tropical vegetation. Surfing is huge in the area, with beginner facilities at Leadbetter Point and more challenging waves at El Capitan.
Outdoor pursuits are many and varied. There are extensive walking and biking trails in the foothills of the Santa Ynez mountains.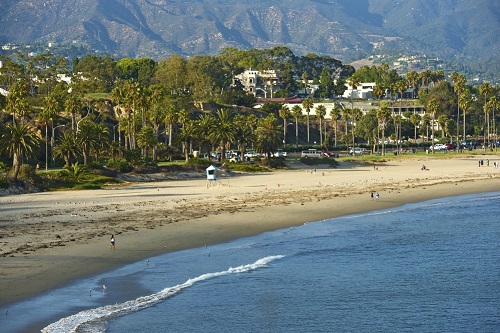 What is the quality of education?
Santa Barbara has a comparatively low education budget and does experience funding issues, but it still achieves reasonable high school graduation figures. If you are using the public school system, however, be aware that your child might not end up in the nearest school to your location. UC Santa Barbara is a leading teaching and research university, and Antioch and Westmont both boast a graduation rate in excess of 75%.
What is the weather like?
The climate in Santa Barbara is about as perfect as you can get.
While it does rain, perhaps about 40 days of the year, it never gets truly cold, with lows of 43F most years, and the snow only very rarely comes down from the mountains, with perhaps one or two brief morning frosts. However, residents do feel the cooler sea breezes in winter. At the other end of the year, it does not get unbearably hot, with highs of just 75F in July/August.
What is the traffic like?
Two thirds of Santa Barbara residents use their cars to commute to work, with only a few car-pooling, and about 10% either using mass transit or cycling. Commuting in Santa Barbara is not nearly as bad as in other Californian cities, with average commute times of just 18 minutes (one-third below the national average). The inbound 101 is heavy in the mornings, with equal issues outbound on the home run. Trying a longer route to keep moving is likely to involve picking through the notorious Santa Barbara one-way systems. One thing most locals agree on is that there are no bad views while you are stationary on the freeway.
What will life in Santa Barbara be like for my pet?
Spoilt, mainly! The Kimpton Goodland Hotel is one of several that welcome dogs. The Douglas Family Preserve Trail has excellent dog walking facilities, and there are even dog-friendly beaches. Several wineries will welcome your dog, too, although they might draw the limit at canine tasting.
In central Santa Barbara, restaurants frequently leave bowls of water out for your dog.