Some of the largest banks in the United States of America (USA) include JPMorgan Chase, Bank of America, Wells Fargo, Citigroup, and Goldman Sachs. It is estimated that their collective banking assets are equal to roughly 56% of the economy. There are around 5,177 commercial banks and savings institutions throughout the USA.In terms of the banking system itself, the USA operates on a dual banking system, which essentially means that state banks and national banks are chartered and supervised at different levels. Under the dual banking system, national banks are chartered and regulated under federal law and standards and supervised by a federal agency.
Banking options for expats
What banking options are available to expats residing in the United States of America?
The banking system in the USA is considered quite sophisticated and safe. Almost all international banks are well represented in the USA, including HSBC, Citigroup, Barclays, Deutsche Bank, and Credit Suisse. The banking sector in America is extremely competitive, and an array of services and rates can be found. It is therefore well worth shopping around for deals, incentives, and perks.
In some cases, it is easier to maintain your home country/overseas account and open an additional US-based account at the same bank. This will allow you to easily transfer money back and forth between the two accounts as and when needed.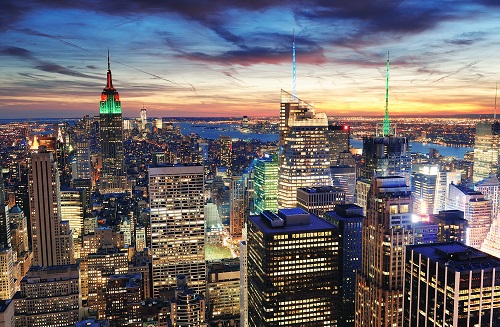 Almost all international banks are well represented in the USA, including HSBC, Citigroup, Barclays and Deutsche Bank
In terms of offshore banking, many expatriates based in America (as well as American citizens) look at tax havens in South America and/or the Caribbean. Although offshore banking is sometimes seen in a negative light, with people associating it with illicit financial dealings, fraud, and tax evasion, it does not always deserve its bad reputation. There can be many reasons for people to choose offshore banking, including asset protection, favourable tax rates, and greater privacy.
Privacy is perhaps the biggest motivator, especially for those moving to the USA, a place that is sometimes seen as a serial invader of privacy. For those depositing large funds, a level of confidentiality is often imperative for an individual's own protection, making them less of a target for violent acts. Having said that, the USA does offer up to $250,000 in deposit insurance from the FDIC, which is more than is offered anywhere else in the world (including in Singapore and Europe).
How to open a bank account in the USA
The process of opening a bank account in the US, prerequisites, required documents, etc.
To open a standard bank account in the USA, expatriates should check with their chosen bank which forms of identification they will need. The specific process and the necessary supporting documentation can vary from bank to bank, so it will likely save time and confusion to get clarity on this beforehand.
In general, the standard procedure is to present a valid passport at a local branch of your chosen bank, along with your immigration information, social security number, and proof of your address. New arrivals without a social security number may be able to open an account using alternative documentation, such as a tax number or an alien identification card number. Some bank providers may require a minimum deposit, in order for you to become eligible to open an account with them. The exact fee will vary from bank to bank.
Having a local account in America will not only make life a whole lot easier, but will also limit the additional fees incurred, particularly international banking fees. Having a local account is often necessary for accessing various everyday services, such as mobile phone plans and home internet packages. You will need to be over the age of 18 years old in order to open your own US bank account.
You may have the option of using a "correspondent" bank if your bank in your home country has a relationship with a US bank. This essentially means they can share any necessary information on your behalf to help you open a local account. However, not all banks have such relationships.
More on banking in the USA
More information on the banking system in the United States.
American banks are usually open from Monday to Friday, typically from 8:30 a.m. or 9:00 a.m. to 5:00 p.m. or 6:00 p.m. Many banks in the US are closed on the weekends and on public holidays, but some larger providers may open for a half-day on Saturdays.
Although there may be some pitfalls in terms of privacy, the US has a well-connected global financial system. It packs a significant clout, and other countries tend to trust money coming in from there.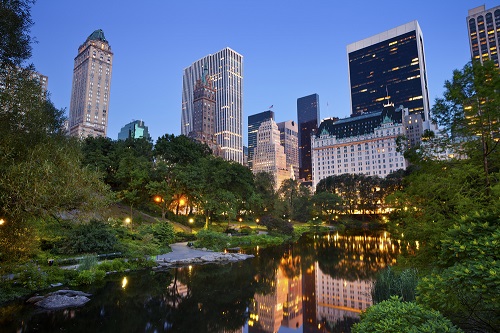 Many banks in the US are closed on the weekends and on public holidays
It is worth noting that additional banking fees are quite commonplace, so always check the fine print before signing up for a new bank account. For example, many banks will charge a monthly service or "maintenance fee", although in some cases this can be waived if you maintain a minimum monthly balance.
Usually, a standard bank account is likely to cost around $10 to $15 a month. This fee is then scaleable, depending on the type of account you want and the perks/benefits/incentives that come with it. Premium accounts, for example, typically cost around $25 to $100 a month, but they give you access to a range of benefits, such as free international ATM withdrawals or reduced charges for other services.
ATM withdrawals are usually free if you have a US bank account, but you will need to double check with your banking provider. It may be that you can only withdraw without charges when using a specific ATM operated by your bank or your bank's network.
In general, everyday banking in the US is not particularly complicated. If you are considering premium accounts and investments, you won't struggle to find a financial advisor who can guide you through the best course of action. A quick Google search will likely turn up plenty of options in your local area, and your bank will also have financial advisors on hand.