Sibylle, you are currently living in New York City and working at the United Nations, which recently celebrated its 70th anniversary. Could you tell us a bit more about what you do at the UN?
Sure and first of all, thank you for your interest in interviewing me! I have been working at the UN for the past 10 years.I joined the Organization in September 2005 to work initially for the Department of Peacekeeping Operations, which is a huge Department at the UN and then for the Department of Field Support which is also quite big. Both Departments focus on the political and logistical aspects of the peacekeeping missions that the UN have around the world.
Since 2009, I have been working for the Counter-Terrorism Committee Executive Directorate which is not part of a Department at the UN but is directly linked to the Security Council. On the side, I have the honor to be the President of the Association des Francais Fonctionnaires Internationaux de New York which gathers all the French nationals working for the UN and its agencies. Approximately 500 French nationals are currently working in the UN system in New York and with the help of a great Board, we are trying to create some type of network between them through the organizations of events, conferences etc and be a point of liaison between them and the French Administration through the very efficient Permanent Mission of France to the United Nations.
You have been living in New York for the past 13 years in total. The world changed a lot in these years. Do you think that the way expats are viewed is changing in light of this, and if so, how?
You mean if it is more difficult for expatriates to emigrate to the US? It's not an easy question to answer. I moved to NY in 2002, one year after 9/11. Although I came as a tourist in New York prior to 9/11, all my living experience as an expatriate in New York has been post 9/11 so I could not respond to that question and have elements of comparison.
Obviously, I have been hearing from friends who have been here for many more years than I have been that it is indeed more difficult to emigrate now than it was 30 or 40 years ago for instance. At that time, it was very easy to get the green card.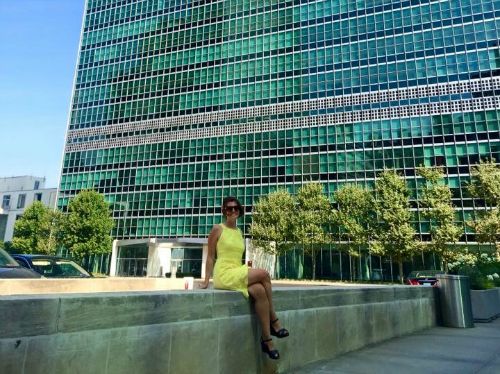 Sibylle Eschapasse in front of the Secretariat Building of the United Nations
Things change and it is normal that they change. Economy changes, rules evolve. It becomes more difficult and then things improve and things get better and easier again. It may appear to some people that it is more difficult to emigrate or takes longer to get a greencard but the beauty of this country is that it will always be very open to emigration. People emigrate every day. It is a personal choice and there are many ways to emigrate and the way expatriates are seen stays the same: the American people love and respect newcomers and this is a beautiful country based on immigration and where all can try and live the American dream.
As well as working for the United Nations, you enjoy writing. You're even an author; tell us about your children's book, Argy Boy, a New York Dog Tale.
I published this cute little story 2 years ago. It's a children's book for toddlers with a very cute dog as the main character. His name is Argy Boy and he lives with other cute animals in a high rise building of New York City. And one day, a tiny little mouse comes to visit and the adventure begins. It's very cute and I took a lot of pleasure writing the story but also working on the illustrations with an illustrator. And for me of course, it's even more personal because Argy Boy, the main character of the book is based on my dog in the real life. He looks exactly the same and is named also Argy Boy. So basically, I wrote a book with my dog as the character which was a lot of fun for me.
Do you have any more books planned or any more projects? Can you give us a sneak preview?
I am constantly thinking and working on new projects. I like to have different branches in my life. I cannot do only one thing. I have for now my main work at the United Nations which allows me to stay in New York. I also continue to volunteer in the French and Francophone community of New York that I consider my family and like to serve, and be involved in philanthropy.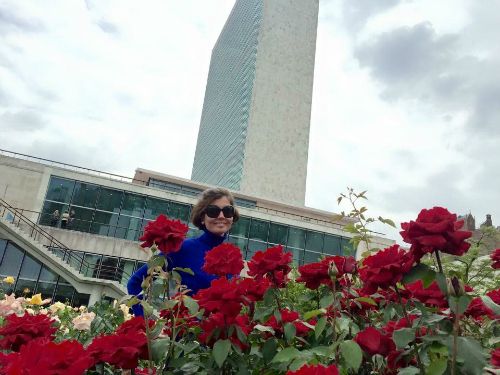 Sibylle Eschapasse in the rose garden of the United Nations
I continue to write. Right now, I publish for the Epoch Times, as a volunteer, a weekly interview about Style because I love Style and Fashion. And I love television so I would love to work on a project on my free time. And also to continue writing books. For me, all these activities give me pleasure and are a hobby.
What is your favourite thing about living in New York?
I love the positive energy and the people of New York City. It is a city that inspires me a lot and makes me grow. I love the diversity of this very cosmopolitan city. The world is literally in New York and you learn so much from other cultures! Living for me in New York in addition to working for the United Nations exposes me to so many different backgrounds of people and it enriches me a lot on a personal level. There are also so many things to do in New York. Constantly! So many sources of interest. It's endless! I find New York fascinating and although, there are of course many other beautiful cities in the world, I must say that I never found a city that equals the excitement I feel in New York. It's unique!
You said you've been in New York for thirteen years now; do you have any words of advice for people who are considering moving there?
I would say that if you would like to come to New York, come to New York! You have to follow your heart in life. For everything in life. And you have to challenge yourself too. Leave your zone of comfort and try to live new things. If your heart tells you you would like to live in New York, try to organise your life in a way that you can come and experience New York. But plan it. Don't leave unprepared. Obviously you will need a visa, you will need a job. You will need health insurance. So work on these first prior to coming to New York.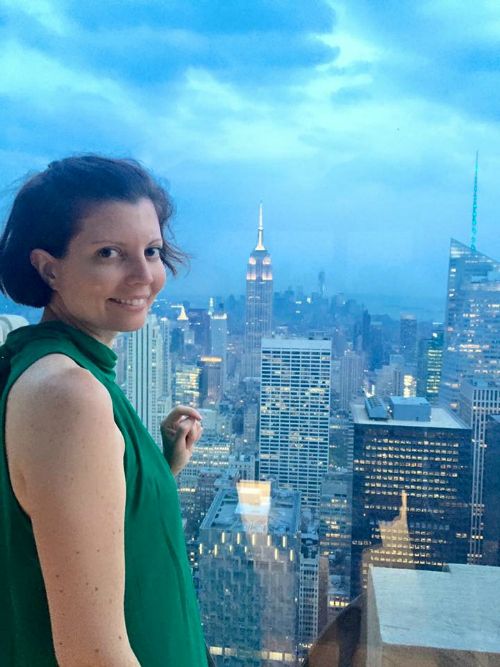 Sibylle Eschapasse on top of the Rockefeller Plaza
I moved myself from France with the idea of emigrating. I was 23 and I so much wanted to emigrate that I preferred to take a freighter to arrive in New York by the sea like the old immigrants used to do it rather than taking a flight like everybody else does. I am a dreamer and I have lots of dreams in life and I like to realise them. And I always like to do things in an exceptional way.
I very much believe that you write your own life. I like interesting experiences. So when I left France, I took this container ship but I knew however, that I was first going to do an internship at the French Consulate in New York City. So I had a visa from the beginning which allowed me to come. And before the end of my internship, I had to find my next job and another visa so that I could stay which I did. So I came in an adventurous way because I knew nobody in New York when I came but I came at least with an internship as a starting point.
What are your plans for the next few years? Do you expect to stay in New York?
Yes, I love New York and I consider New York my home. I will always love Paris as well of course. This is where I grew up and I have a lot of memories in Paris. I love Paris! My family still lives in Paris. But New York is where I have my life. All my adult life is here and I feel more like a newyorker than a parisian after all these years. As for as my plans, I hope for the best. 🙂
Although I am not 20 anymore unfortunately, I still consider this is the beginning as there are still a lot of things that I need and want to live. I would like to continue what I do and do more of what I enjoy most. Continue to learn and grow and be happy. And because we can never think too much ahead, I will quote David Bowie we sadly just lost a few days ago: "I don't know where I'm going from here, but I promise it won't be boring." 🙂
Finally, when you're not working or writing, what do you like to do in your spare time?
When I am not working at the UN or writing, I like to be involved with philanthropy. I like to attend events and I enjoy meeting people. I enjoy seeing people I like and spending time with the people I love. I love to discover new places in the city, to feel relaxed and just be happy.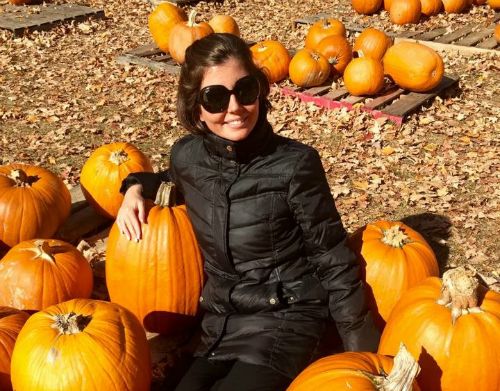 Sibylle Eschapasse – Halloween time!
I practice yoga too. As a matter of fact, I passed my yoga teacher training in Soho two years ago. I love yoga. I have no intention to teach it whatsoever but I did it for myself as I thought it would be interesting training.
At summer time, I am also often at the beach. I love the beach and New York has many beautiful beaches around. And otherwise when I have the spare time, I love to travel. Travel is one of the things that I like the most. It makes me feel very alive.