Situated in the Pyrenees mountains, Andorra is a small, independent principality that's known for its ski resorts and status as a tax haven. But it's not just the cash savings that are attractive to its population of 80,000 people. Located between France and Spain, the country is filled with natural beauty, with an abundance of hiking trails and landmarks to explore. But how easy is it to make the transition from tourist to expat? Let's find out, shall we?Depending on which country you're used to living in, Andorran real estate may be a little different from what you're used to. The property in the country is incredibly varied, and you'll find everything from new inner-city apartments to century-old farmhouses and secluded chalets. This leaves you with plenty of options to choose from, depending upon your style and budget.
As there's no public register for previously sold properties in Andorra, pricing properties isn't straightforward. It comes down to the age old adage: "It's worth what someone is willing to pay." So, when it comes to finding a place to rent or buy in Andorra, it's wise to spend some time thinking about what you want from your new home.
Finding rental properties in Andorra
Renting in Andorra is an excellent way to get to know the country and experience different neighbourhoods, without the huge financial investment and commitment that buying a property entails.
The housing market in Andorra has experienced its fair share of ups and downs. There was a housing boom in the 1990s, then another in the 2000s, but this came to an abrupt halt when the global markets crashed in 2007.
Since then, the real estate sector has held steady, with the high-end luxury market going from strength to strength. Because of this, the top-end of Andorra's housing market can be incredibly competitive, which often limits the market for those with middle and lower-end budgets. But fear not, there are still properties to be found; you just have to know where to look!
The best way to search for property rentals in Andorra is in person, which can be inconvenient if you're trying to arrange your accommodation before you arrive in the country. You'll also need a lot of patience, as the market is practically "closed", and as a result, the options available are limited.
You won't find many property options online, as estate agents in the country have a fairly tight grip on the rental market. However, whilst this could be viewed as a negative, it can actually work in your favour, as estate agents have a lot of knowledge about the areas and properties available in the country, and can therefore make your search for a property more efficient.
Having said that, there are a few places online where you can find real estate available for rent, including:
• Habitaclia
• Idealista
• Busco Casa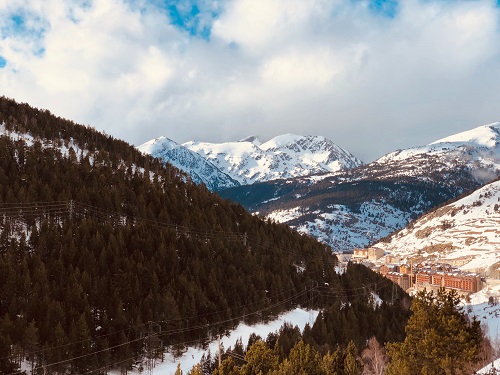 The best way to search for property rentals in Andorra is in person.
How much does it cost to rent property in Andorra?
Rental prices in Andorra vary depending on location, property type and the condition of the property, so it's difficult to give an estimate without knowing the specifics. However, as a guideline, here are some examples of current properties that are available for rent:
Encampe
Three-bedroom (unfurnished) apartment
€1,100 per month
Andorra la Vella
Unfurnished studio apartment
€500 per month
Carretera de Montaup, Canillo
Four-bedroom (furnished) house
€7,000 per month
La Massana
Two-bedroom (unfurnished) apartment
€800 per month
Carrer Prada Motxilla
One-bedroom (furnished) apartment
€1,000 per month
If you're not sure which area you'd like to explore first, local estate agent Peter Lucas has a great guide that breaks down the pros and cons of different areas within Andorra, which you can find here.
Important details you should know when renting property in Andorra
Once you've found a property you'd like to rent, the process of actually renting it is pretty straight forward. The initial payment for the property can be a large investment, as most rentals require four months of rent upfront. This is because two months' rent will be used as your deposit – this will be returned to you when your tenancy is over – one month's rent will be for the estate agent, and one month's rent must be paid in advance.
The good news is that the legal system in Andorra tends to favour tenants in rentals. The standard lease contract lasts for five years and, during this time, the property owner cannot evict you or sell the property, without proof that you're misusing or not looking after it.
Also, even though the lease agreement can last for five years, this doesn't mean you have to rent the property for that long. You can get out of your contract early, by giving one month of notice for every year that is left on your contract. For example, if you have four years left on your contract, you'll need to give four months' notice to the letting agent or property owner (depending upon who your contract is with), before you move.
It's also important to note that rental costs can only increase according to Andorra's annual inflation rate, and property owners and estate agents cannot enforce large rent hikes.
Once your rental agreement has been completed and you're ready to move in, there are two procedures you must follow:
1. You must visit the COMU (local municipal administration office) to register the leasing contract. This must be done, otherwise the contract is not considered valid.
2. You must visit the FEDA (Andorra's energy company) to have electricity connected to your property and the billing documents placed under your name. You will receive a document once this is done, which costs between €50 and €150.
Who can purchase property in Andorra?
Whilst real estate in Andorra can be expensive to purchase, you shouldn't give up. The market is still growing and, as a result, new opportunities are starting to form – but you need to be ready, as competition can be fierce!
There aren't currently any legal restrictions on buying property in Andorra as a foreign national. However, there are certain stipulations in place.
You can only buy commercial property if it is for your business and, if you're a non-resident, you must obtain purchase permission from the government. However, even once you have this, you can only acquire two title deeds for apartments, or up to 1,000 m2 in space.
On the other hand, if you're looking to purchase property as a resident, you have more options. It used to be the case that you could make unlimited property purchases in Andorra if you had held a residence status for 20 years or more. However, this rule was recently amended to free up the market, and now residents can acquire more property. But in order to hold passive residence, you must spend at least 183 days in Andorra every calendar year.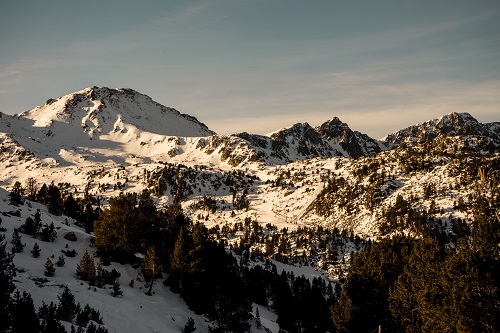 There aren't currently any legal restrictions on buying property in Andorra as a foreign national.
How to buy property in Andorra
Pricing in Andorra varies. The cost of floor space ranges from €2,500 to €15,000 per m2. In comparison, floor space in Monaco (a rivalling tax haven) fetches between €30,000 to €60,000 per m2. This makes it an attractive country to prospective buyers.
Unlike other countries, Andorra has a standardised process, which must be followed for all purchases. This provides an efficient service, and means that the purchasing of property only takes between four and six weeks.
The Andorran process for buying property is as follows:
Step one
The buyer and seller sign a "commitment of sale" agreement, which stipulates the property price and any additional conditions.
Step two
The buyer secures the property, by placing a non-refundable 10% deposit. Local banks do not offer mortgages to foreign nationals, and so, if you're looking to secure a mortgage, you'll need to do so from an overseas lender.
Step three
If needed, the buyer heads to the local government office to apply for permission to purchase the property. This requires a simple form, known as Autoritzacio d'inversió estrangera en immobles, which will be listed under the authorisation for foreign investment section. The form is in Catalan and, once completed, can take one to two weeks to be authorised.
Step four
The building is surveyed. A local architect will be hired, by the person selling the property, to inspect the property. Once this inspection is complete, they will produce a Certificat D'habitabilitat – this is otherwise known as a Habitability Certificate. This guarantees that the property is adequate for living in, and that it fulfils all legal requirements.
Step five
A notary is contracted to oversee the last few steps of the sale. This provides help impartially, and serves as a guarantee to the interests of both parties.
Step six
The notary will write the Escritura Publica (otherwise known as the Public Title Deed). This will be signed by the seller and the buyer in the notary's office, to complete the sale. It is at this point that the cheque with the final price of the property and any fees must be provided.
The cost of property purchase fees will vary depending upon the price of the property you are buying. But to give you an idea, the following fees may apply:
• Acquisition tax: 4% (paid by the buyer)
• Notary fee: ranging from €600 to €1300, plus 0.1% of the property price (paid by the buyer)
• Estate agent's fee: 5% to 10% (paid by the seller)
• Habitability Certificate: 0.07% (paid by the seller)
• Capital gains: 0% to 15% (15% is applicable if you sell your property within a year, 13% if you sell within two years, 10% if you sell within three years, and, after that, it decreases by 1% each year)
If you're not sure of the property purchasing process, and you'd like a little help to assist you during this time, there are companies you can contact. Most official and legal transactions take place in Catalan, so we recommend that you have a translator, or a friend, to help you.