The Middle East, made up of several separate nations, can feel like a complicated place to an outsider. It is one of the most ancient regions of human civilization across the globe, but has evolved at a rapid pace in the last three or four decades. The 18 countries make up the Middle East are Bahrain, Cyprus, Egypt, Iran, Iraq, Israel, Jordan, Kuwait, Lebanon, Northern Cyprus, Oman, Palestine, Qatar, Saudi Arabia, Syria, Turkey, the United Arab Emirates (UAE), and Yemen.Arabic is the most widely spoken language throughout the region. However, you will also hear Persian, Turkish, Kurdish, and Berber spoken in various areas.
Today, many of the Middle Eastern countries are highly desirable expat destinations due to their infrastructure, education, standard of living, economy, and healthcare. In fact, Qatar, Bahrain, Saudi Arabia, and the UAE often feature in the list of the wealthiest nations across the globe. The main source of their wealth comes from the large quantities of crude oil they possess. Almost 80% of the world's oil comes from the accessible reserves in Saudi Arabia.
While there is a lot of information available about this region, it is hard to separate the facts from the myths. Yet, every year thousands of expats from all over the world move to the Gulf countries in order to study, work, run their businesses, or retire.
Since the culture across the Middle East is very different from what some expats are used to, it is best to learn as much as you can about Arab customs and traditions before hopping onto the next plane there. This will help reduce the culture shock to some extent. For example, sometimes expats do not realize the importance of Ramadan in the Gulf and end up offending the locals. Do keep in mind that even foreigners are expected to follow certain dos and don'ts during the holy month in the Middle East. It is therefore best for you to familiarize yourself with Ramadan and its significance in this region.
What is Ramadan?
The Holy month of Ramadan is regarded as a time of prayer, reflection and fasting for Muslims around the globe. It falls on the ninth month of the Islamic lunar calendar (354 days) each year to commemorate the revelation of the Holy Quran to the Prophet Mohammed (PBUH). In 2017, Ramadan will begin on the 27th of May.
Followers of the Islamic faith believe in purifying their souls and refocusing on God through self discipline and sacrifice at this time of the year. During Ramadan, Muslims abstain from food, drink and gratification of other physical needs (smoking and sexual intercourse) during the daylight hours. This month is meant to cleanse their bodies of undesirable emotions as well as impurities. It also reminds people how fortunate they have been. Some of the more common practices followed during Ramadan include:
• No eating, drinking or engaging in any physical gratification from sunup (Fajr) to sundown (Maghrib)
• Being charitable and helping those who are in need
• Curbing negative feelings like anger, envy, greed and lust
• Ensuring that all thoughts and actions are pure
• Keeping in touch with family members and close friends
• Refraining from lying, gossiping or speaking ill about others
• Utilizing time for spiritual contemplation
Fasting during Ramadan usually includes offering prayers (Salat) and reciting the Holy Quran a few times during the day. Since people are expected to stay hungry for several hours, food and drinks are served just before dawn (Suhoor) and after sunset (Iftar). The devout followers adhere to the tenets of Ramadan for 29 or 30 days (based on the visual sighting of the crescent moon), not just in public but also behind closed doors.
Exceptions from fasting are made for children, elderly people, patients, pregnant women, nursing mothers, travelers, athletes and women who are menstruating.
In Muslim countries, a majority of the commercial establishments alter their work hours to accommodate employees who are fasting. Government and corporate offices usually allow people to work shorter hours for the month. Shops open much later than usual in order to cater to customers after they have broken their fast. Most of the restaurants only remain open to customers from sunset till dawn, as they aren't allowed to serve food or drinks during the rest of the day (with the exception of 5-star hotels).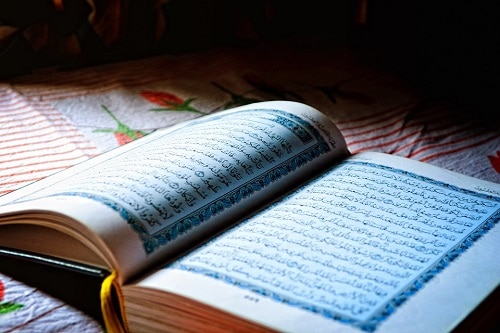 Ramadan is a time for spiritual contemplation
© Afshad on Pixabay
At the end of the holy month, Muslims around the world celebrate Eid Al Fitr or the festival of fast-breaking for around 3 days. During this time people visit their family as well as their friends and exchange sweets or other forms of gifts. It is also customary to hold a feast to celebrate Eid and invite several people to your home.
Greeting People During Ramadan
According to Islamic beliefs, the month of Ramadan is filled with blessings. Some of the phrases used commonly in the Middle East are:
• Have a noble or generous Ramadan (Ramadan Kareem)
• Have a blessed Ramadan (Ramadan Mubarak)
• May every year find you in good health (Kul 'Am Wa Enta Bi-Khair)
The customary greeting for Eid is "Eid Mubarak".
Ramadan for non-Muslims
Muslims living in non-Islamic countries generally do not receive any special considerations (for praying, resting or breaking their fast) during Ramadan though there are a few exceptions. Likewise, non-Muslims living in the Middle Eastern countries are not expected to follow the principles of their Islamic counterparts. At the same time, there are a few laws that ban certain practices and behaviors only during this month. As an expat in the Middle East, it is important for you to be aware of these laws, so that you don't break or violate them in any way.
Some of these practices include:
• Never eat, drink or smoke in a public place during daylight hours, including your office. This is also applicable when you are traveling in your own car or on a private bus. Avoid chewing gum in a public place as it could be seen as eating. Children are exempt from fasting so this does not apply to them.
• It is acceptable for you to invite people into your home or private office for a meal at any time of the day. However, do not make the mistake of offering food, a drink or even water to anyone (except a child, elderly person or pregnant women) in a public area. You can even get into trouble for that at times.
• All members of society are expected to dress a bit more conservatively (depending on which country you live in), regardless of their nationality.
• Do not play loud music or dance in public at any time of the day. Make sure that the stereo in your car is on low volume and doesn't disturb the people around you. It is best to be mindful about playing loud tunes in the comfort of your home too. Nightclubs usually stay closed throughout the month. Those that are open don't play music or allow dancing. You can hold a private party if you want to but you could get into trouble because of loud music.
• Acts of affection towards members of the opposite gender should never be demonstrated in public at any time of the year, especially Ramadan. Law enforcers as well as the locals take offence to such kind of behavior.
The locals frown upon outsiders who break the rules, as they consider it lack of respect towards their culture. So do keep these laws in mind during your stay in the Middle East and seek clarification in case you aren't sure of what they mean. There are penalties and heavy fines in place for not adhering to the above guidelines. The police have been known to arrest outsiders for consuming alcohol in public places during Ramadan. Being ignorant of the rules won't exempt you from them.
Lifestyle changes for non-Muslims during Ramadan
The law in most of the Middle Eastern countries demands that work hours be reduced by 2 (or even 3 in some cases) hours each day. Fortunately, this also applies to non-Muslims and those who don't fast. School children also return home about an hour earlier each day.
Most of the locals tend to break their fast at home, with their families. It is therefore best to avoid going out just before Iftar, as you are likely to get stuck in traffic. The operating times for certain modes of public transport may change in some of the countries, to accommodate revised working hours. Check your local papers for the new times before going out.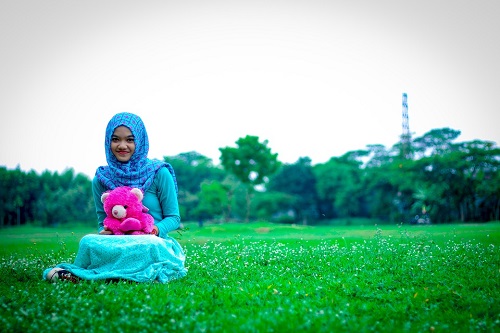 Some people, including children, pregnant women and the elderly, are exempt from fasting
© ajuprasetyo on Pixabay
Predictably, most places remain very quiet throughout Ramadan and the pace of life slows down significantly too. This could actually be an advantage as you avoid the crowds when you venture out in the daytime. Moreover, there is no restriction on shopping but a majority of the places open much later than their normal hours.
If you rely on restaurants, a food court or your office cafeteria for your daytime meals, you will probably have to make alternate arrangements like bringing food from home. Some establishments may continue a home delivery service. However, do remember to eat in a private area that is separated from public view. Many hotels and a few restaurants have screened off areas where foreigners can eat. Unfortunately, these venues usually hike up their prices during Ramadan. On the other hand, many of the restaurants offer great Iftar buffets for a fixed price.
Bars generally open after sunset and serve alcohol even during Ramadan. However, they tend to attract fewer customers than usual.
Moving to the Middle East in Ramadan
If possible, try to avoid relocating to the Middle Eastern nations during the month of Ramadan. This is because the usual inefficacy of government agencies is further exacerbated by offices working shorter hours. The officials who are at work tend to be distracted; many of them claim that they are unable to concentrate on their work due to a lack of daytime sustenance. Getting any kind of paperwork processed throughout the month is going to be a huge challenge.
First impressions are very important when it comes to settling down in a new place. The emptiness of the streets and closed shops between sunup and sundown could be a big turn off for any expat.
It is best for you to negotiate your time of relocation so that you arrive at least 3 to 4 months before Ramadan begins, or soon after the Holy Month ends.
Experiencing Ramadan with the locals
Arabs are known to be hospitable people in general, and this quality intensifies during the month of Ramadan as they open their homes to family and friends. Many of them also extend invitations to the foreigners with whom they work or study. If you ever get the opportunity to be part of the Iftar or Eid celebrations with a Middle Easterner, do take it up, as it will be an experience to remember. Don't forget to carry a box of dates, sweets, or dry fruits as a token of your appreciation.
Contrary to what many outsiders believe, Ramadan is not all about penance! In fact, it is the perfect time for people to discover their spiritual side, bond with their close ones and do something good for society in the bargain. People actually lead healthier lives during this period, not just by fasting but also by channeling their energy in a positive direction.
Have you lived in the Middle East during Ramadan? Share your expreriences in the comments!