'Tis the season to eat, drink and be merry. The festive period is an excuse to kick back and indulge with delicious delicacies, dishes so decadent they can only be brought out once a year.
Millions of families will gather together to celebrate Christmas, but the way in which they do it varies greatly. Some of us celebrate on the 25th of December, others hold off until January, some celebrate for weeks on end.One thing is for sure; the season is celebrated with plates packed with tasty treats worldwide. Nothing can gather friends and family together like a table filled with food. Brits abroad may miss the taste of turkey, followed by a food coma sat watching The Great Escape. Italians haven't had their Christmas dinner until they've devoured and aquarium's worth of fish dishes. Across South America, families swelter with a spicy selection of fiery hot fare.
There are far too many variations on the festive menu to list a full recipe for each of them here, so we've put together a bitesized platter of the world's tastiest treats. So loosen your belts, grab a plate and tuck into a serving of festive feasts from around the world.
Mince Pies – UK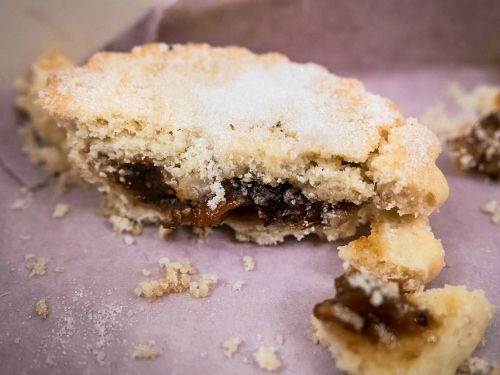 © James Petts
Brits like to look forward to a white Christmas, sitting beside a roaring fire sipping mulled wine as crisp white snow settles on the pristine fields outside. The closest thing to soft snowdrifts the UK usually gets is a dirty wash of toe-soaking slush. At least Brits can look forward to a delicious pastry snack to warm up with, though.
The appearance of mince pies on supermarket shelves is a sure sign that Christmas is coming, and from mid-November to well into the New Year, Brits push the rich little tarts on each other in aggressive displays of hospitality.
Originally made of minced mutton or pork, the pie was traditionally a way of using up leftover meat that was past its best. The pie really took off in the 13th century as crusaders returning from the Holy Land brought back rich spices with which to flavour the mould meats.
Modern mince pies are thankfully free of festering flesh. Instead, the filling is mad up from dried fruits and lots of brandy. Served hot, ideally with warm, similarly spiced mulled wine, the mince pie is a peculiarly British Christmas snack.
Argentina – Vitel Tonné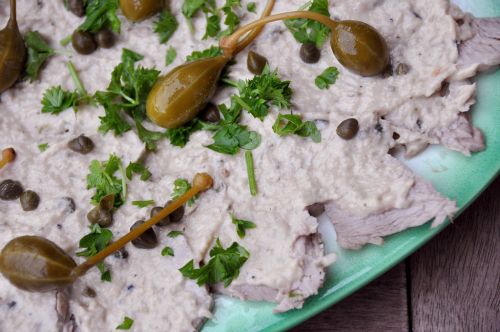 © cyclonebill
This ardently Argentinian meal has its roots in northern Italy. The South American country was a destination for immigrants from across the globe in the 19th century, with the different cultures managing to keep their traditions from home alive and still thriving today.
There are Welsh male voice choirs in Patagonia and Bavarian drinking halls in the Andean foothills, but one dish has become a mainstay of Argentinian culture.
Vitel tonné is served as a summertime meal in Italy as a light, chilled, refreshing meal. Argentina has made this meal its main event at Christmas dinners.
Typically the dish takes six days to make, firstly braising strips of veal and then simmering tuna in white wine, vinegar and garlic to make the sauce. The fishy stock is then beaten with eggs and oils to make a super-rich mayonnaise that is thinned with juice from the veal.
For five days the veal cuts marinate in the sauce, before being unveiled as the centrepiece of Argentinian yuletide festivities. As with any globetrotting recipe, there are many variations and fiercely divided camps as to the right way to make dish.
Zakuski – Russia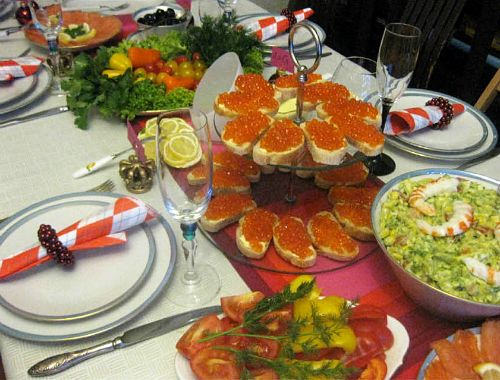 © VladimirBaykov
Christmas isn't so straightforward in Russia. The Orthodox church has its own calendar, putting the big day on 7th January, whilst the Soviet outlawing of religion makes the holiday a bit of a damp squib even today. Most Russians though roll Christmas and New Year together and find some excuse or other to have a jolly.
No Russian revelries would be complete without two vital ingredients: vodka and zakuski. These two form a perfect double act: the savoury, salty platter of zakuski sparking a thirst for the powerful kick of vodka.
The food element of this duet is a simple set of hot and cold hors d'oeuvres popular across the former Soviet world. The snacks are laid out for guests to nibble on before the main meal, getting merrier and merrier on the vodka as they do so. Whilst served at just about every function, Christmas especially would be incomplete without a zakuski.
The components of the spread are miniature dishes, which are an art form in themselves. Powerful sauerkraut next to delicate cuts of veal, kholodets meat jelly alongside caviar.
The appetising platter of mixed dishes is designed to tease the tastebuds and has the most appropriate name when translated; "something to bite after".
Mexico – Tamales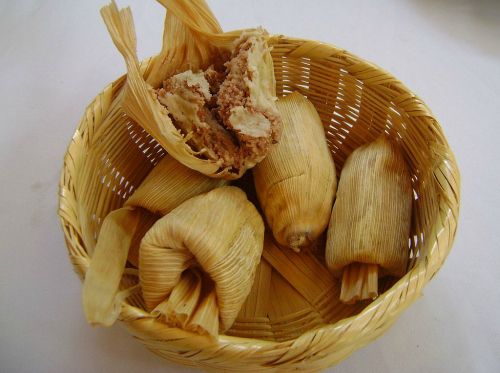 © Marrovi
With strong Catholic beliefs, Mexicans celebrate from early December through to February, marking various saints' days and moments from Jesus' early days. Throughout this season of festivities Mexicans celebrate with poinsettias, both the flower and a powerful dark beer named after it.
The main event of the season is a Christmas Eve meal. Families head out for a nighttime Mass service, returning home to a midnight feast. The menu usually includes bacalao, a reconstituted cod dish, and there are also prawns and potatoes, but tamales are the main event.
Tamales are popular across South America, also forming a key part of Guatemalan Christmas. Originally made by the Aztecs, the starchy dough surrounds a savoury or sweet filling, the ancients using frogs and flamingos.
Today's tamales are wrapped in a cornhusk to be steamed, with the contents being a more appetising meat, cheese or vegetable mix. The dumplings are usually steamed in large batches, with hundreds being laid on for larger parties.
The 5,000-year-old foodstuff predates Christmas by quite some way, yet Mexicans have merged the ancient Aztec meal with their Catholic beliefs to create their own unique festive feast.
Israel – Latke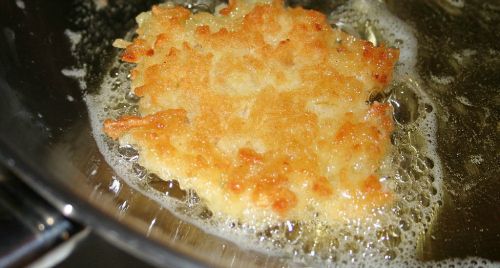 © Jonathunder
Whilst much of the world celebrates Christmas at different points between December and January, there are people who are partying at the same time for entirely different reasons.
Israelis and Jews around the world will be marking Hanukkah over the course of eight nights in December. The exact dates change depending on rabbinical decree.
The festival celebrates the miraculous burning of a lamp in the Holy Temple in Jerusalem. The lamp continued to flame for eight consecutive nights without anyone refilling the precious oil.
As a result, Hanukkah festivities involve lots of tasty fried delicacies, latke chief among them. The potato cake is similar to starchy snacks from around the world, but with an emphasis on the deep frying of the mixture in oil that symbolises the oil of the lamp.
References to latkes pop up at various point in the Torah, but the connection with Hanukkah may be a more recent event. An even more recent addition to the Hanukkah table is sufganiyah, a deep fried doughnut filled with jam or custard. One bakery in Israel reportedly fries up 250,000 sufganiyot every day during the eight days of Hanukkah.
Germany – Stollen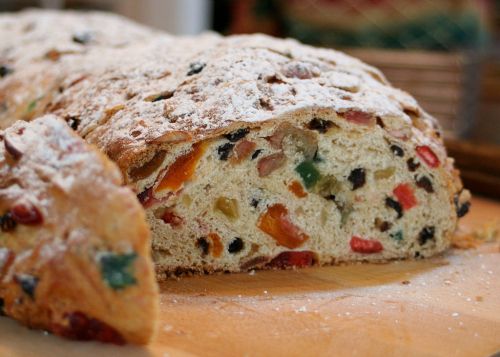 © Whitney
This rich, fruit-filled cake has strong religious roots, extending back to the 16th century. First recorded as being served at the Council of Trent, which called together the highest ranks of the Catholic Church to discuss the rise of Protestantism, stollen is still an integral part of German Christmas.
Advent was traditionally a time of fasting, with bakers prevented from using butter, so the original stollen recipes were hard and tasteless. Graduating from a fruity loaf of bread to a world-beating Christmas cake, modern stollen is packed with marzipan, spices, rum and eggs before being liberally dusted in icing sugar.
Officially, stollen can only be produced by 150 bakers in the city of Dresden, but illicit copies are devoured with glee worldwide. The city's link with the cake goes back to 1560 when bakers from the Saxony city each offered the king of the province 36lbs of the baked treat.
Eager to top the bread-based bribery, Augustus II the Strong ordered the city bakers to create a stollen weighing 1.7 tonnes. Over 24,000 guests were each served a slice at a Christmas festival.
Japan – KFC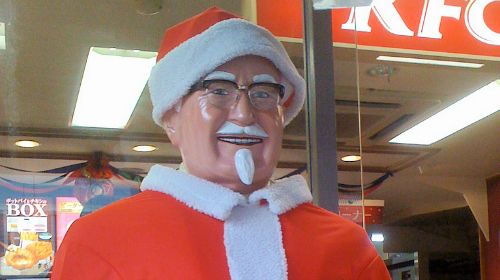 © Catherine
In a bizarre twist of Christmas tradition, Japanese families celebrate with buckets of Kentucky Fried Chicken thanks to an inventive ad campaign in the 1970s.
Expats living in Japan noticed it was almost impossible to track down a turkey for Christmas dinner. Given that Japan's Christian population is relatively small, the festival was never particularly established in the country.
When KFC heard about the expats' turkey trouble, the brand launched an ad campaign that captured the imaginations of Japanese families. The commercials called on friends and family to gather at the fast food joint for a 'traditional' feast of deep fried chicken, wine and cake.
One of the newest Christmas traditions, the practice has firmly taken root, with thousands of Japanese people booking their Kentucky Fried Christmases months in advance.
In recent years other chains have tried to muscle in, offering their own festive junk food menus, but they seem to struggle in matching KFC's success.
Poland – Star Supper
Much like in Mexico, Poles celebrate the main Christmas meal on Christmas Eve. The banquet is part of a whole day of carefully choreographed rituals that put children at the centre of the celebrations.
Polish homes may already have a tree up by Christmas eve, but it isn't decorated yet. Instead, children are let loose with tinsel and baubles only on the 24th December. Youngsters will also spread hay under the dinner table as a reminder that Jesus was born in a humble stable.
Families will then settle down to eat, keeping a place laid for an unexpected guest. The empty seat is kept ready to welcome any passing traveller in need of hospitality. With the average Star Supper extending to twelve different dishes, one for each apostle, there should always be more than enough to go around.
Borscht is a mainstay of the supper, as are fried carp and rollmops, and gherkins wrapped in pickled herring. Fish, salads and cheese are key components of the feast as Poles traditionally fast on Christmas Eve, avoiding meat.
The meal is believed to set the tone for the coming year, so arguments over the Star Supper table are said to bring a troublesome New Year.
Australia – Eskies and Barbies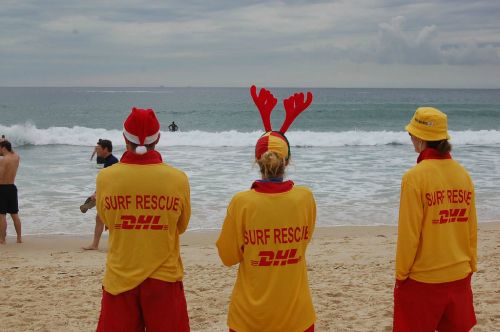 © aidan casey
Like many former British colonies, Australian Christmas is often heavy with roast meats, boiled vegetables and gravy. However, this isn't exactly ideal in the sweltering summer heat.
Instead, nowadays many Aussies fire up their famous barbecues, opting for chargrilled fish, shrimps and steak to go along with salads and cool wines. Younger Australians can be found partying on the country's beaches, mixing bikinis with Santa hats and a selection of drinks in ice-cool 'eskie' boxes.
Wherever the party actually happens, Australian Christmas isn't complete without pavlova, a fruit topped, cream rich meringue dessert.
Italy – Feast of Seven Fishes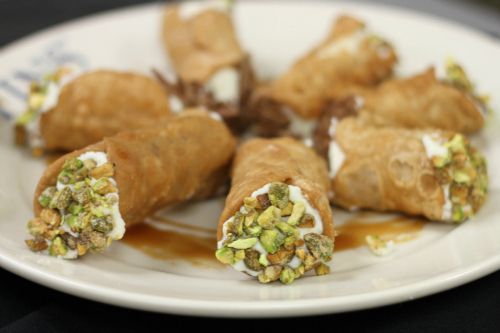 © GW Fins
Italy is another country where meat is taboo on Christmas Eve, but the country has made a meal of the restriction to create a fishy feast to be proud of.
Originating from Central and Southern Italy, the feast has travelled the world and is popular in with Italian-American families in particular. There are several theories as to why there are seven rounds of fish dishes served during the meal, including that they symbolise the seven days of creation or the seven pilgrimage churches in Rome. Whatever the symbolism, some families vary the number to represent the apostles and cleverly turn the seven delicious dishes into twelve.
Salt cod, calamari, baked shrimp, baked lobster and fried eel are all mainstays of the meal, all washed down with homemade wine and laughter with family.
The feast is usually followed by Midnight Mass and a Christmas Day packed with pasta and sausages made from pigs' intestines.
What does your family do to celebrate Christmas? What local delicacies can be found in your area? Let us know in the comments!
Article by Andy Scofield