With all the uncertainty surrounding Brexit, and so many considerations to take into account if you're a British expat in Europe – or even if you're just planning to travel to the continent after March 2019 – the situation can seem bewildering, particularly when we're faced with the prospect of leaving the EU without a deal. One area of concern for many expats has been the status of their driving licenses in the event of a no-deal. Currently, a British driving license allows you to drive – and to hire a car – in EU nations. But what impact might Brexit have on your UK driving license? How can you ensure that you're legal to travel in the EU after March 2019?Fortunately, there is plenty of information available which explains what you'll need to do in various situations, including a no-deal scenario. The British government's website has a page devoted to information about driving, whether you're simply taking your car to the continent or you're working for a commercial operation as a lorry or coach driver.
The website says: "From 28 March 2019, drivers from the UK may need a different international driving permit (IDP) to drive abroad."
If you're living in the EU, you'll also need to exchange your current UK driving license for a local EU driving license before March 29th. Don't delay, as a rush of applications may mean that the paperwork is slowed down.
What If There's No Deal?
If the UK leaves the EU without a deal, you'll need to exchange your driving license for a local one. However, if you don't apply until after we leave the EU, you may need to take another driving test as well. While we're still in the EU, you can just exchange your license. So your timing could make the difference between a relatively easy transition as opposed to the considerable time and investment involved in taking a new test.
What Is An International Driving Permit?
The government website states:
"On 28 March 2019, the type of international driving permit (IDP) that some countries outside the EU and the EEA recognise will change. From 29 March 2019, in the event that there is no EU Exit deal, you may need an IDP in addition to your UK driving license to drive in EU and EEA countries. If you hold a UK driving license, you should not need an IDP to drive in Ireland from 29 March 2019 as Ireland does not currently require IDPs to be held by driving license holders from non-EU countries."
Each individual EU country will decide if they need UK license holders to apply for an IDP, as well as a new driving license. Additionally, note that you may need more than one type of IDP – for example, if you're driving through France into Spain.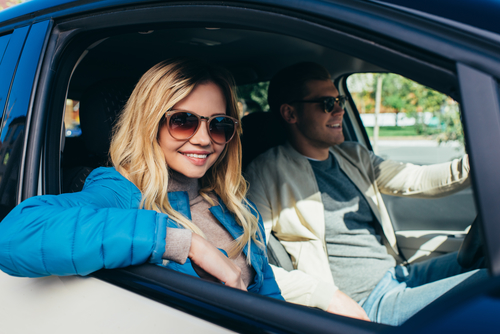 You might need different kinds of IDP for different countries
Check this link to see a list of countries which require either a 1968 IDP or a 1949 IDP. The RAC gives guidance on which kind of IDP applies in which nation.
How Do I Apply For An IDP?
More than 2,000 post offices in the UK will be able to supply you with an IDP. They currently cost £5.50. Check which type you might need (1926, 1949 or 1968), and remember, as above, that if you're crossing Europe, you might need more than one.
Number Plates And Documentation
It's not just driving licenses and IDPs that you'll need if you're travelling by car to the continent. You'll also need to check you have the correct distinguishing signs on your car. This means you'll need to display a GB sticker even if your car has a Euro plate (showing the EU flag as well as the GB sign). You will also need your vehicle registration details.
Remember to take your insurance Green Card as proof that the vehicle is insured, and make sure that any trailers are also insured – some may need to be insured separately.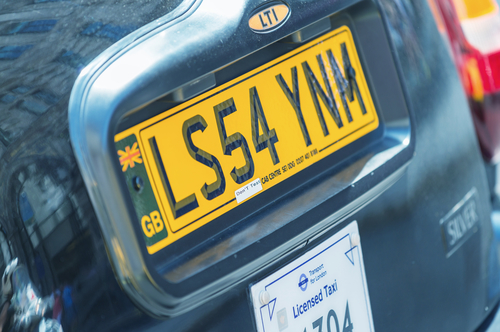 Make sure your license plate has a GB sticker
It is also worth reading up on the change in legislation if you're in an accident in Europe. You can find details about this here.
What If I Hold An EU License And Am Visiting The UK?
If you're an EU citizen and you have an EU driving license, you won't need to make any changes. Your existing license will still be legal and you won't need an IDP.
I'm A Commercial Driver With A UK License. What Should I Do?
It is likely that you will need additional documentation. You may need an IDP, and you will need to speak to your employer about changing legislation around the Interbus agreement. Currently, the UK are part of this agreement and plan to rejoin as an independent member after March, which will allow tour operators to carry out occasional services in the EU.
You will also need to check whether you are obliged to exchange your UK Driver Certificate of Professional Competence (CPC) for an EU/EEA one. You can do this before March 29th, while the UK is still part of the EU. It might be a good idea to sort this out in case there are any delays with the process of rejoining Interbus (in which case, your UK CPC will still be valid).
The government states:
"If necessary, the UK will also seek to put in place bilateral agreements with countries at the earliest opportunity to provide bus and coach access to the EU. UK nationals working for EU companies and driving in the EU and EEA will need a Driver CPC issued by an EU or EEA country."
Basically, if you're planning on driving regularly in Europe, it would be wise to take a look at the changing requirements via gov.uk and the RAC, as well as to check any measures necessary while the UK is still part of Europe.