Expatriate life can be complicated. It can throw you in at the deep end; into new situations, new cultures and new feelings. Many spouses can feel displaced and sometimes even useless, as if they are trailing after their significant other. Indeed, as you may have noticed, they often are referred to as 'trailing spouses' within the expat community. It's deeply important to secure your own needs and ambitions in order to feel happy in your new environment, and for some, that means having a fulfilling career. It's perfectly possible for both of you to get your feet on the ground and become successful in your new home. In fact, there's even a term coined for it – 'Dual Career Couples' – and it's becoming the norm.At one point, expat life meant following your partner for the sake of their career, and until recently, some 80% of migrant spouses were unemployed during their partner's overseas posting. However, things are changing, and now many couples are forging their own international careers and expat life together instead. Take a look at our top tips for being a successful dual career couple.
Enquire about transfers
A study by Internations showed that roughly 65% of expat partners said they didn't like being financially dependent on their other half.
If you're happy working with your current company, you might want to ask about whether there are any opportunities for international transfers. Of course, this isn't applicable to everyone, but it can potentially make the process a whole lot easier and less stressful if you already have a job to go to, plus you'll have the security of not having to learn an entirely new role whilst settling into a new country at the same time.
Research the job market
A questionnaire by ExpatCommunications showed that 80% of accompanying spouses would love to work during their time abroad.
If you decide on a different route, then research the jobs that are in demand for your skill set and find out what could potentially give you a competitive edge against the competition. Look at the job climate and see what you have working in your favour. Try to do this as far in advance as possible, as you may find yourself having to switch things up a bit.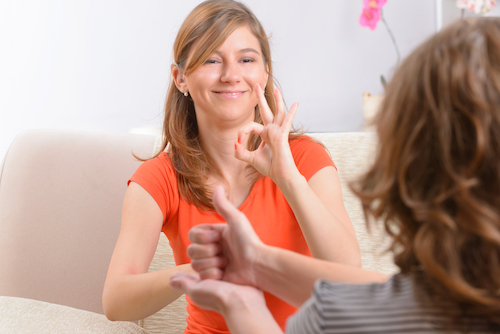 Many people decide to teach a language when they move abroad.
For example, many spouses take the opportunity of relocating to try language teaching as a change in career, particularly in countries where the language you speak is high in demand. The reason it's better to research and consider such options in advance is due to the fact that you may require some specific certificates, such as a TEFL, ESOL or CELTA certificate for teaching English.
The limitations of the spouse/dependent visa
How your visa choice before moving has the potential to affect your job prospects.
Even if you don't have a job offer lined up when you decide to make the move, it may be worth applying for your own work visa. Many spouses take the route of a visa which is dependent on the partner who has a job role secured. However, there are often limitations on these visas which prohibit you from working or restrict your options. Such visas can sometimes put you at a disadvantage while applying for jobs, or in some countries even state that you should not be job seeking at all!
Make a household plan
A 2018 survey by Internations showed that 45% of expatriate couples had children.
If you are relocating with your children, you may need to do a bit of research and budgeting to come up with a household plan. For example, will you both be working full time? If so, what are the average weekly working hours? Will it make life easier to hire help? If that's the case, how much does it cost to hire a domestic helper and what are the childcare costs in your new country? Do you have enough in your savings to act as a contingency fund for these costs whilst one of you is job searching?
Make sure you have a plan in place for any current or future children.
" not found]
These are all important factors to take into consideration first and foremost, before you commit to too much too soon.
The importance of networking
Why networking with your spouse can help you secure employment leads or recommendations.
Word of mouth is an underestimated yet powerful tool. If you don't have a job role lined up and you relocate with the idea of job searching in mind, it can be well worth the time to attend company networking events with your spouse. Even if you don't work within the same industry, it may help you get your foot in the door. Talk to people, mention what you do, sell yourself as good at your job and perhaps some opportunities will come back to you, or you may be pointed in the right direction.
Would you like to share your experience of life abroad with other readers? Answer the questions here to be featured in an interview!