Making the move abroad can be a daunting experience for anyone, regardless of age; however, many mature and retiring expats anticipate that moving abroad and assimilating into local life will be potentially harder for them than for others. However, according to HSBC Expat Explorer, this isn't the case. The studies showed that 49 percent of overseas retirees said it took them less than six months to feel at home in their new country of residence. In addition to this, 52 percent said that it took them less than a year. In comparison, only 33 percent of their younger counterparts (aged 18 to 34) settled in as quickly.It's widely thought that the main reason for this success rate is down to the fact that mature expats are more likely to enthusiastically embrace the local community. These people will get involved in local clubs and projects, rather than staying in predominantly expat friendship groups and social circles.
So with this in mind, we've created a guide that can give you a helping hand if you're stuck for ideas on how to meet new people, socialize and make new friends in your chosen country.
Meeting Others
Cafés
Don't be afraid of the oldest tactic in the book when it comes to meeting new people, which is simply to start up a conversation. Strike up a chat to the person next to you if you're sitting in a café alone. Other people by themselves are likely to be more open to a conversation than groups or couples.
Church And Church Clubs
You will find churches and other religious establishments all over the world. This gives you a place to meet other like-minded people in your community, who will be a mix of expats and locals. Even if you're not particularly religious, clubs held at your local church could provide an opportunity to meet new people.
Gyms And Health Spas
Look into getting a membership for your local gym or spa. Not only will it be beneficial for your health, but you can also potentially meet lots of other people, especially if you sign up to some fitness classes. If you go to the same classes on a regular basis, you will undoubtedly start seeing some familiar faces and will be able to build up friendships that can progress.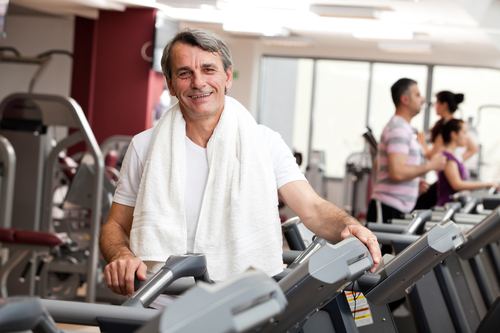 Gyms and health clubs can be good places to make friends
Rambling And Walking Clubs
If you don't fancy forking out for on a membership for a gym facility but would like a way to keep fit and meet other people, then perhaps consider joining a rambling or walking club. Not only is it good for the health and an opportunity to meet people, but you will also get to see more of the countryside of your new home that you might not have necessarily have explored on your own.
Get Competitive!
Depending on the country, there will be various competitive games that you can join in. In some countries chess is incredibly popular, and can even be found in public parks. In others, games like bingo are exceedingly popular, you can go to bingo halls and meet others who enjoy the game. Other games that can open up to social opportunities include crib, bridge and boules.
Practical Classes
Try signing up for language classes for the country you are living in. Even if you consider yourself fairly proficient, you may find that the local dialect in the region you're living in could throw a spanner in the works in terms of you language comprehension. A few classes certainly would hurt, and they will give you the opportunity to meet other people in your area in the same boat.
Lunch Clubs
Lunch clubs are a popular option for retirees in some countries; they are usually held in local places that are easy to pop into, and generally meet once or twice a week. For a small fee, you can get a meal and a cup of tea or coffee, and meet people to chat with.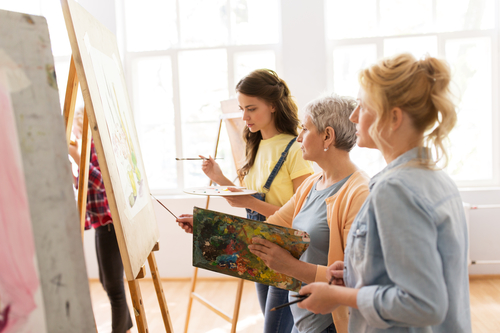 Hobby-based classes can help you to meet people who share your interests
Hobby Classes And Workshops
If you have feel confident about your language ability, then perhaps try finding some local hobby classes or workshops such as art and crafts or writing and poetry. Perhaps even something like course in silver smithing, leather work or wood work. Ask in your local cafés, community centres, or corner shops, and check notice boards to see if anything interesting is taking place in your area.
Volunteering
Getting involved in the local community by volunteering is not only a way to help worthy causes, but can also open up some opportunities for socializing with other volunteers. You will be working closely with other people to execute the various voluntary projects you will be working on, which create a close knit group of people. Additionally, you are likely to meet a variety of people, not just other expats, but locals who want to help their community too.
Specific Retiree Or Pensioners' Clubs
Some countries have specific retiree or pensioner clubs that are very active. For example, the Hogar de Pensionistas in Spain have exercise facilities, well-stocked libraries, pool tables, subsidized cafés, various classes, multiple courses and daily outings. There are many similar clubs in various other countries.
We hope this guide has given you some practical tips and useful ideas on how to make friends abroad in your 60s. Hopefully after reading this, you will feel more optimistic about settling in and assimilating into local life in your new country. We hope that the transition goes smoothly and wish you the best experience during your expat journey!

Do you have any tips for others who want to make friends? Share your thoughts in the coments below, or answer the questions here to be featured in an interview!